Read the missing speech from Billy Bird's launch at University Book Shop.
Last night, my elbow must have hit an invisible delete button in the space-time continuum. I stapled and folded my launch speech, put it in my handbag, patted it to make sure it was in there safe and happy, and arrived at the University Book Store without my launch speech. Cue panic. Cue rushing back to the car, scrambling around to look under seats. No speech. And at home later that night: still no speech. It's spooky. 
I had to extemporise, with my hands shaking, and I'm pretty sure I forgot something. So by way apology, I'm posting the original here. People who did attend can spot the difference! (The first one is that I forgot to say my quadra-lingual greeting.)
Tena koutou katoa, talofa lava, bonsoir, good evening, thank you so much for coming.
I'm very aware that it gets uncomfortable holding still and being quiet for a long time, especially if you are age six or under. Or maybe even if you've ever been six and under. My own six-year-old wrote to his headmaster recently to ask if he could incorporate exercises into assembly, because keeping still and quiet was very difficult if you have a busy mind and legs that tingle. So I wonder if, before I say all my thank yous, Zac would like to lead us all in a short game of Simon Says.
[That didn't happen on the night, as Zac said there were too many tall people and 'I'm feeling on the shy side.']
My thanks are going to run a backwards chronology. So, first is last: thank you to the University Book Shop for agreeing to host us here tonight. Sometimes I think I only write books so you can throw the parties I always mean to throw at home and never get around to organising.
To Barbara Larson, for taking on tonight's launch role even though I asked her while she was swept up in overseas travel. Barbara's professional support in the past makes her the perfect choice for tonight; my thanks now is a kind of slow-burn thank you for all the things she taught me while I worked for her.
To Harriet Allan, who really backed this book in a climate where her fiction list has been reduced to eight novels a year. She works incredibly hard, and puts in a lot of her so-called free, personal time into reading manuscripts, so if she were here, I'd be punctuating this speech with a massive hug. Sarah Ell, my copy editor, needs thanks too: she was very efficient and on the ball; and Carla Sy, the designer, added a number of flourishes that deftly carry some of Billy's idiosyncrasies.
I want to shine the spotlight on my mother and my step-father, Barbara and Chris Else, also known as the literary agents Total Fiction Services. They read multiple drafts of Billy Bird, and never once blew their stacks. They pushed me on to really refine things, when it was tempting to submit just a 'good enough' manuscript, and hope nobody else noticed the baggy bits. But the publishing industry is so competitive now that they won't let their clients take that risk. And I'm very grateful for that — and for so much more besides.
I also owe a huge thanks to the Department of English at the University of Otago, for the Burns Fellowship, which is where I wrote 3/4 of the first draft. I owe the university and Sir James Wallace thanks again for the Pah Homestead residency, where I finished that draft.
As I've said elsewhere, it's galling to me that any of us should have to defend the humanities division at Otago, New Zealand's oldest university. But it seems topical to point out that Billy Bird is just one small result of the support the division has given to the arts over the decades. Artists cannot thrive without financial support, vigorous debate about ideas, ethics, responsiblities, history, and multi-pronged discussion of creative problem-solving. That debate, analysis and creative-thinking nurture so many other aspects of human endeavour seems too obvious to need saying. Yet in the current climate, apparently we do need to repeat it, loud and clear. Some of the lectures that I attended during the Burns fellowship fed directly into decisions I made about the structure of the book. The relationship between robust criticism and the artistic process is vital.
I could say so much more about this, of course, but I have other people to thank tonight.
I'm grateful too for other financial and practical support – from the Caselburg Trust and the NZSA/Philip and Diane Beatson Award, and from Gillian Whitehead, who offered a retreat when I had to meet a tight publisher's deadline.
I want to mention the medical and children's mental health professionals who let me ask them lots of questions and who showed me around their workplaces – including Graeme Pringle and colleagues; Dr Lisa Turner and Gill Higgins; Michael Harlow; Dr Leye Greenslade and her colleagues at the Musselburgh Medical Centre. I would have gone down some very fruitless trails without their help. I hope my fictionalised version of how things play out with a boy like Billy does that help some justice.
I want to thank my husband, Danny, who can't be here because he's attending conferences, and is also just slipping in a spot of alpine exercise. Two days ago he competed in the Men's World Masters Running Champs in Italy. He came 13th out of 49 men in his age category, which is pretty startling. He's unfailingly supportive of the drive to write: to the point where he willingly solo-parented for three months while I took up the Pah Homestead residency. I wish he was here, but I'm really glad he is pursuing his own passions at the moment.
I want to thank the lovely Abe Baillie for the cover image — which gets just the right hybrid tone of quirky, melancholy and playful, I think. And to both Abe and Zac for running a daily school on how to be a parent, and for making the lessons so much fun.
Thank you to all my friends, both absent and present: I don't get to see enough of any of you, but I hear living in a commune is hard work, so we'll just have to do lunch.
I'd love it if we could all finish by making a 2-way toast: — to wise and creative children: the future generation who will still desperately need the humanities —and to the books that have helped to raise all of us here.
---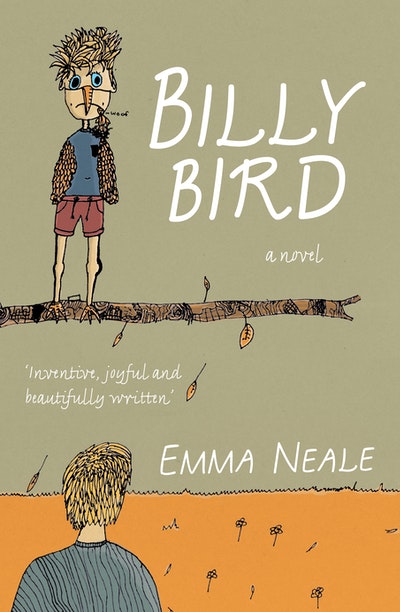 Moving, insightful, lyrical and also at times very funny, this novel is a supple, disarmingly frank exploration of parenthood.
Buy now
Buy now
---