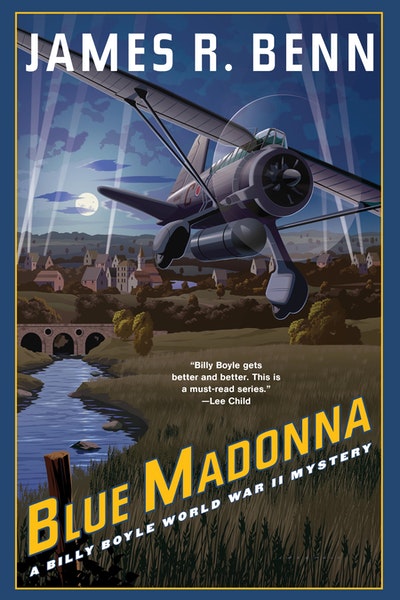 Published:

15 August 2017

ISBN:

9781616958343

Imprint:

Soho Press

Format:

Trade Paperback

Pages:

368

RRP:

$35.00
Blue Madonna
---
---
Billy Boyle, US Army detective and ex-Boston cop, faces his toughest investigation yet: infiltrating enemy lines in France as the Allies invade Normandy.
It's late May 1944. Captain Billy Boyle is court-martialed on spurious charges of black market dealings. Stripped of his officer's rank, reduced to private, and sentenced to three months' hard labor, Billy is given an opportunity: he can avoid his punishment if he goes behind enemy lines to rescue a high-value Allied soldier.
A secret chamber and tunnels, once used by escaping Huguenots in the 17th century, has since been taken over by the Allies. But this "safe house" on the outskirts of Chaumont turns out to be anything but—two downed airmen, one Canadian and the other American, have been murdered.
Billy is flown in as part of a three-man team on June 5, 1944, the night before the Normandy invasion, and must solve the mystery of who is behind the murders before then leading a group escape back to England, with both the Germans and a killer hot on their heels.
Published:

15 August 2017

ISBN:

9781616958343

Imprint:

Soho Press

Format:

Trade Paperback

Pages:

368

RRP:

$35.00
Praise for Blue Madonna "A non-stop action story that adds in the golden nugget of a really cool history lesson." —Suspense Magazine "Benn's 11th Billy Boyle mystery has snappy dialogue, satisfying action scenes, and much interesting history about D-Day."  —Kirkus Reviews "This is a thoroughly entertaining, well-told war adventure, and since the book ends on June 5, 1944, we know there's much more to come." —Booklist "The suspenseful story line, set on the eve of the Normandy invasion in 1944, will keep readers turning the pages... Benn movingly depicts Nazi cruelties that Boyle and his comrades witness." —Publishers Weekly  Praise for the Billy Boyle series "Terrific . . . Razor sharp." —Joseph Finder "Full of action, humor and heart." —Louise Penny "Billy Boyle gets better and better. This is a must-read series." —Lee Child "Spirited wartime storytelling." —The New York Times Book Review "A fast-paced saga set in a period when the fate of civilization still hangs in the balance." —The Wall Street Journal "A complex tale that maps the human cost of warfare in the South Pacific—and delivers a deft portrait of a young Jack Kennedy struggling to recover from the losses of PT-109. Poignant and riveting." —Francine Mathews, author of JACK1939 "Cleverly told . . . the book weaves fascinating military facts with obscure historical details about the islands and native life." —The Arizona Republic "One of Mr. Benn's best books of the series . . . A pleasure to read." —Seattle Post-Intelligencer "[An] excellent eighth Billy Boyle whodunit . . . The superior plot and thoughtful presentation of institutional racism directed against American soldiers about to risk their lives for their country make this one of Benn's best." —Publishers Weekly, Starred Review From the Hardcover edition.