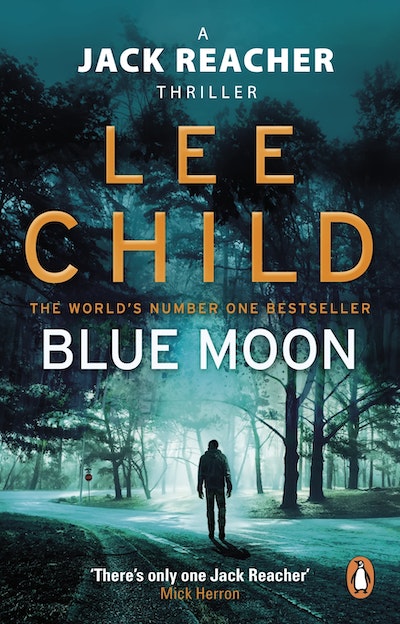 Published:

29 October 2019

ISBN:

9781473542310

Imprint:

Transworld Digital

Format:

EBook

Pages:

480
Blue Moon
(Jack Reacher 24)
---
---
---
The bloodiest Jack Reacher thriller yet, with the highest ever body count. If you thought Jack Reacher ('the most reliable excellent basher of bad guys since Bond' - The Times) had limits, Blue Moon will prove you wrong.
AS FEATURED ON RICHARD & JUDY'S 'KEEP READING AND CARRY ON'
'This is one of his best' - The Times
Jack Reacher is back in a brand new white-knuckle read from Lee Child.
It's a random universe, but once in a blue moon things turn out just right.
In a nameless city, two rival criminal gangs are competing for control. But they hadn't counted on Jack Reacher arriving on their patch.
Reacher is trained to notice things.
He's on a Greyhound bus, watching an elderly man sleeping in his seat, with a fat envelope of cash hanging out of his pocket. Another passenger is watching too ... hoping to get rich quick.
As the mugger makes his move, Reacher steps in.
The old man is grateful, yet he turns down Reacher's offer to help him home. He's vulnerable, scared, and clearly in big, big trouble.
What hold could the gangs have on the old guy? Will Reacher be in time to stop bad things happening?
The odds are better with Reacher involved. That's for damn sure.

'Everyone needs to kick some [butt] sometimes, even if it's just imaginary' JOJO MOYES
_________
Although the Jack Reacher novels can be read in any order, Blue Moon is the 24th in the series.
And be sure not to miss Reacher's newest adventure, no.26, Better off Dead! ***COMING SOON and AVAILABLE FOR PRE-ORDER NOW***
Published:

29 October 2019

ISBN:

9781473542310

Imprint:

Transworld Digital

Format:

EBook

Pages:

480
Lee Child is the absolute master of the story of a lone stranger arriving in town to save the innocent, and this is one of the best of his series...as always, the violence is ferocious and fast-moving. Anyone feeling hard done by or facing insuperable odds will be comforted by this novel, which is also the best advertisement for the NHS I have ever seen.

Literary Review
It is tremendously comforting to be in the hands of Child and his hero - a good man who we know will save the day in the end before moving on, toothbrush in pocket, "just the clothes on his back. No particular place to go, and all the time in the world to get there."

Observer
Forget Marvel - we all know Jack Reacher is the only avenger that matters...Child has found his mojo again.

Sun
Jack Reacher, the 21st-century knight errant who over 23 books has proved himself the most reliable excellent basher of bad guys since [James]Bond...And good work, Lee Child. If you're at all partial to his revenge fantasies, this is one of the best for a while...your hands keep turning those pages, drawn in by storytelling that knows fancy words count for less than clarity and rhythm...It's nonsense. Yet it's compelling nonsense, a vicarious clearing away of life's obstacles via a hero who has no moral qualms, no physical or emotional vulnerability and no interest in what shampoo he uses.

The Times
There is a mythic heft to all this...Resolution will come, and Reacher will ride out of town once more, taking absolutely nothing with him. The body count, 24 books in, is into the hundreds...a fundamental part of the stories' appeal to women[is] their understated feminism. Reacher respects and likes women...In some ways, Blue Moon might be read...as female revenge drama...But do women fancy Jack Reacher?....the real point is that women want to be him. That's the fantasy: to abandon all responsibilities. To be physically invincible. To be justifiably fearless.

Charlotte Higgins, Guardian
There's only one Jack Reacher. Accept no substitutes.

Mick Herron
Drifter hero Jack Reacher on trigger-happy form in an action adventure which ramps up the violence and body count.

Sunday Mirror
An über-thriller in which things turn out just right...it provides a satisfying climax and leaves you breathless, glad to be alive in a wicked world.

Evening Standard
Reacher is nigh-invincible here (and certainly smarter than his thuggish opponents), and the body count is even more prodigious than in earlier books, which is saying something. Still, it is dispatched with the author's customary panache.

Barry Forshaw
Video
Blue Moon by Lee Child
Jack Reacher is back in a brand new white-knuckle read from Lee Child, BLUE MOON. In a nameless city, two ruthless rival criminal gangs are competing for control. But they hadn't counted on Jack Reacher arriving on their patch. Learn more: https://www.penguin.com.au/books/blue-moon-9781787630277
Article
Article
Spotify playlists for your reading adventures
We've all been there. . . reading the perfect book, completely invested in a fictional world, only to be disturbed by a neighbour mowing their lawns or the distant sound of dogs barking. Suddenly you're pulled back to reality wondering what on earth happened.