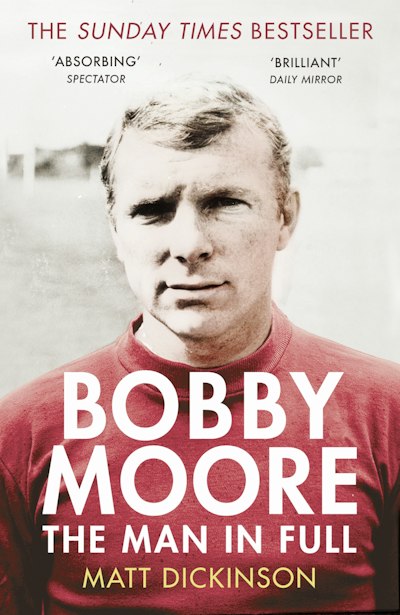 Published:

11 September 2014

ISBN:

9781446483329

Imprint:

Vintage Digital

Format:

EBook

Pages:

416
Bobby Moore
The Man in Full
---
---
---
The definitive biography of England's greatest footballer, and World Cup winning captain by one of the country's most-respected football writers.
THE SUNDAY TIMES BESTSELLER AND SHORTLISTED FOR THE WILLIAM HILL SPORTS BOOK OF THE YEAR
'Immaculate footballer. Imperial defender. Immortal hero of 1966. Master of Wembley. Captain extraordinary. Gentleman of all time.'
With these words, inscribed beneath the statue of England's World Cup-winning captain, the nation remembers Bobby Moore. But what do we really know about this iconic figure?
Pelé called him the greatest - and fairest - defender he ever played against. His feats for West Ham United and England are legendary and his technical mastery of the game years ahead of its time. Yet off the pitch, Moore knew scandal, bankruptcy, divorce and drink. He endured a string of business failures and maintained links with the East End underworld. Ignored by the football world post-retirement, this great of the game drifted into obscurity and, famously, was never honoured with a knighthood.
Acclaimed football writer Matt Dickinson traces the journey of this Essex boy who became the patron saint of English football, peeling away the layers of legend and looking at Moore's life from all sides - in triumph, in failure, in full.
'This should be essential, sobering reading for anyone who cares about West Ham, England or English football' Metro
Published:

11 September 2014

ISBN:

9781446483329

Imprint:

Vintage Digital

Format:

EBook

Pages:

416
Excellent

Jon Wise, 5 stars, Weekend Sport
Dickinson makes Moore sound more human. One suspects this excellent biography comes close to describing the real Moore

UK Press Syndication
Absorbing

Spectator
Full marks to Matt Dickinson

Steven Howard, Sun
Brilliant

Oliver Holt, Daily Mirror
Outstanding

UK Press Syndication
Dickinson manages to bring balance to this incredibly well-researched book

4 stars, FourFourTwo
The strength of the book lies in the way Dickinson has been able to go beyond football and find Moore's real character. Dickinson's achievement has been to honour the memory of Moore while also allowing us to understand that he was far from perfect

Mark Segal, When Saturday Comes
Devastating. No ghosted autobiography can match the nuanced insight of the latest book on Bobby Moore, a hero flawed by alcohol

Ian Herbert, Independent
Dickinson is tender to the memory of the Essex lad who, for a breathtaking instant, was glorious

Ain Finlayson and Kate Saunders, Saga Magazine
This should be essential, sobering reading for anyone who cares about West Ham, England or English football

Julian Shea, Metro
Matt's work is the most impressive West Ham book of the year, a genuine and sincere attempt to get to the root of the man. It is an excellent, thought-provoking book

Knees Up Mother Brown
A compelling and complete account

Sport
Bobby Moore will rightly be forever remembered as the champion of his era, the most serenely masterful footballer ever to have hailed from these shores; "The Man in Full", not shying away from human fallacies, serves as a reminder that he was the same as every one of us

Jack Gaughan, Mail Online
Well-researched and written, this book brings us the real Bobby Moore

Matthew Syed, The Times
We know this story, but it's still a page-turner

Marcus Berkmann, Daily Mail
A tragic tale, admirably researched and poignantly told

Nick Pitt, Sunday Times
It's an immaculately researched voyage of discovery into a footballing enigma. We'll never know the man in full, but this comes close

Ben East, Metro
In The Man in Full, acclaimed football writer Matt Dickinson traces the journey of this Essex boy, peeling away the layers of legend and looking at Moore's life from all sides - in triumph, in failure, in full

Bert Wright, Nudge
Outstanding... this excellent biography comes very close to describing the real Bobby Moore

Post