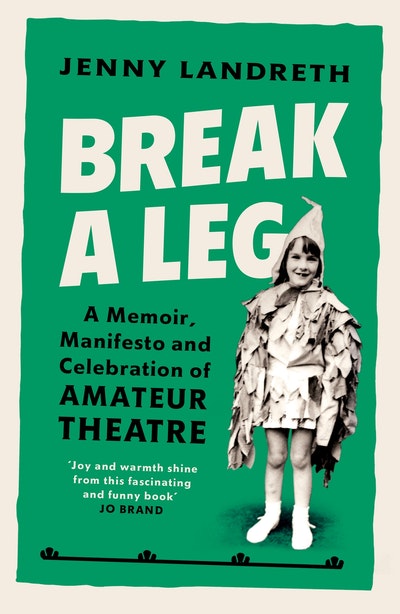 Published:

1 October 2020

ISBN:

9781473563575

Imprint:

Vintage Digital

Format:

EBook

Pages:

320
Break a Leg
A memoir, manifesto and celebration of amateur theatre
---
---
---
A very fun, very British book – celebratory and often hilarious – about amateur dramatics, combining memoir and social history
So you think you know about amateur theatre …
Did you know there are over 30,000 amateur productions in Britain every year, and around 3 million people are involved in the am dram community? It takes many forms, from classic productions to panto, but also cutting edge new work. Without amateur theatre, there would be no professional theatre, no Judi Dench, James Nesbitt, Sir Kenneth or Kiera Knightley. In this triumphant mix of social history, memoir, interviews and manifesto, Jenny Landreth asks us to look again at am dram. What is it about this vibrant world that makes it such crucial part of British culture?
Starting with the Mystery Plays of the Middle Ages, we move, via Shakespeare, of course, to the Georgian aristocrats who built opulent private theatres in their own homes, then to the halcyon days of radical lefties taking political theatre to the streets, and on to the birth of the Little Theatre Guild. Along the way, we visit several thriving amateur theatres - across the country, and beyond our shores - and meet a cast of characters who have experienced amateur theatre in some way and express the joy it brings them. And, with Jenny Landreth as our guide, we also follow the full arc of a production: meeting the actors, backstage and front of house crew, witnessing everything from auditions to the last night party, and of course, all the mishaps and forgotten lines that come in between.
Break a Leg is an emphatic celebration of amateur dramatics, affirming its enormous contribution to British cultural life. It is also a rallying cry, a call to appreciate how it enriches communities and many people's lives – and how, if you join in, it might just do the same for you.
Published:

1 October 2020

ISBN:

9781473563575

Imprint:

Vintage Digital

Format:

EBook

Pages:

320
With spot-on injections of humour and a frequently raised sardonic eyebrow, joy and warmth shine from this fascinating and funny book

Jo Brand
An unputdownable, utterly delightful stroll through British amateur theatre and why it has a vital place for us all

Shappi Khorsandi
This funny and interesting book makes you yearn for a long-lost sense of community, and then realise it's been there all along. Jenny Landreth, take an Am Dram style bow

John O'Farrell
An honest, educational and downright hilarious memoir. It's a deeply affectionate look at a much-maligned bit of Britishness that we simply couldn't live without

Angela Barnes
A gorgeously funny, deeply affectionate and fully costumed swallow-dive into the great – and historic – amateur theatrical tradition. I loved it

Alistair Petrie
A hilarious, informative amdramoir – a love-letter to her father and a fascinating insight into the much maligned minority: the amateur

Doon Mackichan
I thoroughly enjoyed this beguiling ensemble of memoir, social history, interviews and manifesto, which tells the story of am-dram in Britain

Caroline Sanderson, Bookseller