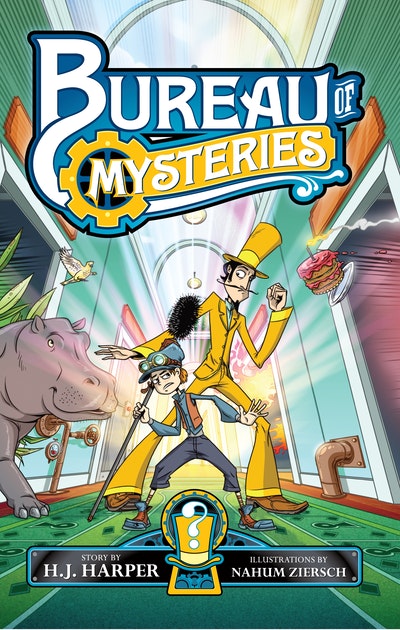 Published:

1 February 2012

ISBN:

9781742752143

Imprint:

Random House Australia Children's

Format:

Paperback

Pages:

288

RRP:

$19.99
Bureau Of Mysteries
---
---
---
Strange things happen in Little Obscurity - but the Bureau of Mysteries is always
there to investigate.
In the bustling city of Little Obscurity, George Feather lives a fairly uneventful life. That is,
until he falls down a chimney and discovers the Bureau of Mysteries, an eccentric group of
investigators and codebreakers who live in between the floors of the Brass Castle Hotel.
After learning that evil Clockwork Octopus Society are planning to wreak havoc on Little
Obscurity, George is quickly recruited to help track the villains down. Along with his partner, Imp, George follows the trails of evidence and cracks the codes that each of their suspects leave behind. Chased by swarms of mechanical insects, overcome by horrible smells and trapped in train tunnels, George and Imp have a gigantic task ahead of them. Will they be able to solve all of the cryptic clues in time to save the city?
Published:

1 February 2012

ISBN:

9781742752143

Imprint:

Random House Australia Children's

Format:

Paperback

Pages:

288

RRP:

$19.99
Praise for Bureau Of Mysteries
Bureau of Mysteries combines jeopardy, narrow escapes, humour, plot twists and buckets of imagination in a rollicking ride that never seems to pause for breath. Highly recommended for ages 8 to 12 years.

David Witt, Sydney's Child
This book is a little like James Bond meets Oliver Twist. It has the added attraction of coded messages that need to be deciphered, allowing a genuine interaction with the story and exposing young readers to Morse, Cuckoo, Hex and Parrot codes (to name but a few).

Evie Marshall, Bookseller+Publisher
I'm such a sucker for a good mystery book, and this one was so much fun!

Total Girl
Harper's book is filled with wordplay, suspense and challenges for readers aged eight to 12.

Troy Lennon, Daily Telegraph