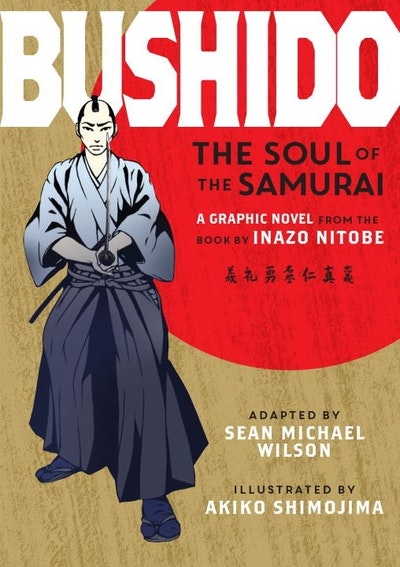 Published:

29 August 2016

ISBN:

9781611802108

Imprint:

Shambhala

Format:

Trade Paperback

Pages:

128

RRP:

$35.00
Bushido
---
---
---
A graphic novel version of the classic book that first introduced Westerners to the samurai ethos.
Bushido: The Soul of the Samurai, first published in 1905, is the classic introduction to samurai culture. Written by Inazo Nitobe, one of the foremost Japanese authors and educators of the time, this was the first book to explain samurai culture to Westerners in a way that was relatable. Nitobe described characteristics or virtues that are associated with bushido—honor, courage, justice, loyalty, self-control—and explained the philosophy behind how samurai were educated and trained; the connection between the sword and the samurai; ritual suicide; and the position of women in samurai culture. To this day, it's considered a must-read for understanding "the soul of Japan" and the samurai ethos.
However, Bushido is not an easy read. Although the ideas and concepts are fascinating, the prose is antiquated and the language makes the book somewhat ponderous to get through. This graphic novel treatment by acclaimed manga creator Sean Michael Wilson revitalizes this classic book. He and the illustrator have enlivened the language and the text is accompanied by vivid and exciting artwork. This graphic novel will complement Nitobe's original book and help bring this groundbreaking text to a new audience.
Published:

29 August 2016

ISBN:

9781611802108

Imprint:

Shambhala

Format:

Trade Paperback

Pages:

128

RRP:

$35.00