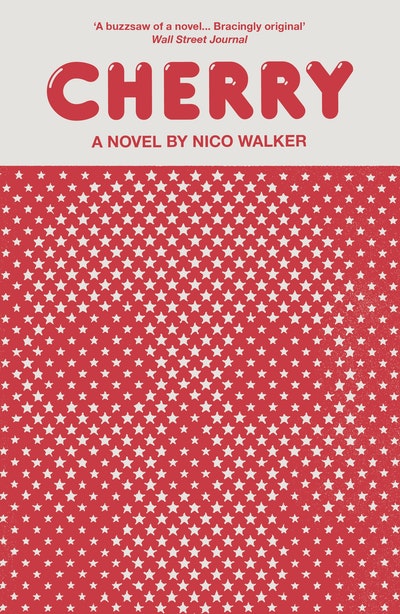 Published:

3 March 2020

ISBN:

9781784708832

Imprint:

Vintage

Format:

Paperback

Pages:

336

RRP:

$24.00
Cherry
---
---
---
Jesus' Son meets Reservoir Dogs in a breakneck-paced debut novel about love, war, bank robberies, and heroin
Hammered out on a prison typewriter, Cherry marks the arrival of a raw, bleakly hilarious, and surprisingly poignant voice straight from the dark heart of America.
Cleveland, Ohio, 2003. A young man is just a college freshman when he meets Emily. They share a passion for Edward Albee and ecstasy and fall hard and fast in love. But soon Emily has to move home to Elba, New York, and he flunks out of school and joins the army.
Desperate to keep their relationship alive, they marry before he ships out to Iraq. But as an army medic, he is unprepared for the grisly reality that awaits him. His fellow soldiers smoke; they huff computer duster; they take painkillers; they watch porn. And many of them die. He and Emily try to make their long-distance marriage work, but when he returns from Iraq, his PTSD is profound, and the drugs on the street have changed. The opioid crisis is beginning to swallow up the Midwest.
Soon he is hooked on heroin, and so is Emily. They attempt a normal life, but with their money drying up, he turns to the one thing he thinks he could be really good at – robbing banks.
Published:

3 March 2020

ISBN:

9781784708832

Imprint:

Vintage

Format:

Paperback

Pages:

336

RRP:

$24.00
A remarkable accomplishment… [Cherry] will shake your soul.

Atticus Lish, Harper's Magazine
[An] unforgettable mix of doomed and dazzling... There's a vivid, repulsive truth in the way Walker renders his subjects—a sort of social truth, stripped of morality, which is rare and riveting.

New Yorker
Cherry is a miracle of literary serendipity, a triumph... In these propulsive pages, Walker draws us right into the mind of an ordinary young man beset by his own and his country's demons. In the end, his only weapon against disintegration is his own devastating candor.

Washington Post
The first great novel of the opioid epidemic.

New York Magazine
It is full of slapstick comedy, despite gut-wrenching depictions of dope sickness, the futility of war and PTSD... [Walker] writes dialogue so musical and realistic you'll hear it in the air around you.

New York Times Book Review
After page one, only the faint-hearted will manage to put down this brilliant screech from a life of war, crime and addiction, a powerful book that declares the arrival of a real writer who has made art out of anguish.

Thomas McGuane, author of Cloudbursts and Ninety-two in the Shade
Exceptional… This is a book that feels casually hilarious if you read a couple of pages; if you read a chapter it becomes impressive; and by the time you've finished, it's devastating.

Sandra Newman, Guardian
One of the year's most talked-about books… Cherry has been compared with Hemingway, Denis Johnson and Salinger's Holden Caulfield, and to that you could add Jack Kerouac … This rough, raw and poetic novel gives an unforgettable voice to a hollowed-out America in the grip of the opioid crisis.

Claire Allfree, Metro
Nico Walker's first book has been compared to The Catcher in the Rye… A mix of deadpan funny, gently mournful and, at times, absolutely harrowing, Cherry is… the kind of literary debut authors dream about. Minus the being in prison part.

Alex Nurnberg, Sunday Times
[Cherry] presents a searing indictment of both war and the indifference of the society in whose name war is fought… In this troubling and powerful book, Walker has surely created one of the most distinctive and memorable novels of the year.

James Moran, Tablet, *Novel of the Week*
A buzzsaw of a novel... Bracingly original.

Wall Street Journal
The narrator [of Cherry is] one of the most fascinating characters in recent fiction.

Jake Kerridge, Sunday Telegraph
Really compelling... [Cherry] just shoots forwards in the most extraordinary way... [Walker] is incredibly good on the absolute corporeality of the [Iraq War]. That was brilliantly done.

Kathryn Hughes, Saturday Review, BBC Radio 4
With an unforgettable voice, the narrator relates his hellacious military service in Iraq, PTSD, and descent into addiction with desperation and propulsive intensity, sustained by a dark humor and associative structure evocative of Joseph Heller's Catch-22.

National Book Review
Someone once said there are only two things worth writing about, love and death. Nico Walker may know more about these two subjects than 99.9% of fiction writers working today. Read Cherry instead of the latest piece of fluff – it might be the only time when you truly feel a writer is actually baring their soul to you.

Donald Ray Pollock, author of The Heavenly Table
A raw coming-of-age story in reverse... Cherry touches on some of the darkest chapters of recent American history.

New York Times
Harrowing, heartbreaking, and sadly funny. Cherry is a terrific book, a cool book, and Walker's voice is keen and vigilant and uniquely his own.

Joe Ide, author of IQ and Righteous
I'm so jealous about the writing in Cherry that it makes me sick. Nico Walker has written one of those perfect books in the most outrageous voice that I've come across in years... Nico Walker is one of the best writers alive.

Scott McClanahan, author of The Sarah Book and Hill William
A compelling new work of fiction.

Ilana Kaplan, Rolling Stone
Walker's raw confessional novel, aptly compared to Jesus' Son and Reservoir Dogs, is a devastating example of art imitating life.

Esquire, "The Best Books of 2018 (So Far)"
One of the summer's most exciting literary breakthroughs, Cherry is a profane, raw, and harrowingly timely account of the effects of war and the perils of addiction.

Entertainment Weekly
The rare work of literary fiction by a young American that carries with it nothing of the scent of an MFA program... The voice Walker has fashioned has a lot in common with the one Denis Johnson conjured for his masterpiece Jesus' Son... A novel of searing beauty.

Vulture
Walker tells the story in a biting staccato, by turns shrewd, heartfelt, and repellent... Cherry's descriptions of Army life are as acerbic and unsparing—and often darkly hilarious—as the boot-camp scenes from Full Metal Jacket.

Mother Jones
Unsparingly raw and utterly gripping. This is an astonishingly good novel, written by someone who clearly has a gift for storytelling. Walker's characters, even minor players and walk-ons, are beautifully drawn. His dialogue rings achingly true... A masterpiece.

Booklist, Starred Review
Cherry, Nico Walker's outstanding debut, is a hard-hitting, ghoulishly funny novel about drug addiction, war and bank robbery.

Washington Post
Heartbreaking, unadorned, radically absent of pretense, Cherry is the debut novel America needs now, a letter from the frontlines of opioid addiction and, almost subliminally, a war story.

Lea Carpenter, author of Eleven Days and Red, White, Blue
Nico Walker's Cherry is a wrenching, clear-eyed stare-down into the abyss of war, addiction and crime, a dark tumble into scumbaggery, but it's also deeply humane and truly funny. That is one of the reasons I love it so much: it makes you laugh and ache at the same time, in the manner of the great Denis Johnson.

Dan Chaon, author of Ill Will
One of the most exciting new American novelists.

Men's Journal
Heavily indebted to the profane blood, guts, bullets, and opiate-strewn absurdities dreamed up by Thomas McGuane, Larry Brown, and Barry Hannah, Cherry tells a story that feels infinitely more real, and undeniably tougher than the rest.

A.V. Club
A bruising dispatch from the frontline of the American opioid crisis… the final quarter [of Cherry] rushes by in a cold sweat.

Anthony Cummins, Daily Mail
[An] incendiary debut… Nico Walker writes with real rhythm, exhibiting a poet's discrimination about adjectival choice and the relative length of clauses. It is a rare and remarkable achievement to turn such suffering into a novel of such finely calibrated beauty.

Lucian Robinson, Times Literary Supplement