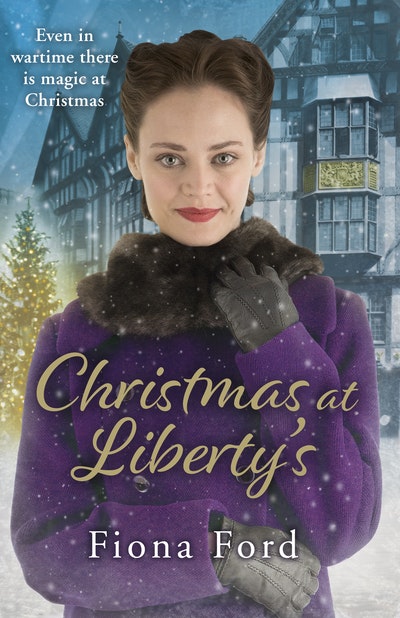 Published:

15 November 2018

ISBN:

9781473560765

Imprint:

Cornerstone Digital

Format:

EBook

Pages:

368
Christmas at Liberty's
---
---
---
The first book in a compelling new saga series set around Liberty London during the Second World War. Perfect for fans of Elaine Everest and Donna Douglas.
The first novel in the Liberty Girls series will be loved by fans of Elaine Everest, Nancy Revell and Mr Selfridge.
'A wonderful, uplifting story of friendship and courage. Characters that you can't help falling in love with! This new saga series will surely touch the hearts of saga readers everywhere' Nancy Revell, author of the Shipyard Girls series
'A Liberty treasure chest of silks, satin, lace and ribbons with gritty wartime passion at its very core. A gem!' - Daisy Styles, author of the Bomb Girls series
'I loved the warmth of the friendship between Mary and her friends and the wonderful world of Liberty's. It's a page turner of a book with twists and turns than make you keep on reading to find out what happens next.' - Rosie Hendry, author of the East End Angels series
___________________
September, 1941: Mary arrives in war-torn London nursing a broken heart and a painful secret.
When she is offered her dream post as an assistant in the fabric department at Liberty store, she knows this is the fresh start she needs. Amid the store's vibrant prints and sumptuous interiors, Mary finds a new family who can help her to heal.
But not everyone will give Mary such a warm welcome, and the trauma of her past will soon catch up with her.
As Mary and the Liberty Girls endure the heartache and uncertainty of war, it will take a steady heart to keep the magic of Christmas alive.
___________________
It's only the first book in the Liberty Girls series, but fans are already falling in love:
'By far one of the best books I've read in a long time'
'The perfect story for historical and saga fiction fans... I cannot wait for the next book in this exciting new series!'
'Utterly brilliant... I was so impressed by this and felt completely involved in the story and characters!'
'heartwarming and inspiring... I look forward to reading more'
'I really enjoyed this story... this was a real festive treat for me! ... The author really transports you back to London during World War II in the book and you feel at times as though you are there with the characters.'
'Joyous. Charming. Uplifting... a wonderful new series that is packed with charm and warmth... these women lift their chins, put on a brave face and put the show on the road.'
'a wonderful, magical book that I absolutely loved... The staff are a wonderful team... the lovely sense of togetherness that the staff had was fabulous to read about'
'Christmas At Liberty's is a must-read for all who love the saga genre and for all who are looking to be part of something that is special and something that just glows with goodness and integrity'
'The story develops at a great pace that allows the reader to understand more about the characters and their lives so that they start to feel like old friends'
'The girls from Liberty's had plenty of ups and downs before Christmas arrived, but I felt every emotional moment with them.'
Published:

15 November 2018

ISBN:

9781473560765

Imprint:

Cornerstone Digital

Format:

EBook

Pages:

368
Praise for Christmas at Liberty's
'A wonderful, uplifting story of friendship and courage. Characters that you can't help falling in love with! This new saga series will surely touch the hearts of saga readers everywhere'

Nancy Revell, author of the Shipyard Girls series
A Liberty treasure chest of silks, satin, lace and ribbons with gritty wartime passion at its very core. A gem!

Daisy Styles, author of the Bomb Girls series
I loved the warmth of the friendship between Mary and her friends and the wonderful world of Liberty's. It's a page turner of a book with twists and turns than make you keep on reading to find out what happens next. I'm going to visit Liberty's next time I go to London as I want to be able to see where the girls worked. Looking forward to find out what happens next in The Liberty Girls.

Rosie Hendry, author of the East End Angels series