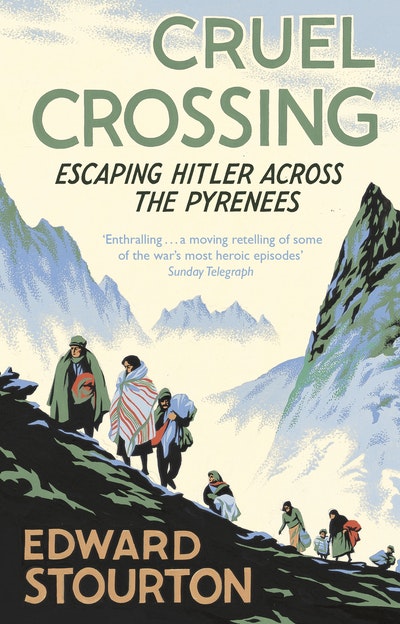 Published:

25 April 2013

ISBN:

9781446487044

Imprint:

Transworld Digital

Format:

EBook

Pages:

480
Cruel Crossing
Escaping Hitler Across the Pyrenees
---
---
---
The secret history of the WW2 escape routes through the Pyrenees from France to Spain: personal stories of endurance, betrayal and remarkable bravery.
The mountain paths are as treacherous as they are steep - the more so in the dark and in winter. Even for the fit the journey is a formidable challenge. Hundreds of those who climbed through the Pyrenees during the Second World War were malnourished and exhausted after weeks on the run hiding in barns and attics. Many never even reached the Spanish border.
Today their bravery and endurance is commemorated each July by a trek along the Chemin de la Liberté - the toughest and most dangerous of wartime routes. From his fellow pilgrims Edward Stourtonuncovers stories of midnight scrambles across rooftops and drops from speeding trains; burning Lancasters, doomed love affairs, horrific murder and astonishing heroism.
The lives of the men, women and children who were drawn by the war to the Pyrenees often read as breathtakingly exciting adventure, but they were led against a background of intense fear, mounting persecution and appalling risk. Drawing on interviews with the few remaining survivors and the families of those who were there, Edward Stourton's vivid history of this little-known aspect of the Second World War is shocking, dramatic and intensely moving.
Published:

25 April 2013

ISBN:

9781446487044

Imprint:

Transworld Digital

Format:

EBook

Pages:

480
Praise for Cruel Crossing
This is a very shocking book. It recaptures the adventure and the horror as it brilliantly conjures up the voices of the past.

Jason Goodwin, Country Life
Charming but astute, Stourton captures not only the extraordinary courage of the escapers and the passeurs, or guides, who helped them, but the sense of danger and excitement as they evaded their pursuers.

Adrian Brewer, The Tablet
A moving retelling of some of the war's most heroic episodes

Nigel Jones, Sunday Telegraph
Stourton's richly rewarding research into the wartime journeys across the Pyrenees reminds us of so many dramatic stories of courage, tragedy, endurance and survival.

Iain Finlayson, Saga Magazine
Stourton writes evocatively and with sensitivity... an engaging collection of tales.

Viv Watts, Daily Express
Fascinating... vivid, detailed and dramatic

The Lady
An extremely moving book full of wartime heroism and sacrifice

The Good Book Guide
These are gripping stories that make you ask "what would I have done" if faced with an escapee needing help?

The Times
Honest, astonishing and emotional... a mesmerising work on the Second World War's overlooked heroes.

Daily Express
Escaping the Nazis across the Pyrenean mountain trails became one of the most extraordinary acts of spontaneous resistance of World War Two. In Cruel Crossing, Ed Stourton straps on his backpack and takes to the escape lines himself, reflecting as he treks on the courage and self-sacrifice of the escapers and evaders who went before him - many of them young women, whose remarkable stories are told here often for the first time. Stourton has produced both a compelling history and a unique mountain guide, telling his story with his familiar humour and journalistic verve.

Sarah Helm, author of A Life in Secrets: Vera Atkins and the Lost Agents of SOE
Cruel Crossing is an accomplished account of an overlooked part of the Second World War. Using wide-ranging research and an impressive number of eye-witness accounts, Stourton tells the story of the escape lines across the Pyrenees, and of the wartime history of southwest France in all its muddied complexity. The gripping escape stories he narrates are sometimes harrowing, often moving, and above all, full of variety and surprises. There is suffering, extraordinary bravery, friendship and even humour; but there is also treachery, betrayal and villainy. A fitting memorial to how war brings out the best and worst in people.

Matthew Parker, author of The Battle of Britain
An important book packed with poignant stories, remarkable characters and uncomfortable truths.

Clare Mulley, author of The Spy Who Loved and The Woman Who Saved The Children
Heart-breaking and breath-taking, and a vivid tribute both to all those who escaped from France into Spain as well as those who helped them. A thoroughly moving and very readable book.

Simon Mawer, author of The Girl Who Fell From The Sky
Edward Stourton's portrayal of the escape lines across the Pyrenees - the courage and endurance of those involved and above all, the heroism in one man (or woman) risking their life for another - is rich in detail and a remarkable testimony to the resilience of the human spirit. A compelling read.

James Holland
Enthralling stories ... a moving retelling of some of the war's most heroic episodes

Nigel Jones, Telegraph