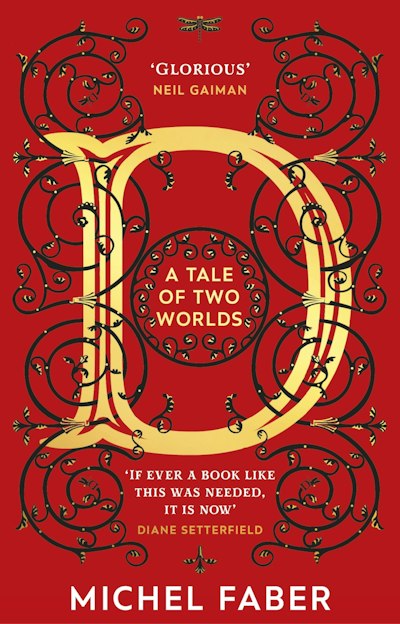 Published:

17 September 2020

ISBN:

9781473543652

Imprint:

Transworld Digital

Format:

EBook

Pages:

304
D (A Tale of Two Worlds)
A modern-day Dickensian fable
---
---
---
A young girl's quest into a Dickensian fantasy world, from a renowned author, now writing for middle grade children. Fully illustrated by Brett Helquist, illustrator of A Series of Unfortunate Events by Lemony Snicket.
Dhikilo was born in a faraway country, though she's doing her best to feel at home with her new parents in the crumbly seaside town of Cawber-on-Sands.
Until one day, the letter D disappears from the language, and Dhikilo is the only person who notices it's gone. You'd think the loss of one little letter wouldn't make much of a ifference to aily life. But it actually makes things very ifficult and, eventually, quite esperate.
Determined to rescue the D, Dhikilo teams up with the recently deceased Professor Dodderfield. In moments, she is in the wintery land of Liminus where she meets the Magwitches, the Quilps, the Spottletoes, and other strange tribes. Can she escape from the terrifying Bleak House? Can she stop the D from disappearing for ever? And can Dhikilo – a girl with no past and no country – discover who she is and where she really belongs?
An enthralling adventure in the grand tradition of Narnia (with special tribute to Dickens and Carroll), the astonishing story of D will help all of us make sense of the absurdities of modern life. Perfect for anyone over 9 years of age, this is Michel Faber's first novel for children.
Published:

17 September 2020

ISBN:

9781473543652

Imprint:

Transworld Digital

Format:

EBook

Pages:

304
Praise for D (A Tale of Two Worlds)
Glorious. There is such personal and political outrage about the world. But what makes it feel like a Real Story, one that will be found and enjoyed and dreamed about for years to come, is Dhikilo, a fabulous heroine and a real person on the page. Her adventure and bravery as she attempts to restore a missing letter to the world is beautifully written and delightfully told. I loved it

NEIL GAIMAN