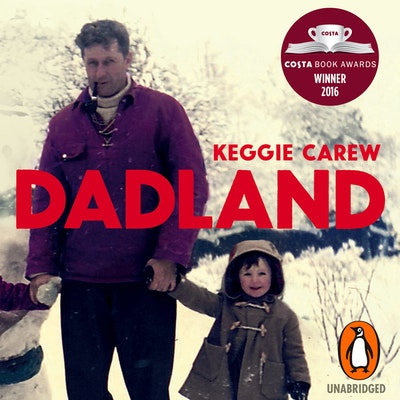 Published:

28 July 2016

ISBN:

9781473545670

Imprint:

Vintage Digital

Format:

Audio Download

Length:

13 hr 18 min
Dadland
A Journey into Uncharted Territory
---
---
---
A story of war and grief, jealousy and madness, mischief and fierce love – and a poignant exploration of what becomes of us as we grow old.
Keggie Carew grew up in the gravitational field of an unorthodox father who lived on
his wits and dazzling charm. As his memory begins to fail, she embarks on a quest to unravel his story, and soon finds herself in a far more consuming place than she had bargained for.
Tom Carew was a maverick, a left-handed stutterer, a law unto himself. As a member of an elite SOE unit he was parachuted behind enemy lines to raise guerrilla resistance in France, then Burma, in the Second World War. But his wartime exploits are only the start of it...
Dadland is a manhunt. Keggie takes us on a spellbinding journey, in peace and war, into surprising and shady corners of history, her rackety English childhood, the poignant breakdown of her family, the corridors of dementia and beyond. As Keggie pieces Tom – and herself – back together again, she celebrates the technicolour life of an impossible, irresistible, unstoppable man.
Foreword and afterword read by the author.
Published:

28 July 2016

ISBN:

9781473545670

Imprint:

Vintage Digital

Format:

Audio Download

Length:

13 hr 18 min
"As Dad was losing his past... I was trying to retrieve it," Keggie writes... With the publication of this original, moving book, she has succeeded

Paul Laity, Guardian (Review)
Compelling and moving from start to finish... Carew's funny, fascinating and unflinching tribute to her father is a portrait of a complex man: not just a war hero but a flawed husband; not just a Jedburgh but her incorrigible and much-missed dad

Melissa Harrison, Financial Times
a thrilling, bloody, educative history of Churchill's Special Operations Executive... combined ingeniously with a tender, moving, funny portrait of the author's father

Nick Hornby, Observer
A fascinating mix of military history and family memoir studded with photographs… It's one woman's attempt to put her father's role in history on the page, at the same time as his own recollections of it diminish

Cathy Rentzenbrink, The Times (Saturday Review)
A poignant, inspiring and often comic account of family life and the man known as the T E Lawrence of Burma ... Ripping real-life yarns of double agents, secret messages, illicit assassinations and cyanide pills... the heroics and humour persist to the end

Richard Benson, Mail on Sunday
A beautifully written, funny and tender ode to an adventurous, occasionally frustrating, man who lived life at full tilt

Good Housekeeping
It's now commonplace to say that sad memoirs are ultimately redemptive, but Dadland is the real McCoy. It is a rich and stunning achievement, a feat of imagination that sews together many parallel true stories. Above all, it is a labour of shining daughterly love

Caroline Sanderson, Sunday Express (S Magazine)
I was so absorbed and moved by Dadland I haven't been able to read anything else. It is beautifully written -- deft and funny and so tender -- but I have also come away knowing more about history, more about dementia, more about men, more about daughters, more about love, family, sheds, diaries, an inquisitive mind and peeing in plastic bottles. I loved it. I really did.

Rachel Joyce
Powerful memoir... The clouding of Tom's mind never eclipsed his charm ... Dadland is no tragedy, threaded as it is with forgiveness, love and a fine, fierce comic glitter

Jane Shilling, Telegraph
Keggie turns spy on her father. She is on a "ghost hunt"… What she uncovers is an extraordinary gift for any memoirist… fascinating

Helen Davies, The Sunday Times
How lovely to discover a book that makes one seize friends by the lapels and implore them, "Read this"... wonderful

Valerie Grove, Literary Review
Gripping, heartfelt, moving and quite unlike anything Esquire has had the pleasure of reading this year... outstandingly good

Esquire
Dadland [had me] gripped from beginning to end.

Philippe Sands, Financial Times, Book of the Year
Dadland [had me] gripped from beginning to end.

Philippe Sands, Financial Times, Book of the Year
Extraordinary, brutally honest... One of the great pleasures of the book is the quality of the writing

Ginny Dougary, Daily Mail
Mixes intimate memoir, biography, history and detective story: this is a shape-shifting hybrid that meditates on the nature of time and identity… For all its vigour and comic zest, Dadland is a careful and tender discovery that patiently circles around a man who spent his time mythologizing and running away from himself

Nicci Gerrard, Observer
I was completely caught up in and learned so much from this remarkable, haunting and uplifting memoir

Woman & Home
Continually interesting and often moving... The fruits of her research into her father's war and espionage contacts are fascinating, but the real success of the book is the understanding the author acquires of the waywardness of experience, and of the complexity of family relationships

Allan Massie, Scotsman
She tells his story, piecing together documents from his military past, with poignancy and humour

Vogue
A superb evocation of an extraordinary man

Choice Magazine
Utterly absorbing … I can't recommend it more strongly

Frances Wilson, The Oldie
The beauty and boldness of this memoir - pieced together from pictures, letters, diaries, cuttings and military archives - is in its healing honesty and the complex, flawed character of Tom, and his daughter's unbroken spirit in the aftermath of her father's derring-do and deep family damage

Iain Finlayson, Saga Magazine
Her tragicomic memoir about her relationship with her eccentric WW2 veteran father [...] explores family breakdown, dementia and the effects of war and peace on the psyche -- as well as the fierce power of daughterly love

Stylist
Book of the Week: When Keggie Carew started to investigate her father's past, she knew she was in a race against time... vivid accounts of her father's past exploits are punctuated with painful bulletins detailing his mental decline ... An extraordinary life and a sui generis debut.

Stephanie Cross, Lady
An engaging, funny and evocative depiction of war, snobbery, deprivation, insanity, dementia and ghastly relatives. The author captures the flavour of every scene she describes... holding the reader's attention with masterfully constructed intercut sequences of ancient, recent and modern family history

Robert Bathurst, The Tablet
This is in part a work of reconstruction, unravelling Tom's life, partly a family history, and it's fascinating

Alan Massie, i magazine
This is a story of journeys, love, loss, memory and family and Boy's Own daring... beautiful, nostalgic, moving, shocking, swashbuckling and simply unputdownable

Family Tree Magazine
I'm halfway through Dadland by Keggie Carew and OH THIS BOOK. Beautiful and fierce and brave. Memory and war and family and loss and, well, wow.

Helen Macdonald, author of H is for Hawk
I loved Dadland for its tenderness, humour and candour. It has begun to open the door for me to what may well lie ahead in my life, in so many of our lives, in terms of ageing parents. And it has also taught me something deeply moving about tolerance, and about love

Robert Macfarlane
A wonderful, haunting and beautifully written memoir... I found myself laughing out loud at times and, at others, unable to hold back the tears... An absolutely stunning book

James Holland
Dadland has the weight of family love but fizzes along in accessible and dynamic prose, highly recommended

Andrew McMillan
A mesmerising performance by a natural storyteller gifted with the most seductive material possible, in the wild and wonderful life of her exasperating Irish father. Pain and annoyance is transmuted into pure narrative gold, as Keggie Carew interrogates the legend of this wartime adventurer and the bitter comedy of his domestic relationships and his late decline. A brave, risk-taking tale that alarms, delights and moves. As soon as you come to the end, you want to start again, to see if those things really happened

Iain Sinclair
You love these people from the first page ... As Tom's life falls apart memory by memory, Keggie is picking it up again and her storytelling is spell-binding. Effortlessly readable, this is a delight combining laughter - and tears, yes, quite a few of those.

Connexion
Compelling

Charlotte Heathcote, Daily Express
A moving memoir-cum-biography.

Molly McCloskey, Irish Times
By some margin my Book of the Month... A detective story, a family history, a thrilling tale of derring-do, and the most distinctive and affecting memoir I've read since H is for Hawk.

Bookseller
Utterly remarkable, and beautifully evoked… Dadland is a completely riveting, deeply poignant "manhunt" for which I predict great things.

Bookseller
Dadland, by Keggie Carew, is being tipped for award-winning breakout success in the vein of H is for Hawk

Jon Coates, Sunday Express
It's an exorcism, ghost-hunt and swim through the archipelago of her father's shattered self… The author's descriptions have an easy lyricism.

Ed Cripps, Times Literary Supplement
The old question 'what did you do in the war, Dad?' has never had a more surprising or moving answer.

David Hepworth
Warm and funny, sometimes regretful and sad, but overall a read like a rollercoaster. Wonderful.

Western Morning News
You know the saying that everyone has a book in them? Well, unless your book is as good as this, I'd give up right now

Daily Mail, Markus Berkmann
You know the saying that everyone has a book in them? Well, unless your book is as good as this, I'd give up right now… This gripping book, written with real verve and a narrative expertise that wouldn't shame a veteran.

Sally Morris, Daily Mail
A brilliant, bittersweet biography.

Cornelia Parker, Observer
Keggie's writing is immersive… She writes with a warmth and generosity about her father, a man who was a genuine character and hero.

Paul Cheney, Nudge
Dadland is deeply personal. But it is also the story of our generations: people touched by war and by Alzheimer's

Charlotte Heathcote, Daily Express
Costa Biography Award
Winner • 2017 • Costa
Article
Dadland review
"…a beautifully written book that will leave you desperately sad, occasionally laughing but at all times connected to the story…"