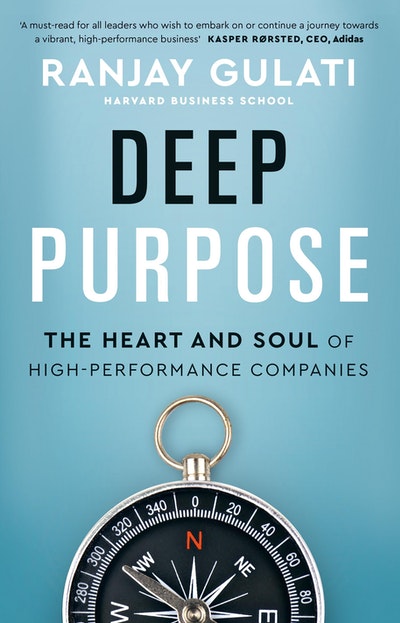 Published:

15 February 2022

ISBN:

9780241513408

Imprint:

Penguin General UK

Format:

Trade Paperback

Pages:

304

RRP:

$45.00
Deep Purpose
The Heart and Soul of High-Performance Companies
---
---
---
An intelligent and practical guide to finding your true corporate purpose, creating social value and boosting your profit
'Gulati shows what it takes to walk the talk on purpose ... Insightful, practical and timely' Adam Grant, New York Times bestselling author of Think Again
Unlock your corporate purpose, create social value and boost profits
Many companies have used purpose as a corporate buzzword to appear virtuous internally, and look good to the outside world. But a poor understanding of the importance of real purpose can have detrimental consequences for the profitability and sustainability of a business.
Deep Purpose is the essential guide to putting purpose at the core of a company, and in doing so, understanding its very soul. Drawing together years of research, including analysis of multinational corporations from Danone and PepsiCo to Microsoft and Patagonia, Harvard professor Ranjay Gulati has identified eight conceptual barriers that are dooming leaders and their companies to a more superficial engagement with purpose. In this book, he shows you how to understand and overcome these obstacles, in order to find your company's deep purpose and supercharge its capacity to serve all stakeholders and shareholders.
By fusing commercial and social logic, business leaders can enhance financial performance, boost employee morale and retention, and leave a positive mark on society. Deep Purpose has the power to transform the business landscape and usher in a new era of ethical corporate leadership.
Published:

15 February 2022

ISBN:

9780241513408

Imprint:

Penguin General UK

Format:

Trade Paperback

Pages:

304

RRP:

$45.00
Deep Purpose points to the conversations we must have right now about how to redefine the role of business in society. The winning formula is moral leadership and a multistakeholder model with purpose at its core. Highly recommended.

Paul Polman, former CEO of Unilever
Deep Purpose points to the conversations we must have right now about how to redefine the role of business in society. The winning formula is moral leadership and a multistakeholder model with purpose at its core. Highly recommended.

Paul Polman, former CEO of Unilever
Deep Purpose points to the conversations we must have right now about how to redefine the role of business in society. The winning formula is moral leadership and a multistakeholder model with purpose at its core. Highly recommended.

Paul Polman, former CEO of Unilever
Brilliant and thought-provoking as ever, Ranjay Gulati applies scholarly rigor to the important topic of purpose. This book is a must-read for all leaders.

Kasper Rorsted, CEO, Adidas
Brilliant and thought-provoking as ever, Ranjay Gulati applies scholarly rigor to the important topic of purpose. This book is a must-read for all leaders.

Kasper Rorsted, CEO, Adidas
Brilliant and thought-provoking as ever, Ranjay Gulati applies scholarly rigor to the important topic of purpose. This book is a must-read for all leaders.

Kasper Rorsted, CEO, Adidas
Pursuing a purpose as a company means arriving at a clear understanding of what you were put on this planet to do. It helps you steer in the right direction, navigate tradeoffs, and, when connected to a social or personal purpose, it can inspire remarkable performance. Deep Purpose peels back the layers to unveil what it truly takes to cultivate a purpose-driven culture, one that enables both the company and its employees to experience its power and benefit from the growth it can generate.

Corie Barry, CEO, Best Buy
Pursuing a purpose as a company means arriving at a clear understanding of what you were put on this planet to do. It helps you steer in the right direction, navigate tradeoffs, and, when connected to a social or personal purpose, it can inspire remarkable performance. Deep Purpose peels back the layers to unveil what it truly takes to cultivate a purpose-driven culture, one that enables both the company and its employees to experience its power and benefit from the growth it can generate.

Corie Barry, CEO, Best Buy
Pursuing a purpose as a company means arriving at a clear understanding of what you were put on this planet to do. It helps you steer in the right direction, navigate tradeoffs, and, when connected to a social or personal purpose, it can inspire remarkable performance. Deep Purpose peels back the layers to unveil what it truly takes to cultivate a purpose-driven culture, one that enables both the company and its employees to experience its power and benefit from the growth it can generate.

Corie Barry, CEO, Best Buy
Many leaders today strive to align purpose with financial success, but only a few succeed. Gulati analyzes the tough challenges that leaders everywhere must address if they are to save the planet while also delivering strong profits. He provides a compelling account of what it means to be purpose-driven--a crucial objective for us as well as other organizations in the social innovation space.

Toshiaki Higashihara, Executive Chairman & CEO, Hitachi
Many leaders today strive to align purpose with financial success, but only a few succeed. Gulati analyzes the tough challenges that leaders everywhere must address if they are to save the planet while also delivering strong profits. He provides a compelling account of what it means to be purpose-driven--a crucial objective for us as well as other organizations in the social innovation space.

Toshiaki Higashihara, Executive Chairman & CEO, Hitachi
Many leaders today strive to align purpose with financial success, but only a few succeed. Gulati analyzes the tough challenges that leaders everywhere must address if they are to save the planet while also delivering strong profits. He provides a compelling account of what it means to be purpose-driven--a crucial objective for us as well as other organizations in the social innovation space.

Toshiaki Higashihara, Executive Chairman & CEO, Hitachi
Leaders often invoke the rhetoric of corporate purpose to elevate their or their company's image. But for the people who work in these companies, the search for purpose is a real and defining part of their professional life. Gulati's book illustrates how the best leaders help employees discover a tangible link between the organization's stated purpose and what they do on the job. When people "come alive" with a sense of purpose in their work, their motivation, energy, and creativity blossoms.

Ken Frazier, former CEO of Merck
Leaders often invoke the rhetoric of corporate purpose to elevate their or their company's image. But for the people who work in these companies, the search for purpose is a real and defining part of their professional life. Gulati's book illustrates how the best leaders help employees discover a tangible link between the organization's stated purpose and what they do on the job. When people "come alive" with a sense of purpose in their work, their motivation, energy, and creativity blossoms.

Ken Frazier, former CEO of Merck
Leaders often invoke the rhetoric of corporate purpose to elevate their or their company's image. But for the people who work in these companies, the search for purpose is a real and defining part of their professional life. Gulati's book illustrates how the best leaders help employees discover a tangible link between the organization's stated purpose and what they do on the job. When people "come alive" with a sense of purpose in their work, their motivation, energy, and creativity blossoms.

Ken Frazier, former CEO of Merck
Purpose isn't a "nice-to-have" in the business world anymore. It's a "must-have." Purpose-driven organizations will lead the future, and Ranjay Gulati's Deep Purpose is essential reading for anyone who wants to be at the head of the pack. This comprehensive guide breaks down why cultivating purpose isn't just the right thing for businesses to do - it's the smart thing too.

Carmine Di Sibio, Global Chairman & CEO, EY
Purpose isn't a "nice-to-have" in the business world anymore. It's a "must-have." Purpose-driven organizations will lead the future, and Ranjay Gulati's Deep Purpose is essential reading for anyone who wants to be at the head of the pack. This comprehensive guide breaks down why cultivating purpose isn't just the right thing for businesses to do - it's the smart thing too.

Carmine Di Sibio, Global Chairman & CEO, EY
Purpose isn't a "nice-to-have" in the business world anymore. It's a "must-have." Purpose-driven organizations will lead the future, and Ranjay Gulati's Deep Purpose is essential reading for anyone who wants to be at the head of the pack. This comprehensive guide breaks down why cultivating purpose isn't just the right thing for businesses to do - it's the smart thing too.

Carmine Di Sibio, Global Chairman & CEO, EY
Many leaders give lip service to purpose, but few know how to create a compelling one. Ranjay Gulati is a preeminent scholar of organizational strategy, and in this book he shows what it takes to walk the talk on purpose. It's an insightful, practical, and timely read on building a mission that serves employees, customers, and communities along with shareholders.

Adam Grant, #1 New York Times bestselling author of Think Again and host of the TED podcast, WorkLife
Many leaders give lip service to purpose, but few know how to create a compelling one. Ranjay Gulati is a preeminent scholar of organizational strategy, and in this book he shows what it takes to walk the talk on purpose. It's an insightful, practical, and timely read on building a mission that serves employees, customers, and communities along with shareholders.

Adam Grant, #1 New York Times bestselling author of Think Again and host of the TED podcast, WorkLife
Many leaders give lip service to purpose, but few know how to create a compelling one. Ranjay Gulati is a preeminent scholar of organizational strategy, and in this book he shows what it takes to walk the talk on purpose. It's an insightful, practical, and timely read on building a mission that serves employees, customers, and communities along with shareholders.

Adam Grant, #1 New York Times bestselling author of Think Again and host of the TED podcast, WorkLife
In this provocative and richly-researched book, Ranjay Gulati argues that the pursuit of profits without purpose is no longer a sustainable business model. As he shows, the road to high performance, for both individuals and for companies, depends on deepening our connection to enduring and essential human values. If you want to be inspired to build more sustainable organizations, Deep Purpose should be your next read.

Arianna Huffington, Founder & CEO, Thrive Global
In this provocative and richly-researched book, Ranjay Gulati argues that the pursuit of profits without purpose is no longer a sustainable business model. As he shows, the road to high performance, for both individuals and for companies, depends on deepening our connection to enduring and essential human values. If you want to be inspired to build more sustainable organizations, Deep Purpose should be your next read.

Arianna Huffington, Founder & CEO, Thrive Global
In this provocative and richly-researched book, Ranjay Gulati argues that the pursuit of profits without purpose is no longer a sustainable business model. As he shows, the road to high performance, for both individuals and for companies, depends on deepening our connection to enduring and essential human values. If you want to be inspired to build more sustainable organizations, Deep Purpose should be your next read.

Arianna Huffington, Founder & CEO, Thrive Global
A thoughtful account of the obstacles of moving beyond the pure-profit imperative, and how to overcome them.

Financial Times
A thoughtful account of the obstacles of moving beyond the pure-profit imperative, and how to overcome them.

Financial Times
A thoughtful account of the obstacles of moving beyond the pure-profit imperative, and how to overcome them.

Financial Times