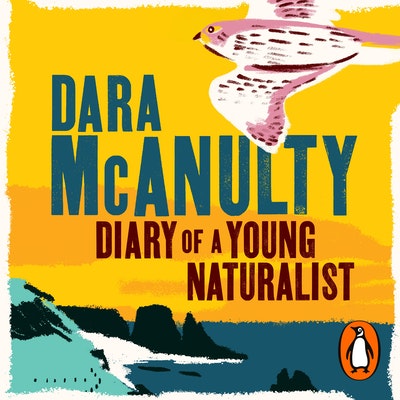 Published:

26 November 2020

ISBN:

9781473593015

Imprint:

Ebury Digital

Format:

Audio Download
Diary of a Young Naturalist
Winner of the Wainwright Prize for Nature Writing 2020
---
---
---
The nature book of 2020, from the youngest Wainwright Prize winner in history, the 16-year-old prodigy of the genre and scion of the next generation of nature writing.
WINNER OF THE 2020 WAINWRIGHT PRIZE FOR NATURE WRITING
WINNER OF THE AN POST IRISH POST AWARD FOR NEWCOMER OF THE YEAR 2020
WINNER OF THE BOOKS ARE MY BAG READERS AWARDS FOR NON-FICTION 2020
SHORTLISTED FOR WATERSTONES BOOK OF THE YEAR 2020
LONGLISTED FOR THE BAILLIE GIFFORD PRIZE 2020
'Really, really special' CHRIS PACKHAM
'An extraordinary voice and vision' ROBERT MACFARLANE
Diary of a Young Naturalist chronicles the turning of Dara McAnulty's world, from spring to summer, autumn to winter, on his home patch, at school, in the wild and in his head.
Evocative, raw and beautifully written, this startling and special book vividly explores the natural world from the perspective of an autistic teenager coping with the uprooting of home, school, and his mental health, while pursuing his life as a conservationist and environmental activist.
In a work of power and hope, Dara recalls his sensory encounters in the wild - with blackbirds, whooper swans, red kites, hen harriers, frogs, dandelions, Irish hares and more - while drawing a moving portrait of a young activist dealing with change, and a family making their way in the world.
'One of the most talented and passionate writers of our era' STEVE SILBERMAN
Published:

26 November 2020

ISBN:

9781473593015

Imprint:

Ebury Digital

Format:

Audio Download
Praise for Diary of a Young Naturalist
Dara's is an extraordinary voice and vision: brave, poetic, ethical, lyrical, strong enough to have made him heard and admired from a young age.

Robert Macfarlane
It's a diary but essentially timeless. It's about enduring, it's about passion, beauty and connection. It's really, really special.

Chris Packham
Dara is only 16 and autistic, and is already on his way to becoming one of the most talented and passionate writers of our era.

Steve Silberman, author of Neurotribes
A beautifully written, profoundly important classic of nature writing that will ignite a passion for the wild in every reader. A stunning achievement. I adored it.

Lauren St John
Feeling illuminates every page of this miraculous memoir ... His portrait of loving parents raising three neurodivergent children on poetry, punk and puffins is profoundly moving ... intimate, sensitive, deeply felt

Alex Preston, Observer
Rich poeticism courses through the writing that belies his years.

Hilary A White, Irish Independent
The fanfare is wholly justified: this is an astonishingly assured book for one so young.

Caroline Sanderson, The Bookseller (Non-fiction Book of the Month, June 2020)
Like reading William Blake or Ted Hughes, it really is a strange and magical experience...surely one of the most talked about nature books, or any books, this year

Daily Mail
Minutely detailed observations of birds, insects, trees and weather are woven into an ecstatic description of the unrolling of the seasons. It is also an impassioned and original plea for protection for "our delicate and changing biosphere" ... lovely and remarkable

Charlotte Moore, The Spectator
Breathtaking.

Philip Marsden
McAnulty's writing glows with his deep sympathy for the natural world.

Tim Flannery
An exceptional new voice. Dara McAnulty celebrates nature in such a fresh way and illuminates our understanding of autism.

Martha Kearney
Dara's writing is evocative and poignant, it stirs something deep within you and evokes a desire to do all you can for the natural world which he so beautifully portrays. Our planet and its wildlife are in a dire state, but if anyone can help save them, Dara can - and he's bringing our generation along with him.

Bella Lack
Dara captures the essence of why we all spend time in nature. The excitement, the peace, the solace, the escape from all our problems

Mya-Rose Craig (AKA Birdgirl)
Dara's diary is urgent and compelling: in language as fresh, precise and vivid as his own observations, his is a passionate call to arms - urging us to pay attention to the extraordinary natural world all around us

Caroline Lucas MP
A diary of delight and immediacy . . . Dara McAnulty reminds us that simple joy can actually help save the world

Kathleen Jamie, New Statesman
Beautifully written diaries . . . Dara can teach us all a thing or two about truly glorious descriptive writing

Irish News
His observations are unmatched among his peers . . . listen to what your body and your brain are telling you: thank goodness for Dara

Big Issue
Wise, lyrical and well-researched . . . [Dara's] candid enthusiasm, his powers of observation, his passion for nature - all are being rediscovered by a world population forced to stop short and take stock

The Irish Times
A torrent of pure, unmediated fervour . . . an extraordinarily accomplished work for any writer, let alone one who is still a teenager . . . This is writing at its wild and unruly best

Dr Rachel Clarke, The Lancet
An extraordinary diary . . . it's a powerful pitch for why the school curriculum needs to be wilded and a reminder of the value of neurodiversity in literature

The Times