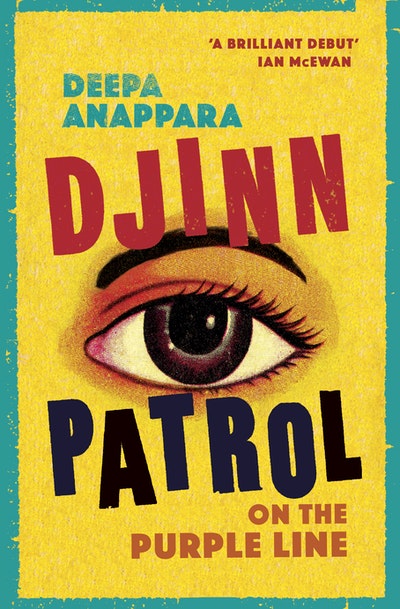 Published:

30 January 2020

ISBN:

9781473569799

Imprint:

Vintage Digital

Format:

EBook

Pages:

352
Djinn Patrol on the Purple Line
LONGLISTED FOR THE WOMEN'S PRIZE 2020
---
---
---
Vintage Lead Fiction 2020: Irresistible child detective Jai tries to investigate the ominous disappearances from an Indian slum in this outstanding debut novel
On the outskirts of a sprawling Indian city, three children set out to find their missing classmate – a boisterous, harrowing debut based on a true story.
Nine-year-old Jai watches too many reality police shows, thinks he's smarter than his friend Pari (even though Pari gets the best grades), and knows he's a better boss than his friend Faiz (even though Faiz has a job). When one of their classmates goes missing, Jai decides to use the crime-solving skills he has picked up from TV to find him. He asks Pari and Faiz to be his assistants and together they draw up lists of people to interview and places to visit. But what begins as a game turns sinister as other children start disappearing from their neighbourhood. Jai, Pari, and Faiz have to confront terrified parents, an indifferent police force, and a new world awash with rumours of monkey-men, soul-snatching djinns, and kidney-hunters. And when the disappearances edge
closer to home, Jai finds his life changed forever.
This brilliantly written novel is based on a real life incident. At times exuberant, at times heart-breaking – it traces the unfolding of a tragedy, while capturing the fierce warmth of a community forged in times of trouble.
Published:

30 January 2020

ISBN:

9781473569799

Imprint:

Vintage Digital

Format:

EBook

Pages:

352
Praise for Djinn Patrol on the Purple Line
It's not hard to see why Djinn Patrol is one of the most eagerly awaited debut novels this spring. It feels like a reckoning with modern India and its many complex problems… Anappara cleverly filters a uniquely Indian horror story through a chirpy, Famous Five-esque narrative and the voice of a witty, young, have-a-go hero

Johanna Thomas-Corr, The Times
Djinn Patrol is storytelling at its best. The prose is not just sympathetic, vivid, and beautifully detailed, but also completely assured and deft. We care about these characters from the first page and our concern for them is richly repaid

Anne Enright, Man Booker Prize-winning author of The Gathering
In Jai, Anappara has created a boy vivid in his humanity, one whose voice somersaults on the page. Rich with easy joy, Anappara's writing announces the arrival of a literary supernova... (Warning: If you begin reading the book in the morning, don't expect to get anything done for the rest of the day.)

Lorraine Adams, New York Times Book Review
Anappara's characters brim with swagger and spirit and she creates a world of wit, warmth and heart

Nina Stibbe
Extraordinary... moving and unpredictable... remarkable

Maureen Corrigan, Washington Post
A brilliant debut

Ian McEwan, Sunday Times bestselling author of Atonement
Deepa Anappara's richly textured and delightfully observed debut evokes the sights and sounds of a sprawling Indian city. Every detail rings true... Day-to-day life in the slums has such vitality that you immediately warm to the residents, with their resilience and dry humour

Max Davidson, Mail on Sunday
A moving and confident novel about the preciousness of life. The storytelling is distinctive and immersive

Nikesh Shukla, author and editor of The Good Immigrant
It's difficult to convey what's so special about Djinn Patrol on the Purple Line without spoilers, but suffice to say it's transformed utterly by its concluding chapters... [Anappara] delivers something more powerful and complex than the vast majority of more highly crafted novels. The narrative goes beyond portraying how the poor of India have been betrayed by their government, and suggests they might also be betrayed by the stories we like to tell about them. Jai has to grow up overnight: this book asks that the reader does, too.

Sandra Newman, *A dazzling debut* Guardian
In this thrilling reading experience, Deepa Anappara creates a drama of childhood that is as wild as it is intimate. Djinn Patrol on the Purple Line is an entertaining, wonderful debut

Chigozie Obioma, Booker-prize shortlisted author of An Orchestra of Minorities
Anappara brings [the bazaar] brilliantly to vibrant, chaotic life... The amateur detectives and their schemes are utterly winning, effervescing off the page, but the tone gradually darkens as more children disappear, reflecting terrible actual statistics... [A] stand-out debut

Stephanie Cross, Daily Mail
Deepa Anappara is a writer of considerable talent. This is a wonderful, energetic book filled with humour and pathos. Charming, sensitive and deeply moving

Nathan Filer, Costa Prize-winning author of The Shock of the Fall
A vivid, compelling debut that mixes Jai's joie de vivre with a menacing truth about the shockingly precarious lives of poor children who go missing every day in India

Charlotte Heathcote, Sunday Express
Irresistibly brimming with character and personality, I couldn't stop picking it up for the bright lights of the writing. I also love the fact that it addresses an important issue while opening a window on everyday life in India. Wonderful.

Diana Evans
A charming yet heartbreaking novel

Stylist
The children at the heart of this story will stay with you long after you turn the last page… a wonderful debut

Christie Watson, Sunday Times bestselling author of The Language of Kindness
Jai is a wonderful narrator, fully imagined and in Anappara's hands, his world takes shape with care yet without sentiment... Anappara took me effortlessly into the alien world of a slum in an Indian metropolis, and helped me to see it through a child's eyes

Nilanjana Roy, Financial Times
[Djinn Patrol on the Purple Line] makes an urgent case for the protection of the country's youngest and most vulnerable

Timothy Harrison, Vogue, *Books to Look Our For in 2020*
Extraordinarily good, deeply moving and thought provoking with brilliant characterisation. A very important book

Harriet Tyce, author of Blood Orange
Anappara delivers nuanced commentary on Indian society amid dark, derring-do adventure

i
A magnificent achievement: the endeavours of the Djinn Patrol offer us a captivating world of wit, warmth and heartbreak, beautifully crafted through a child's unique perspective

Mahesh Rao, author of The Smoke is Rising
Anappara impressively inhabits the inner worlds of children lost to their families

Maria Russo, *Editor's Choice* New York Times
A first novel of true distinction… There is true Dickensian vigour in the way Anappara evokes the noise and smells, the timeless boredom and the fear of life in the Basti, the slum dwelling… I cannot recommend this too highly

A.N. Wilson, Tablet
A stunningly original tale. I stayed up late every night until I finished, reluctant to part from Deepa Anappara's heart-stealing characters

Etaf Rum, New York Times bestselling author of A Woman Is No Man
Life in the slums of an Indian city is vividly described in this novel... Though the subject matter is heartbreaking, this debut author handles it with lightness

Good Housekeeping
A dazzling journey into the heart of India and its most vulnerable citizens -- its impoverished and disenfranchised children. A novel at once brimming with the wonder of childhood innocence, and constrained by the heartache of living amidst injustice and prejudice. Deepa Anappara shows us a modern, dangerously divided India that has long needed to be seen

Nazanine Hozar, author of Aria
A profoundly emphatic work of creative genius that will stay with you forever

Sonia Faleiro, author of Beautiful Thing
Created from whole cloth, Djinn Patrol on the Purple Line is a richly textured rendition of a world little seen in Indian literature. There is no desire to smooth and tidy in fiction what is untidy in life, but instead there is a pay off for the reader in a story that is as quietly troubling as it is convincing

Mridula Koshy, author of Not Only the Things That Have Happened
Djinn Patrol on the Purple Line is unlike any book I have ever read—surprising, vividly imagined, and full of humor and humanity—and I fell head over heels for Jai, the police-show-obsessed narrator on a quest to find his missing classmate. Deepa Anappara is a writer of rare insight and a sure-footed storyteller. This book will charm you on one page, and rip your heart out on the next

Amy Jones, author of Every Little Piece of Me
Deepa Anappara takes us inside urban India with astonishing specificity, into a funny and heartbreaking child's world of wonder and cruelty. Djinn Patrol on the Purple Line is addictive and unforgettable. Once you're in Jai's neighbourhood you don't want to leave

Todd Babiak, author of The Empress of Idaho
Informed by her times as a journalist in Mumbai and Delhi, Deepa Anappara's debut is a fine portrait of modern-day India… an utterly convincing voice–lively, cheeky and irrepressible… Anappara skilfully reveals the harsh reality that lies just beyond Jai's understanding of his world

Alice O'Keeffe, Bookseller
A story full of humor, warmth, and heartbreak … Jai's voice is irresistible: funny, vivid, smart, and yet always believably a child's point of view … Engaging characters, bright wit, and compelling storytelling make a tale that's bleak at its core and profoundly moving

Kirkus, starred review
Djinn Patrol on the Purple Line is likely to be one of the country's standout works of fiction in 2020

Asian Image, *Books to Look Our For in 2020*
Vivid writing and a gripping plot with an unforgettable narrator

BN1 Magazine
Djinn Patrol on the Purple Line is less a reading experience than an encounter with a life force. The rattle-tattle energy of the basti will pull the readers in as they experience the smells, colours and tastes of this captivating world. From relaying the rampant poverty to inherent cultural barriers, to corruption including openly bribing police, the book is utterly mesmerising

Umbreen Ali, Asian Image
Anappara's debut novel immediately charms through Jai's voice, and Anappara has caught the scale of a child's world perfectly… Djinn Patrol is the kind of novel you both can't stop reading and don't want to end, because it means letting go of characters who feel like friends

Sarah Ditum, In the Moment
This moving and stylish book pulls off a difficult trick. It is an engaging, amusing tale, powered by Jai's ebullient personality; at the same time it is an insightful portrait of the underside of 21st-century India… As Dickens did, Ms Anappara understands the power of fiction to bring alive the plights of people readers might otherwise overlook

Economist
What really sets Djinn Patrol apart…is the authenticity of Jai's voice. Narrating in the first person, Anappara immerses us not only in Jai's world of deep social inequities, but also in his internal world… Anappara creates an endearing and highly engaging narrator to navigate us through the dark underbelly of modern India

Hannah Beckerman, Observer