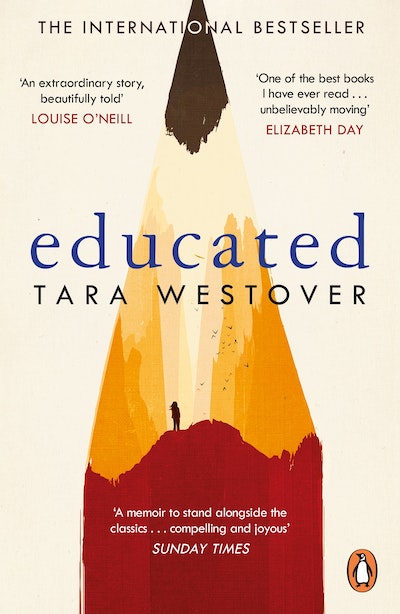 Published:

19 November 2018

ISBN:

9780099511021

Imprint:

Windmill Books

Format:

Paperback

Pages:

400

RRP:

$28.00
Educated
The international bestselling memoir
---
---
---
An extraordinary memoir about a woman's discovery of education, its transformative power and the price she has to pay for it
THE MULTI-MILLION COPY BESTSELLER
Selected as a book of the year by AMAZON, THE TIMES, SUNDAY TIMES, GUARDIAN, NEW YORK TIMES, ECONOMIST,NEW STATESMAN, VOGUE, IRISH TIMES, IRISH EXAMINER and RED MAGAZINE
'One of the best books I have ever read . . . unbelievably moving' Elizabeth Day
'An extraordinary story, beautifully told' Louise O'Neill
'A memoir to stand alongside the classics . . . compelling and joyous'Sunday Times
Tara Westover grew up preparing for the end of the world. She was never put in school, never taken to the doctor. She did not even have a birth certificate until she was nine years old.?
At sixteen, to escape her father's radicalism and a violent older brother, Tara left home. What followed was a struggle for self-invention, a journey that gets to the heart of what an education is and what it offers: the perspective to see one's life through new eyes, and the will to change it.
'It will make your heart soar' Guardian
'Jaw-dropping and inspiring, everyone should read this book' Stylist
'Absolutely superb . . . so gripping I could hardly breathe' Sophie Hannah
Published:

19 November 2018

ISBN:

9780099511021

Imprint:

Windmill Books

Format:

Paperback

Pages:

400

RRP:

$28.00
A punch to the gut, a slow burn, a savage indictment, a love letter: Educated somehow contrives to be all these things at once. Tara Westover guides us through the extraordinary Western landscape of her coming of age, and in clear, tender prose makes us feel what she felt. We give ourselves over to her telling, even when she takes us to the very darkest places a family can dwell. Rarely have I read a book that made me so uncomfortable, so enraged, and at the same time so utterly, entirely absorbed. I loved this book, and this woman.

Claire Dederer
Marvellous. There is no feeling like discovering a young writer who is springing up fully armed with so much talent

Stephen Fry
Extraordinary, heartbreaking and ultimately uplifting

Carys Bray, author of A Song for Issy Bradley
A striking story, beautifully told. Tara is an incredible new talent

Cathy Rentzenbrink, author of A Manual for Heartache
This remarkable memoir - one of the best I've ever read - is my kind of miracle. The book made me cringe, cry out, cover my eyes, shake with anger, beam with pride, and appreciate the trials that led to my own education. Tara's story will find a place alongside modern classic memoirs, like Wild and The Glass Castle. It's that special

Susannah Cahalan, author of Brain on Fire
Breathtaking, heart-wrenching, inspirational - I've never read anything like this. Educated tells the story of a young girl's escape from violence and emotional prison. It is about the love of family and the pain of family both, the ferocity of the human spirit, and the power of education to change lives. Educated is one of the best books, and Westover one of the most gifted writers, that I've read in a very long time

Amy Chua, author of Battle Hymn of the Tiger Mother
Powerful, moving, brave, naked and completely at home in its form . . . This is a daughter's story of how she grew into herself and comes to understand her home.

Mona Simpson, author of Casebook and Anywhere But Here
An incredible memoir of triumph over seemingly endless adversity. The author's ability to write about her experiences in a clear-eyed, nonjudgmental way makes her story a pleasure to read. A study in the power and wonder of resilience

Cea Sunrise Person
Educated is a wise and deep reflection about surviving one's family. I bow down to Tara Westover, not only for her marvelous, sentence-by-sentence craftsmanship but also for making sense and meaning from a confounding and hair-raising childhood. This is memoir at its best

Kelly Corrigan
A powerful, jaw dropper of a book

Stylist
Tara Westover's beautifully written memoir shines a light on a part of our country that we too often overlook. Her powerful tale-of trying to find a place for herself in the world, without losing her connection to her family or her beloved home-deserves to be widely read. My Mamaw would have been rooting for Tara.

J.D. Vance, author of Hillbilly Elegy
This fiercely intelligent memoir is a fascinating and compassionate view of another world and the author's struggle to both escape from and understand it as she heads out into the world

The Pool, Ones to Watch in 2018
Tragic and uplifting in equal measure

Irish Tatler
Absolutely superb . . . the last 100 pages were so gripping I could hardly breathe

Sophie Hannah
An astonishing and uplifting story about the transformative power of education

Mail on Sunday, 2018 Cultural Highlights
Educated is an unflinching account of love and brutality, of the strength of blood ties and the power of imagination, and of a young woman whose intellect, self-knowledge and courage illuminate every page. There are passages so painfully vivid that they sear themselves into the memory, yet Westover is never prurient or punitive: even when writing from the depths, she does so with compassion and grace. Both the book and its writer are remarkable in every respect

Sarah Perry, bestselling author of THE ESSEX SERPENT
This ferociously intelligent memoir is nevertheless full of kindness and insight. In looking beyond the triumphant point where many memoirs would finish, it achieves something far more powerful: Westover demonstrates that leaving a family is not the work of a moment but of a lifetime. Unflinching in confronting the cost of self-preservation, this book is beautiful in its bravery.

Imogen Hermes Gowar, author of THE MERMAID AND MRS HANCOCK
An extraordinary story, beautifully told.

Louise O'Neill
Unflinching and fascinating

Sarah Manning, Red
Educated, in showing us the unstoppable power of a young woman determined to make her own decisions and find her own way, is an inspiring and important tale for our times. I am still cheering her on

Rebecca Stott, award winning author of THE DAYS OF RAIN
A memoir to stand alongside classics by the likes of Jeanette Winterson and Lorna Sage . . . a compelling and ultimately joyous account of self-determination

Sunday Times
Heartbreaking in its honesty...[an] intelligent and powerful memoir

Literary Review
Westover has a story to tell that shouldn't be ignored

The Guardian
Her story is remarkable, as each extreme anecdote described in tidy prose attests. That someone who grew up in her circumstances could achieve as much as she has is astonishing . . . The central tension she wrestles with throughout her book is how to be true to herself without alienating her family. Her upbringing was extraordinary, but that struggle is not.

The Economist
[A] superb memoir. Westover's journey from a remote corner of the American west to one of the world's grandest seats of learning is extraordinary . . . Her story, of fighting to be herself, is as old as the hills she came from, but Westover gives us such a fresh, absorbing take that it deserves to bring her own private Idaho into the bestseller lists, book groups and, eventually, cinemas.

The Times
Educated is so powerful, so haunting . . . [Westover's] finely measured, beautifully rhythmic prose conveys the pain of trying to reconcile herself with being estranged from her parents, no matter how delusional they might be. Rejecting any form of binary thinking, she writes with a humaneness that comes partly from having suffered, and the book that grew out of that suffering is a rare and unexpected gift

The Irish Independent
A shocking and powerfully moving memoir

Daily Express
What comes through is Tara's grit, determination and instinctive sense that somewhere within education lies her redemption ... There is pain and adversity in this heart-wrenching memoir but ultimately what Tara leaves us with is hope

Sunday Express
This memoir [is] one of the wisest accounts of family love and betrayal that I've read

Mail on Sunday
Tara Westover's exhilarating coming of age story has only just come out and it's already a classic . it leaves us readers dazzled and humbled in equal measure

Culture Whisper, Best New Memoirs of 2018
An extraordinary tale

Red Magazine
A book that I did splits over

Mandy Patinkin
Totally unputdownable

Marissa Carter, Irish Independent
Remarkable

Woman & Home
A wonderful read

Church Times
[An] astonishing autobiography

Antony Beevor
A beautifully written, lyrical memoir packed full of incident and well worth a read

The Learning Spy
A beautifully written account.fit to stand alongside the great modern memoirs.

Sunday Times
Brilliantly recounts her journey towards knowledge and enlightenment

Blake Morrison, Guardian
[A] fascinating, jaw-dropping memoir

Nina Stibbe, Observer
It's amazing. Couldn't recommend it enough

Claudia Winkleman, Stellar Magazine
A brilliant memoir

Lily Cole, The Times
Educated is quite simply one of the best books I have ever read. What a writer, what a thinker and what a gift for the rest of us to be able to read her story. Unbelievably moving and profoundly thought-provoking.

Elizabeth Day
Amazing and brilliant.

i Paper, Nina Stibbe
Vivid evocation of a truly terrifying childhood

New Statesman
An amazing story, and truly inspiring. The kind of book everyone will enjoy. IT'S EVEN BETTER THAN YOU'VE HEARD.

Bill Gates
Unflinching and fascinating. Educated was one of 2018's standout memoirs.

Red
It's extraordinary and shines a light on the Mormon way of life ... fascinating.

Rick Edwards, The Sun
Jaw-dropping and so inspiring, everyone should read this book.

Stylist
Triumphing over your background like spring triumphs over winter is always fertile territory for memoir. Perhaps the most exciting recently is Tara Westover's Educated; she had a home life that is frankly astonishing, and how she ends up doing a master's at Cambridge will make your heart soar.'

Jenny Colgan, Guardian
Jaw-dropping and so inspiring, everyone should read this book

Stylist
Tara's journey as she realises her burning desire to know more about the world and escape the influence of her domineering father and brother is a true inspiration.

Hello!
Absolutely incredible.

Ariel Nicholson
An amazing story

The Times, 20 Best Memoirs
If you didn't read this memoir when it first came out, do so, and realise what the fuss was all about

Velvet Magazine
It was one of the most interesting books I've ever read[...] I came away a lot more enlightened and educated myself.

Marie Claire
This is a fascinating, breathtaking memoir that you won't be able to put down.

Good Housekeeping
A really remarkable story

VIP Magazine
Breathtaking

Stylist
I found myself forcing onto other people just so I could talk to them about it.

Vogue
It's brilliant.

Donna Air, Sunday Telegraph
In her beautifully written memoir, Westover explores her complex childhood and her heart-breaking decision to leave her family and pursue an education. It is proof of the transformative power of learning and the importance of second chances

Harper's Bazaar