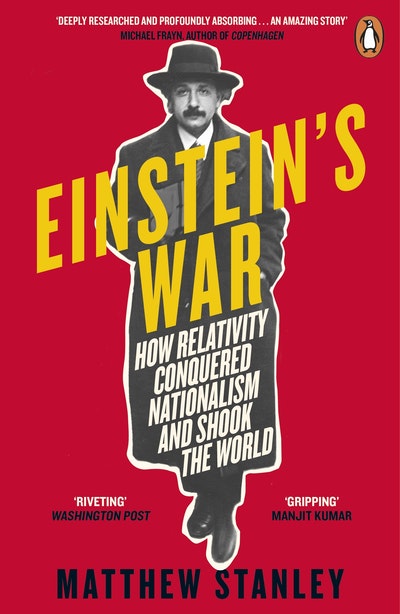 Published:

1 December 2020

ISBN:

9780241985618

Imprint:

Penguin General UK

Format:

Paperback

Pages:

400

RRP:

$26.00
Einstein's War
How Relativity Conquered Nationalism and Shook the World
---
---
---
How an unknown German and an Englishman on opposite sides of WWI created a scientific revolution
In 1916, Arthur Eddington, a war-weary British astronomer, opened a letter written by an obscure German professor named Einstein. The neatly printed equations on the scrap of paper outlined his world-changing theory of general relativity. Until then Einstein's masterpiece of time and space had been trapped behind the physical and ideological lines of battle, unknown.
Einstein's name is now synonymous with 'genius', but it was not an easy road. He spent a decade creating relativity and his ascent to global celebrity owed much to against-the-odds international collaboration, including Eddington's globe-spanning expedition of 1919 - two years before they finally met. We usually think of scientific discovery as a flash of individual inspiration, but here we see it is the result of hard work, gambles and wrong turns.
Einstein's War is a celebration of what science can offer when bigotry and nationalism are defeated. Using previously unknown sources and written like a thriller, it shows relativity being built brick-by-brick in front of us, as it happened 100 years ago.
Published:

1 December 2020

ISBN:

9780241985618

Imprint:

Penguin General UK

Format:

Paperback

Pages:

400

RRP:

$26.00
Praise for Einstein's War
Deeply researched and profoundly absorbing . . . Matthew Stanley traces one of the greatest epics of scientific history . . . An amazing story

Michael Frayn, author of Tony Award-winning 'Copenhagen'
Riveting . . . Stanley lets us share the excitement a hundred years later in this entertaining and gripping book. It's a must read if you ever wondered how Einstein became 'Einstein'

Manjit Kumar, author of 'Quantum'
For a century, Einstein's relativity has inspired otherworldly thoughts. Yet as Matthew Stanley demonstrates, Einstein's efforts were deeply enmeshed within our own world - a world riven by the drama and disruption of the First World War. This beautifully written, moving account captures the heady thrills and crushing setbacks of one of the great intellectual adventures of modern times

David Kaiser, Germeshausen Professor of the History of Science and Professor of Physics, MIT, author of 'How the Hippies Saved Physics'
Even if you know a lot about the history of relativity - even if you know the old stories about Sir Arthur Eddington's voyage in 1919 to try to prove Albert Einstein's theories correct - you probably haven't pondered just how unlikely the Einstein/Eddington pairing really was. At a time where the mere hint of fraternization with the enemy could land you in jail as a spy, a Briton embraced the ideas of an enemy scientist, and helped launch the legend of arguably the greatest physicist of modern times. A fascinating story

Charles Seife, author of Zero: The Biography of a Dangerous Idea
A thrilling history of the development of the theory of relativity . . . a superb account of Einstein's and Eddington's spectacularly successful struggles to work and survive under miserable wartime conditions

Kirkus Reviews, starred review
Impressive . . . Stanley's well-told and impressively readable chronicle delivers a wider, and still relevant, message that how science is performed is inextricable from other aspects of people's lives

Publishers Weekly
Detailed and readable . . . It is especially revealing about Einstein's scientific work and private life leading up to the momentous events of 1919

Peter Coles, Nature
He succeeds in wrapping up the global, national and scientific politics of an era in a compelling story of one man's wild theory, lucidly sketched, and its experimental confirmation in the unlikeliest and most exotic circumstances

Simon Ings, Spectator
Few books about events a century ago carry as relevant a message for today's world of resurgent nationalism as does Matthew Stanley's Einstein's War . . . Stanley is a storyteller par excellence...[his] riveting, blow-by-blow account of Einstein's struggle...is an unusually reader-friendly journey into relativity theory . . . Einstein and Eddington would have liked it

Kitty Ferguson, Washington Post
An insightful and elegantly written exploration of the impact of war on science in both Britain and Germany

PD Smith, TLS