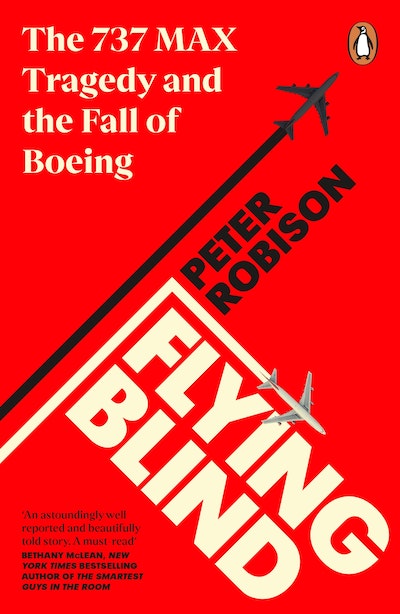 Published:

18 November 2021

ISBN:

9780241455609

Imprint:

Penguin eBooks

Format:

EBook

Pages:

336
Flying Blind
The 737 MAX Tragedy and the Fall of Boeing
---
---
---
The definitive exposé of the rise and fall of Boeing and the death of the aviation industry
Boeing's story is the corporate scandal that's transfixed the world like none since the bankruptcy of Enron and the BP oil spill.
In examining the history of the 737, a highly-regarded plane that Boeing's new management degraded with cost-focused mandates, Flying Blind explores how Boeing skimped on testing in the race to match a competing plane from Airbus, outsourced software work to poorly paid graduates in India and convinced the US Federal Aviation Authority to put the MAX into service without requiring pilots to undergo simulator training.
Dramatically framed around the 737 MAX crashes, Flying Blind is the definitive exposé that for the first time tells the larger, decades-long story of how a corrupt corporate culture paved the way for the cataclysm.
Published:

18 November 2021

ISBN:

9780241455609

Imprint:

Penguin eBooks

Format:

EBook

Pages:

336
Vividly written and meticulously researched, Flying Blind is a story everyone-every consumer, every citizen, every worker in every industry-needs to read. Peter Robison brilliantly places Boeing's deadly downfall within the larger tragedy of an American business culture that gradually has smashed every altar but the one where the bottom line is worshipped.

Diana B. Henriques, New York Times bestselling author of The Wizard of Lies: Bernie Madoff and the Death of Trust
Peter Robison's compelling and richly reported Flying Blind is about so much more than the sad decline of Boeing and the tragic mistakes that led to the 737 Max disaster. It's also the urgent story of how the almighty profit motive supplanted a culture of engineering excellence in boardrooms across America and the avoidable calamity that has impacted all of us as a result.

Brad Stone, New York Times bestselling author of Amazon Unbound and The Everything Store
Peter Robison's Flying Blind is the astoundingly well reported and beautifully told story of the downfall of what was once a great American company. Robison, who got to know Boeing in the late 1990s as a beat reporter, watched as the proud engineering culture was decimated by those who cared first and foremost about making money. The details are unique, but what makes this book a must-read is that the story's theme has become all too common.

Bethany McLean, New York Times bestselling author of The Smartest Guys in the Room