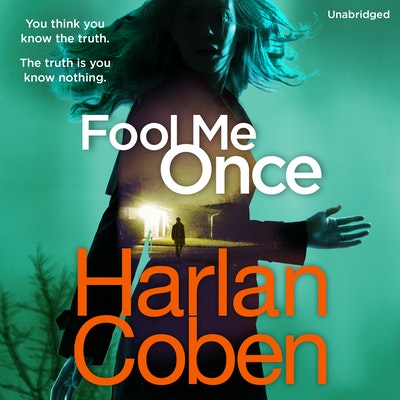 Published:

15 April 2016

ISBN:

9781786140029

Imprint:

Audiobooks

Format:

Audio CD

Length:

10 hr 4 min

Narrator:

January LaVoy
Fool Me Once
From the #1 bestselling creator of the hit Netflix series Stay Close
---
---
---
You think you know the truth. The truth is you know nothing. The international number one bestselling author of Tell No One and Six Years is back with his next impossible-to-put-down thriller.
'The master of the double-twist' The Times
If your husband was murdered,
And you were a witness,
How do you explain it when he appears on your nanny cam?
You thought you trusted him.
Now you can't even trust yourself.
Dark secrets and a terrifying hunt for the truth lie at the heart of this gripping new thriller.
Published:

15 April 2016

ISBN:

9781786140029

Imprint:

Audiobooks

Format:

Audio CD

Length:

10 hr 4 min

Narrator:

January LaVoy
Coben hits the bull's eye again with a tale guaranteed to fool even the craftiest readers a lot more than once.

Kirkus
Coben is like a skilled magician saving the best, most stunning trick for the very end.

Publishers Weekly
.adorned with that peerless brand of storytelling he always provides.

The Independent
Fool Me Once is a perfect example of what makes his work so appealing. When you're writing a story full of twists, nothing is ever the way it seems, and Coben is brilliant in the way he reminds you of this with small references to ambiguities, to yin and yang, things like the opposite interpretations of the Second Amendment, to a school overlooking a graveyard, or receiving lines at weddings and funerals. Reminders that things have different meanings at different times. I won't give away any spoilers, but the climax of the story not only ties things together, but does it in a way that is chilling and maybe darker than anything I've read from Coben.[There is a] brilliant finish.

Irresistible Targets
Gripping.

Press Association
Coben excels in thrillers about families torn apart by secrets.Typically twisty read with customary Coben shock ending.

The Sun
Coben's storytelling is as moreish as ever

The Sunday Times Culture
This slick thriller examines what you can believe and who you ever really trust. Coben has excelled himself. This intense and multi-layered story has a very creepy conspiracy. Exciting, poignant and insanely readable.

Sunday Mirror
A teeth-rattling ride.

Peterborough Telegraph
always enjoyable and compelling

Morning Star
Another masterful display from the master of smoke and mirrors fiction

Irish Independent
There is nothing quite as exciting as a brand new Harlen Coben.Brimming with plot twists, secret lives and untrustworthy confidantes, Fool Me Once centres around Maya Stern.badass and totally cool - she is a heroine you won't be able to get enough of.

Broadgate
An outrageously stunning read, that takes a tight hold from the outset and continues to squeeze until the shockingly intense end.

Lovereading.co.uk
As ever, Coben ramps up the tension expertly.

Thriller of the Week, Mail on Sunday
[an] engaging and enjoyable read.

From First Page to Last blog
Slick, stylish and - ultimately - beautifully crafted and delivered, Harlan Coben's Fool Me Once is tremendous crime novel of depth, pathos, shocks and surprises that will delight anyone who loves great crime fiction that's made to make jaws drop in wonder.

ChrisHigh.com
Full of twists and turns. a gripping page-turner

Daily Express
Coben remains one of the most reliable thriller writers around and his standalones, like Fool Me Once, make it very easy to entice new readers on board.

Crime Review
I am a huge fan of Harlan Coben and have read just about all his books, and this one surpassed my expectations. This is a very clever and well thought out plot and kept me guessing right up to the very end.

Promoting Crime Blog
He takes you on a journey so detailed, and with such rich characters, that when the inevitable twist finally comes, it really stings. As the truth about that fateful night is revealed, it will leave you wondering if you can really trust anyone at all. Another must read from Camp Coben.

Good To Know
I am a huge fan of Harlan Coben and have read just about all his books, and this one surpassed my expectations. This is a very clever and well thought out plot and kept me guessing right up to the very end.

The Mystery People
Such a clever plot with so many twists.

Woman