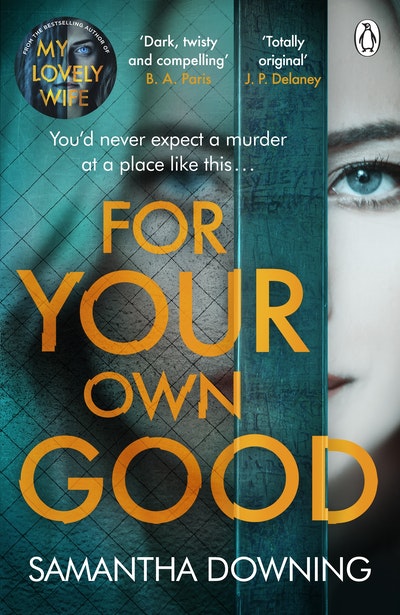 Published:

17 May 2022

ISBN:

9781405945639

Imprint:

Michael Joseph

Format:

Paperback

Pages:

400

RRP:

$24.00
For Your Own Good
The most addictive psychological thriller you'll read this year
---
---
---
The darker it gets, the harder it is to put down: the deliciously twisted third novel from the double Sunday Times bestselling Samantha Downing
Teddy Crutcher has won Teacher of the Year at the prestigious Belmont Academy. Everyone thinks he's brilliant. Only you know the truth.
They all smile when he tells us his wife couldn't be more proud - though actually, no-one has seen her in a while. They're impressed when he doesn't let anything distract him - even the tragic death of a school parent. Even when the whispers start, saying it was murder.
You're sure Teddy is hiding something. You're sure you can prove it.
It's just that when it comes to catching a killer, there's no place more dangerous than just one step behind . . .
Published:

17 May 2022

ISBN:

9781405945639

Imprint:

Michael Joseph

Format:

Paperback

Pages:

400

RRP:

$24.00
Praise for For Your Own Good
Praise for Samantha Downing
We're calling it: My Lovely Wife is the most gripping psychological thriller of 2019... this book will keep you reading late into the night

Stylist
One of my favourite thrillers of the year - I couldn't stop reading but didn't want it to end. Dark, chilling and compelling

TM Logan, bestselling author of The Holiday
Wow! My Lovely Wife is a stunner - full of twists, well-drawn characters, and riveting suspense

Harlan Coben
One of the best thrillers I've ever read

Judy Finnigan
So beautifully and elegantly written . . . A great twist - I loved it

Sophie Hannah
Dark, sly and delicious...totally original - and totally compelling

JP Delaney
I'm a huge fan of Samantha Downing, who is masterful at creating diabolical characters and deliciously chilling plots. An absolutely terrific book!

Sarah Pekkanen
Samantha Downing serves up another cast of deliciously mendacious characters in an exclusive private school setting, where the deadly action drives a brilliantly tense, taut and twisty plot. I may never look at my coffee in the same way again

Gilly Macmillan
Downing's spare prose packs a wallop as she deftly ratchets up the suspense with every hairpin turn of this lean, mean, surprising, and utterly propulsive thriller

Lisa Unger
So dark and twisted, so deliciously evil, it'll not only make you frantically turn those pages to find out who's targeting whom, but the wry sense of humor will have you laughing out loud, too. Another phenomenal wild-ride of a read from one of the crime-writing community's most talent authors. Bet you'll never look at high school the same way again

Hannah Mary McKinnon
Wonderfully dark and twisty. I raced through it, desperate to know how it would end

BA Paris
Samantha Downing is totally the real deal. Wry and dark and witty and clever. I didn't think she could outdo My Lovely Wife but I think this one tops it.

Sarah Pinborough
A slick and chilling thriller, leading readers on a dark, sinuous journey through the halls of Belmont Academy-the type of place where you're never sure who to trust, or who to fear.

Megan Miranda
Wow! Samantha Downing has done it again. For Your Own Good is utterly compelling, deliciously dark, and with perfect pacing that will have you racing to find out how it ends. I absolutely loved it

Sarah Bonner
I raced through this, and loved every twist and turn. Brilliant characterisation and ingenious plotting make it an absolute winner.

Jill Mansell
I have loved all of the books by Samantha Downing, and this classroom thriller deserves an A+. Original, dark and highly addictive

Alice Feeney
For Your Own Good is a fresh take on the elite school thriller and the perfect page turner

Laure Van Rensburg
Samantha Downing has achieved something so special in For Your Own Good. A story that is dark as night, sinister as hell, clever, twisting and downright fun

Chris Whitaker
Twistier than a corkscrew and utterly original, For Your Own Good hooked me from the first page with its dark humour and no-let-up suspense

Victoria Selman
A deliciously dark, fast-paced delight of a novel with a maybe-maybe-not villain you'll secretly be rooting for. Highly recommended

A.J. Park
Entertaining as hell, with trademark Downing twistedness. I loved it.

Sam Lloyd, bestselling author of The Memory Wood
An irresistibly dark tale of parents, pupils and poison: the American dream turned suburban nightmare

TM Logan, author of Trust Me and The Holiday
Witty and macabre with a psycho teacher who is so real to me

Caroline Kepnes
A brilliant psychological black comedy with a really fresh feel, packed with sly observation and outrageous twists. But creepy Crutcher is the standout character who is truly awful and equally compelling

Daily Mail
Well-orchestrated

Sunday Times
Fans of Gone Girl and Big Little Lies will love this fast-paced thriller

Sunday Express
Dark, twisty, fun, and so original

Alafair Burke
A brilliant psychological thriller

Bella
A dark and twisty plot you'll race to finish

Yours Magazine