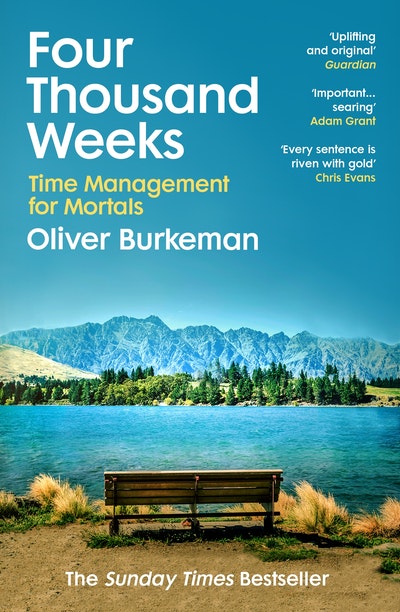 Published:

2 August 2022

ISBN:

9781784704001

Imprint:

Vintage

Format:

Paperback

Pages:

288

RRP:

$26.00
Four Thousand Weeks
Embrace your limits. Change your life. Make your four thousand weeks count.
---
---
---
The paperback edition of the liberating Sunday Times bestseller is set to enhance readers' lives even further with extra content on how we can all spend our four thousand weeks.
The average human lifespan is absurdly, outrageously, insultingly brief: if you live to 80, you have about four thousand weeks on earth. How should we use them best?
Of course, nobody needs telling that there isn't enough time. We're obsessed by our lengthening to-do lists, our overfilled inboxes, the struggle against distraction, and the sense that our attention spans are shrivelling. Yet we rarely make the conscious connection that these problems only trouble us in the first place thanks to the ultimate time-management problem: the challenge of how best to use our four thousand weeks.
Four Thousand Weeks is an uplifting, engrossing and deeply realistic exploration of this problem that draws on philosophy, literature and psychology to cover the past, present and future of our battles with time. It goes far beyond practical tips, and its many revelations will transform the reader's worldview.
Drawing on the insights of ancient philosophers, Benedictine monks, artists and authors, Scandinavian social reformers, renegade Buddhist technologists and many others, Oliver Burkeman sets out to realign our relationship with time - and in doing so, to liberate us from its grasp.
Published:

2 August 2022

ISBN:

9781784704001

Imprint:

Vintage

Format:

Paperback

Pages:

288

RRP:

$26.00
Praise for Four Thousand Weeks
Oliver Burkeman provides an important and insightful reassessment of productivity. The drive to get more done can become an excuse to avoid figuring out what we actually want to accomplish. Only by confronting this latter question can we unlock a calmer, more meaningful, more resilient approach to organizing our time

Cal Newport, bestselling author of A World Without Email and Deep Work
Kind of cool

Jeff Bridges
A wonderfully honest book, Four Thousand Weeks is a much-needed reality check on our culture's crazy assumptions around work, productivity and living a meaningful life

Mark Manson, bestselling author of Everything is F*cked and The Subtle Art of Not Giving a F*ck
We all know our time is limited. What we don't know - but what Oliver Burkeman is here to teach us - is that our control over that time is also limited. This profound (and often hilarious) book will prompt you to rethink your worship of efficiency, reject the cult of busyness, and reconfigure your life around what truly matters

Daniel H. Pink, author of When, Drive, and To Sell is Human
This is the most important book ever written about time management. Oliver Burkeman offers a searing indictment of productivity hacking and profound insights on how to make the best use of our scarcest, most precious resource. His writing will challenge you to rethink many of your beliefs about getting things done-and you'll be wiser because of it

Adam Grant, #1 New York Times bestselling author of Think Again and host of WorkLife
I have long loved Oliver Burkeman's wise and witty journalism that both interrogates and elevates the 'self-help' realm-revealing its possibilities for absurdity while honoring the deeper human impulses that it meets. Four Thousand Weeks is a splendid offering in that spirit. This book is at once sobering and refreshing on all that is truly at stake in what we blithely refer to as 'time management.' It invites nothing less than a new relationship with time-and with life itself

Krista Tippett, host of On Being
Four Thousand Weeks is a book to read and re-read, to absorb and reflect on. Compassionate, funny and wise, it has not left my mind since I read it. The modern world teaches us to pretend to be immortal-this book is a dip in the cold, clear waters of reality, returning us refreshed and alive

Naomi Alderman, author of The Power
A beautiful, uplifting read. Reading Oliver Burkeman, I feel my shoulders relax and my mouth curl into a smile of admiration. Witty, modest and refreshingly sane

Robert Webb, author of How Not to Be a Boy
I loved this book - it's a celebration of all that is most human: a deep dive into the value and potency of our finitude. Where we might buckle under pressure and uncertainty, Oliver quietly restores our centre of gravity within. You'll emerge from his writing fortified by wonder

Derren Brown
Life is finite. You don't have to fit everything in. Enjoy your life. Breathe out. Read this book and wake up to a new way of thinking and living

Emma Gannon, author of The Multi-Hyphen Method
This book is wonderful. Instead of offering new tips on how to cram more into your day, it questions why we feel the need to ... My favourite kind of book is this one ... it examines the human struggle with intelligence, wisdom, humour and humility.

Marianne Power, The Times
Perfectly pitched somewhere between practical self-help book and philosophical quest ... as with all the best quests, its many pleasures don't require a fast-forward button, but happen along the way

Tim Adams, Observer
Comforting, fascinating, engaging, inspiring and USEFUL, actually genuinely useful

Marian Keyes
Peppered with good stories... Subtle, provocative and multi-layered... Offers many wise pointers to a happier, less stress-filled life, with none of the usual smug banalities of the self-help genre... Happy days!

Craig Brown, Mail on Sunday
His book will challenge and amuse you. And it may even spur you on to change your life. At the very least reading it would be a good use of one of your four thousand weeks

Robbie Smith, Evening Standard
Four Thousand Weeks is full of such sage and sane advice, delivered with dry wit and a benevolent tone. I didn't wish back any of the time I spent reading it

Joe Moran, Guardian
A fantastic, warm, clever book

Kate Mosse
Terrific

Derren Brown, The Times
Every so often you read a book that so profoundly shifts your thinking that you feel indebted with gratitude to the author. Utterly brilliant

Yasmin Khan
So easy to read that I finished it in one sitting... I'll probably never organise my time so well again

Henry Mance, Financial Times, *Books of the Year*
I seldom read self-help books, but Oliver Burkeman's Four Thousand Weeks is in a class of its own

James Wilsdon, Research Professional News, *Books of the Year*
A compelling argument for why we should be doing less and doing it better... This comforting, calm book is filled with sensible, practical ideas

Independent, *Books of the Year*
Burkeman offers practical solutions to problems that might otherwise seem too monolithic to disassemble

Emily Watkins
Oliver Burkeman's Guardian feature was called "This Column Will Change Your Life". The wisdom of this book could do the same

Julia Bueno, Times Literary Supplement
[A] brilliant, comforting time-management guide

Stig Abell, Sunday Times
Kind of cool

Jeff Bridges
Article
Empowering books for the New Year
If you're looking for some fresh inspiration and insight as you ring in the new year, look no further! These books could be just what you're after.