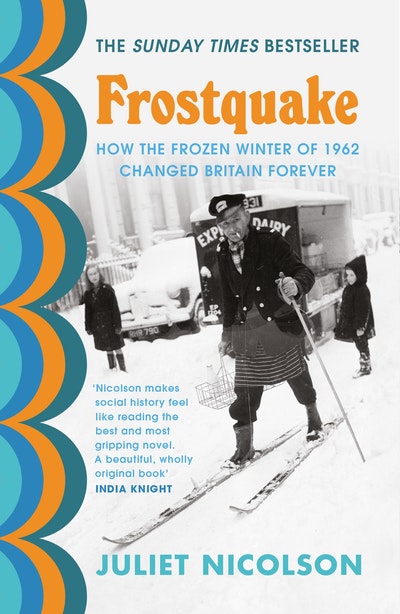 Published:

4 February 2021

ISBN:

9781473566712

Imprint:

Vintage Digital

Format:

EBook

Pages:

368
Frostquake
The frozen winter of 1962 and how Britain emerged a different country
---
---
---
Exhilarating and rich narrative non-fiction that brings to light a dramatic and pivotal moment in our social, political and cultural history for the first time
** THE SUNDAY TIMES BESTSELLER **
'This book is a must' Peter Hennessy
On Boxing Day 1962, when Juliet Nicolson was eight years old, the snow began to fall. It did not stop for ten weeks.
It wasn't just the weather that was bad. The threat of nuclear war had reached its terrifying height with the recent Cuban Missile Crisis, unemployment was on the rise and de Gaulle was blocking Britain from joining the European Economic Community.
And yet underneath the frozen surface, new life was beginning to stir. Satirists threatened the complacent decadence of the British establishment. A game-changing band from Liverpool topped the charts, becoming the ultimate symbol of an exuberant youthquake. And the Profumo Affair exposed racial and sexual prejudice. When the thaw came, ten weeks of extraordinary weather had acted as a catalyst between two distinct eras.
From poets to pop stars, shopkeepers to schoolchildren, and her own family's experiences, Juliet Nicolson traces the hardship of that frozen winter and the emancipation that followed. That spring, new life was unleashed, along with freedoms we take for granted today.
A 'book to look out for in 2021' in The Times & Sunday Times
Published:

4 February 2021

ISBN:

9781473566712

Imprint:

Vintage Digital

Format:

EBook

Pages:

368
A brilliant concept transformed into a brilliant and revelatory book. Completely fascinating and engrossing

William Boyd
The freezing winter of 1962-63 finally thawed in early March and as if on cue British society and politics became molten and mobile. Those who lived through it will never forget it. Those who didn't, need to know about it. Juliet Nicolson is brilliant at recapturing mood, moment and character. It's as if the inhabitants of that extraordinary time have flung open the door and welcomed her in from the blizzard outside to tell her all. This book is a must

Peter Hennessy
Frostquake is wholly remarkable . . . a rare and engrossing read that brought that time straight back to my memory and consciousness

Vanessa Redgrave
As gripping as any thriller, Frostquake is the story of a national trauma that came out of nowhere and changed us forever. Brilliantly written and almost eerily relevant to our current troubles, I read it in one sitting

Tony Parsons
I was absolutely enthralled from first page to last. It's truly remarkable, so well written, and the scope of her research is extraordinary. I particularly admire the way she entwines her own family's experience with what was going on at the time - a very vivid, accurate and perceptive portrayal of the period at all social, political and cultural levels

Selina Hastings
I loved this beautifully written account of one icy winter during the 1960s in which familiar stories of pop music and politics surprised me thanks to Juliet Nicolson's brilliant research. These events interwoven with Nicolson as an eight year old child and her relationship with her widowed grandfather and her younger brother highlighting how early experiences live on in us forever, make this a deeply moving and original book

Julia Samuel, psychotherapist and bestselling author of Grief Works
The bitter winter of 1962-3 closed down life for Britain just as Covid is doing today. Juliet Nicolson was a child then and is a scintillating storyteller now. There is not an icicle, politician, scandal or song missing from this engrossing re-creation of times so recently passed. Enchanting and wise, it leaves this message for our future: they survived, and so shall we

Carmen Callil
This is an absolutely mesmerising book. Where I knew of the events concerned I was fascinated by the vivid retelling, and when I didn't I was utterly gripped

Antonia Fraser
Works fizzingly well on all its many different levels . . . the unity between the national crisis and the family story never falters. The sensuous delight Juliet Nicolson takes in the natural world makes the snow both villain and star of Frostquake

Philip Norman
In 1962 East Sussex snowdrifts reached 23ft and in London milkmen made deliveries on skis. The experience shaped the Britain of the 1960s, argues Nicolson in this lively social history

The Times (Books to Look Out for in 2021)
Juliet Nicolson has done something incredibly clever in her book Frostquake. She has written living history. It is stunning

Joanna Lumley
Juliet Nicolson's new book is a treasure trove... beautifully written. Nicolson uses the imagery of freeze and thaw as a metaphor for the new Britain that was being born, a conceit as elegant in its execution in its conception

Alwyn Turner, BBC History Magazine
An engagingly written mixture of social history and memoir . . . Nicolson invites us to see the worst winter of the century as a catalyst for social change in a nation that had entered the final months of 1962 in the grip of Edwardian deference and morality, yet emerged the following spring riding the first floods of the Swinging Sixties

Trevor Phillips, Sunday Times
An entertaining panorama of life in Britain during the original "beast from the east" . . . [Nicolson's] striking hypothesis . . . explores the impending social revolution from many angles . . . out of catastrophe can come change for good: a social revolution in 1963; perhaps an environmental awakening in 2021

Richard Morrison, The Times BOOK OF THE WEEK
Cutting deftly from ordinary lives to extraordinary ones, the author vividly evokes a time of almost molten change and innovation

Ariane Bankes, Tablet
Juliet Nicolson's timely study of that pivotal winter in British history has so many parallels with today that it occasionally sends a shiver down your spine . . . Her own memories of the turbulent months before and after that day are the thread that hold this beautifully stitched patchwork of stories together . . . convincing, poetic and often very touching

Marcus Field, Evening Standard
She imaginatively uses that ten-week freeze to highlight many of Britain's then moribund laws and attitudes and their imminent collapse . . . Nicolson's writing is energetic and absorbing. By accumulating tiny details she brings a multitude of scenes to life. I thought I knew enough about Sylvia Plath, but the description of her lonely last days with two infant children, in freezing weather in her rental near London Zoo, is heartrending

Elisa Segrave, Spectator
In this lively chronicle Juliet Nicolson, who was eight years old at the time, argues that the winter of 1962-63 marked a turning point in society, with Britain's social conventions beginning to burst apart at the seams. With cameos from Joanna Lumley and Harold Evans, and a nod to imminent Beatlemania, Nicolson buoyantly contends that out of devastation good can come

New Statesman
Fascinating, quirky and evocative . . . Nicolson takes us right back to that muffled, snowbound world . . . The fact we happen to be living through another, different kind of paralysis adds an extra layer of fascination to this book

Ysenda Maxtone Graham, Daily Mail
Wonderfully comprehensive

Gillian Tindall, Times Literary Supplement
Nicolson aims to do much more than present a charming word picture of the freakish winter of 1962-63 . . . where Frostquake triumphs is as a metaphor -- a network of images that describes how Britain was beginning to unfreeze from the 50s

Kathryn Hughes, Guardian
Exhilarating

Valerie Grove, Oldie
[An] entertaining account

Brian Groom, Financial Times
A micro-history of that extraordinarily cold winter, which, she [Nicolson] argues, changed Britain forever

Francesca Carington, Tatler
A wonderful book

Barry Humphries, The Times
Juliet Nicolson's Frostquake is a micro-history of that extraordinarily cold winter, which, she argues, changed Britain forever. Nicolson is a warm guide to that freezing time, weaving together memories of her childhood at Sissinghurst, the nascent Chelsea set scene on the Kings Road, global politics and the Profumo affair

Francesca Carington, Tatler Books of the Year
A fascinating description of Britain in the cold, hard winter of 1962 and early 1963, when it started to snow on Boxing Day and didn't stop for 10 weeks

Esther Freud
Nicolson makes social history feel like reading the best and most gripping novel. A beautiful, wholly original book

India Knight