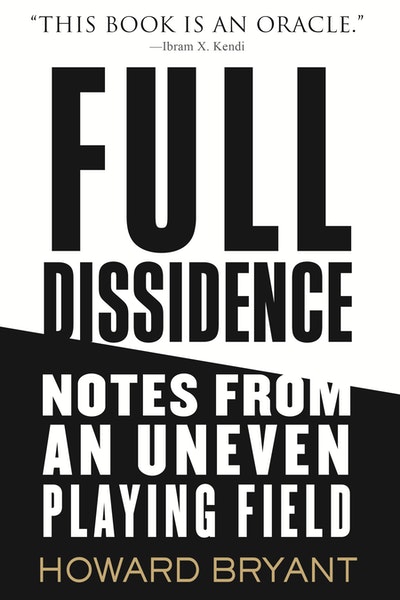 Published:

21 January 2020

ISBN:

9780807019559

Imprint:

Beacon Press

Format:

Hardback

Pages:

200

RRP:

$50.00
Full Dissidence
Notes from an Uneven Playing Field
---
---
---
A bold and impassioned meditation on injustice in America that punctures the illusion of post-racism in our country and in sports by interrogating both as places where authoritarianism looms large.
Whether the issues are protest, labor, patriotism, or class division, it is clear that sports are no longer simply fun and games. Rather, they are a hotbed of fractures that define their respective industries and provide allegories for society at large. It is this spirit of sports and societal intersectionality that informs the nine essays--all original--in Full Dissidence. In three parts--Protest, Belonging, and Corruption---Bryant writes about what Colin Kaepernick exposed in our culture, the militarization of sports, police propaganda, the corporate assault on civil liberties, the collisions of race and identity, and the kleptocracy that has forced America to ask itself if its beliefs of freedom and democracy are more than just words.
We see it in sports, through the player-owner relationship, and we see it more broadly in our national government. Famous, millionaire black athletes, for example, seem powerful. But how powerful are they really when they are not allowed to speak? And when they lose their careers if they do? Additionally, Bryant unpacks how being torn away from the roots of the Black community in order to achieve the myth of "more" or "better" is deeply consequential, especially today. In a time when authoritarianism is creeping into our lives and is being embraced in our politics, advocating for black and brown communities is riskier. Powerful, popular people of color may think they can navigate this terrain with their money and their fame. They cannot. That's never been more clear than now. Perched firmly at the intersection of sports, politics and pop culture, Full Dissidence speaks to the continued influence of sports in the mainstream in a way that is at once brilliant and arresting.
Published:

21 January 2020

ISBN:

9780807019559

Imprint:

Beacon Press

Format:

Hardback

Pages:

200

RRP:

$50.00
Praise for Full Dissidence
"This collection of essays is everything I hold dear, a searing rejection of everything racist America holds dear inside and outside of the lines. Howard Bryant does not hold back in his withering and thoughtful dissections and rejections of the racial politics of athletics, and the athletic politics of race. Full Dissidence is an oracle." —Ibram X. Kendi, National Book Award-winning author of Stamped from the Beginning and How to Be an Antiracist