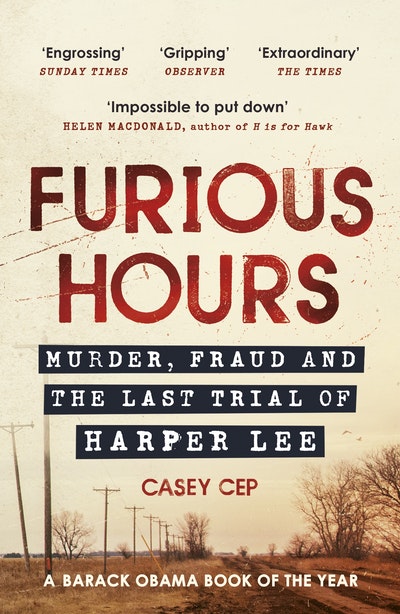 Published:

29 September 2020

ISBN:

9780099510598

Imprint:

Windmill Books

Format:

Paperback

Pages:

336

RRP:

$24.00
Furious Hours
Murder, Fraud and the Last Trial of Harper Lee
---
---
---
The stunning true story of an Alabama serial killer, and the trial that obsessed the author of To Kill a Mockingbird in the years after the publication of her classic novel - a complicated and difficult time in her life that, until now, has been very little examined.
A BARACK OBAMA BOOK OF THE YEAR
WINNER OF THE 2020 CRIME WRITERS' ASSOCIATION ALCS GOLD DAGGER FOR NON-FICTION
SHORTLISTED FOR THE 2019 BAILLIE GIFFORD PRIZE FOR NON-FICTION
A SUNDAY TIMES, ECONOMIST AND SPECTATOR BOOK OF THE YEAR
'A triumph on every level. One of the losses to literature is that Harper Lee never found a way to tell a gothic true-crime story she'd spent years researching. Casey Cep has excavated this mesmerizing story and tells it with grace and insight and a fierce fidelity to the truth.'
DAVID GRANN, author of Killers of the Flower Moon
_____________________________
The stunning story of an Alabama serial killer and the true-crime book that Harper Lee worked on obsessively in the years after To Kill a Mockingbird
Reverend Willie Maxwell was a rural preacher accused of murdering five of his family members for insurance money in the 1970s. With the help of a savvy lawyer, he escaped justice for years until a relative shot him dead at the funeral of his last victim. Despite hundreds of witnesses, Maxwell's murderer was acquitted - thanks to the same attorney who had previously defended the Reverend.
As Alabama is consumed by these gripping events, it's not long until news of the case reaches Alabama's - and America's - most famous writer. Intrigued by the story, Harper Lee makes a journey back to her home state to witness the Reverend's killer face trial. Harper had the idea of writing her own In Cold Blood, the true-crime classic she had helped her friend Truman Capote research. Lee spent a year in town reporting on the Maxwell case and many more years trying to finish the book she called The Reverend.
Now Casey Cep brings this story to life, from the shocking murders to the courtroom drama to the racial politics of the Deep South. At the same time, she offers a deeply moving portrait of one of the country's most beloved writers and her struggle with fame, success, and the mystery of artistic creativity.
This is the story Harper Lee wanted to write. This is the story of why she couldn't.
_____________________________
'Fascinating ... Cep has spliced together a Southern-gothic tale of multiple murder and the unhappy story of Lee's literary career, to produce a tale that is engrossing in its detail and deeply poignant... [Cep] spends the first third of Furious Hours following the jaw-dropping trail of murders ... Engrossing ... Cep writes about all this with great skill, sensitivity and attention to detail.'
SUNDAY TIMES
'It's been a long time since I picked up a book so impossible to put down. Furious Hours made me forget dinner, ignore incoming calls, and stay up reading into the small hours. It's a work of literary and legal detection as gripping as a thriller. But it's also a meditation on motive and mystery, the curious workings of history, hope, and ambition, justice, and the darkest matters of life and death. Casey Cep's investigation into an infamous Southern murder trial and Harper Lee's quest to write about it is a beautiful, sobering, and sometimes chilling triumph.'
HELEN MACDONALD, author of H is for Hawk
'This story is just too good ... Furious Hours builds and builds until it collides with the writer who saw the power of Maxwell's story, but for some reason was unable to harness it. It lays bare the inner life of a woman who had a world-class gift for hiding ... [this] book makes a magical leap, and it goes from being a superbly written true-crime story to the sort of story that even Lee would have been proud to write.'
MICHAEL LEWIS, author of Moneyball and The Big Short
Published:

29 September 2020

ISBN:

9780099510598

Imprint:

Windmill Books

Format:

Paperback

Pages:

336

RRP:

$24.00
A triumph on every level. One of the losses to literature is that Harper Lee never found a way to tell a gothic true-crime story she'd spent years researching. Casey Cep has excavated this mesmerizing story and tells it with grace and insight and a fierce fidelity to the truth.

David Grann, author of 'Killers of the Flower Moon'
It's been a long time since I picked up a book so impossible to put down. Furious Hours made me forget dinner, ignore incoming calls, and stay up reading into the small hours. It's a work of literary and legal detection as gripping as a thriller. But it's also a meditation on motive and mystery, the curious workings of history, hope, and ambition, justice, and the darkest matters of life and death. Casey Cep's investigation into an infamous Southern murder trial and Harper Lee's quest to write about it is a beautiful, sobering, and sometimes chilling triumph.

Helen Macdonald, author of 'H is for Hawk'
A brilliant account of Harper Lee's failed attempt to write a true crime book . Along the way, Cep relates the history of courthouses, voodoo, and everything one needs to know about the insanity defence . Meticulously researched, this is essential reading for anyone interested in [Harper] Lee and American literary history.

Publishers Weekly
Fascinating ... Cep has spliced together a Southern-gothic tale of multiple murder and the unhappy story of Lee's literary career, to produce a tale that is engrossing in its detail and deeply poignant... [Cep] spends the first third of Furious Hours following the jaw-dropping trail of murders ... Engrossing ... Cep writes about all this with great skill, sensitivity and attention to detail.

Sunday Times
It's one measure of just how rich Casey Cep's material is, and how artfully she handles it, that I have given away only about a tenth of the interest and delight contained within the first third of her book ... [Casey Cep] explains as well as it is likely ever to be explained why Lee went silent after To Kill a Mockingbird

New York Times
Lee spent many years working on the project, but it never saw the light of day. Instead, more than four decades later, we have Cep's absorbing new volume, which succeeds in telling the story that Nelle Harper Lee could not and offers an affecting account of Lee's attempt to give meaning to a startling series of events . It's a rich, ambitious, beautifully written book . A gifted journalist who has written frequently for the New Yorker, Cep has imposed order here by providing biographical portraits of three figures: Maxwell, Radney and Lee. Each section moves the intrigue forward while rendering the lives of these real people, and the forces at work within them, as fully and fairly as possible . The result is a revealing triptych, one that tells a crime story but also says a great deal about the racial, cultural and political history of the South. As a portrayal of the life of a writer, the section on Lee is by itself worth the price of admission.

Washington Post
Gripping but always judicious ... Cep persuasively argues that the appeal of all this to Lee went well beyond that of a cracking story ... Almost every individual part of the book rattles along compulsively, while also providing some neat and telling changes of perspective. As well as the enthralling central story, there's plenty of great stuff on the always eye-popping business of southern politics. And perhaps best of all, Furious Hours triumphantly rescues Harper Lee from the myth she's been in danger of disappearing into - and restores her to full and recognisable human life.

Daily Telegraph
Accomplished and compelling ... All this is gold-dust for a writer, and Cep has used it well ... She draws a vivid portrait of the characters embroiled in these dreadful crimes, the community they affected, and the rekindling of Lee's writing they promised.

Herald
With its rich cast of characters, the polar opposite settings of New York and rural Alabama, Cep's dark humour and painstaking research, there is a great deal to enjoy ... a rich and rewarding read.

The Times
This story is just too good ... Furious Hours builds and builds until it collides with the writer who saw the power of Maxwell's story, but for some reason was unable to harness it. It lays bare the inner life of a woman who had a world-class gift for hiding ... [this] book makes a magical leap, and it goes from being a superbly written true-crime story to the sort of story that even Lee would have been proud to write.

Michael Lewis, author of 'Moneyball' and 'The Big Short'
[An] intriguing book . What gives Furious Hours its frisson is that the author who hoped to follow in Capote's footsteps was his old friend, Harper Lee . Cep ably takes on the task that Lee may or may not have abandoned . Ms Cep paints a portrait of a hermetic society still riven by prejudice . Then she pieces together Lee's struggle not only with Maxwell's tale but with the legacy of her overwhelming success . Furious Hours is a well-told, ingeniously structured double mystery - one an unsolved serial killing, the other an elusive book - rich in droll humour and deep but lightly worn research.

Economist
The makings of a fascination tale are certainly present, and Cep writes with wonderful evocation and intelligence about the racial, political and cultural backgrounds against which this drama too place . Casey Cep has elegantly filled in the gaps.

Sarah Churchwell, Spectator
[A] stunning tale

Nilanjana Roy, Financial Times
Casey Cep's painstakingly researched book is a gripping account of both the trial and Lee's obsession with it.

Observer
Casey Cep has created a book that's totally astounding and deeply moving.

Stylist
Astounding

Emerald Street
Superb, sparklingly intelligent

Daily Telegraph
In Furious Hours, her brilliant and gripping account, Casey Cep details and analyses [Harper] Lee's increasingly desperate efforts to write that second book . Furious Hours is probably the nearest we will get to the book Harper Lee tried so hard to complete. It is a tacit tribute to Harper Lee but even more, an attempt, largely successful, to bring her abandoned project to final fruition . A book of compelling portraits . Cep's narrative swarms with other characters, all credibly realised in their often cantankerous and eccentric ways . Painstakingly researched and beautifully written.

Times Literary Supplement
It's as gripping as a thriller and as coolly dissected as a forensics report.

Robert Doulgas-Fairhurst, The Spectator
The inside scoop on Harper Lee's long, post-Mockingbird silence. After working with Truman Capote on his true-crime book In Cold Blood, Lee attempted something similar, taking a murderous preacher, the Rev Willie Maxwell, as her subject. Despite years of research, Lee never produced a book - but Cep's beautifully written offering goes a long way to making up for that. Utterly gripping, this is the ideal Christmas treat for anyone who loves Harper Lee.

Claire Lowdon, Sunday Times, Best Literary Books of the Year
An ingeniously structured, beautifully written double mystery

The Economist
Fascinating true story

The Times
The astonishing account of murders in Alabama and Harper Lee's attempt to unravel the story.

Hugo Vickers, The Telegraph
Fascinating ... Riveting.

Evening Standard