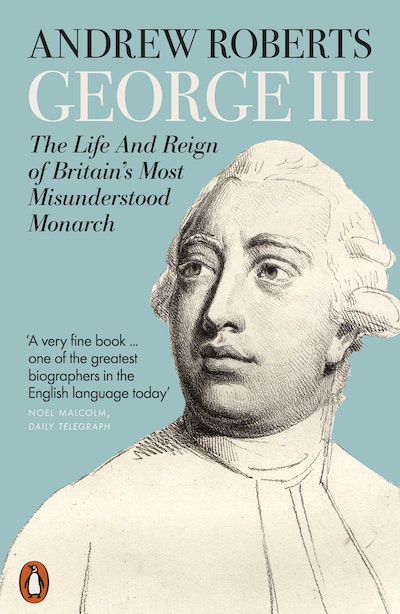 Published:

7 January 2021

ISBN:

9780241413340

Imprint:

Penguin eBooks

Format:

EBook

Pages:

656
George III
The Life and Reign of Britain's Most Misunderstood Monarch
---
---
One of Britain's premier historians overturns received wisdom on a much-maligned king
George III, Britain's longest-reigning king, has gone down in history as 'the cruellest tyrant of this age' (Thomas Paine, eighteenth century), 'a sovereign who inflicted more profound and enduring injuries upon this country than any other modern English king' (WEH Lecky, nineteenth century), 'one of England's most disastrous kings' (JH Plumb, twentieth century) and as the pompous, camp and sinister monarch of the musical 'Hamilton' (twenty-first century).
Andrew Roberts's magnificent new biography takes entirely the opposite view. It convincingly portrays George as intelligent, benevolent, scrupulously devoted to the constitution of his country and (as head of government as well as head of state) navigating the turbulence of eighteenth-century politics with a strong sense of honour and duty. He was a devoted husband and family man, a great patron of the arts and sciences, keen ('Farmer George') to advance Britain's agricultural capacity and determined that her horizons should be global.
The book gives a detailed, revisionist account of the American War of Independence, amongst other things persuasively taking apart a significant proportion of the Declaration of Independence. In a later war, it shows how George's support for William Pitt was crucial to the battle against Napoleon. And it makes a credible, modern diagnosis of George's terrible malady which robbed him of his mind for the last 10 years of his life - his other main claim to the popular imagination.
Roberts argues that, far from being a tyrant or incompetent, George III was one of our most admirable monarchs. George III shows one of Britain's premier historians at his sparkling best.
Published:

7 January 2021

ISBN:

9780241413340

Imprint:

Penguin eBooks

Format:

EBook

Pages:

656