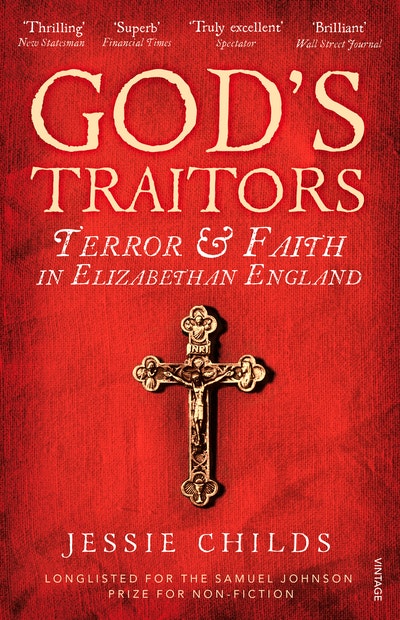 Published:

6 March 2014

ISBN:

9781473511644

Imprint:

Vintage Digital

Format:

EBook

Pages:

480
God's Traitors
Terror and Faith in Elizabethan England
---
---
---
A true story of plots, priest-holes and persecution and one family's battle to save Catholicism in Reformation England.
*Winner of the PEN Hessell-Tiltman Prize*
*Longlisted for The Samuel Johnson Prize for Non-Fiction*
*A Sunday Times Book of the Year*
*A Daily Telegraph Book of the Year*
*A Times Book of the Year*
*An Observer Book of the Year*
A woman awakes in a prison cell.
She has been on the run but the authorities have tracked her down and taken her to the Tower of London - where she is interrogated about the Gunpowder Plot.
The woman is Anne Vaux - one of the ardent, brave and exasperating members of the aristocratic Vauxes of Harrowden Hall.
Through the eyes of this remarkable family, award-winning author Jessie Childs explores the Catholic predicament in Elizabethan England - an age in which their faith was criminalised and almost two hundred Catholics were executed.
From dawn raids to daring escapes, stately homes to torture chambers, God's Traitors exposes the tensions masked by the cult of Gloriana - and is a timely reminder of the terrible consequences when religion and politics collide.
Published:

6 March 2014

ISBN:

9781473511644

Imprint:

Vintage Digital

Format:

EBook

Pages:

480
Praise for God's Traitors
A triumph of story-telling, backed by first-rate research

Antonia Fraser
Absorbing, exciting and relevant

Ben MacIntyre, The Times Book of the Week
Richly packed, absorbing... A parade of extraordinary characters

Simon Callow, Guardian
Thrilling

New Statesman
God's Traitors, with its crisp prose and punctilious scholarship, brilliantly recreates a world of heroism and holiness in Tudor England... It is little short of a triumph

Ian Thomson, Financial Times
Beautifully written... Hollywood could not have made it up

Professor JJ Scarisbrick
Brilliant

Wall Street Journal
Truly excellent... God's Traitors crosses the divide between popular and academic history. It raises issues of some real historical importance

Michael Questier, Spectator
This vivid, minutely researched and brilliantly original history is a much-needed look at the dark side of the Elizabethan age

Dan Jones, Sunday Times
Excellent... An engaging history of English papists, filled with memorable episodes

The Economist
In the quality of her research and sensitive handling of issues that remain raw to this day, Jessie Childs succeeds in evoking 'the lived experience of anti-Catholicism' as few have done before... Childs's language is lively and inventive... By picturing Elizabethan recusants in all their complexity, Jessie Childs has enabled them to speak for themselves at last

John Cooper, Literary Review
Superb and groundbreaking... It isn't possible in the space of a review to do justice to the breadth and depth of Childs' research and insight; but they illuminate the entire landscape of English life...a superlative, flawlessly written book... Childs' description of an exorcism at Lord Vaux's house in Hackney...is one of the most extraordinary things I have ever read

Matthew Lyons, author of The Favourite
Plots and priest holes abound

Caroline Sanderson, Bookseller
Childs is a lucid, passionate writer and she gets under the skin of her subject... It's not often that history books get the balance of expert research and storytelling with chutzpah just right but Childs has managed it with this informative and entertaining book

Doug Johnstone, Big Issue
[A] moving historical account... Childs paints a vivid, sometimes even humorous picture of devout Catholics keeping up appearances

Daisy Dunn, Daily Mail
Vivid but measured…never has the actual experience of the recusants been rendered with such a wealth of searing detail…richly packed, absorbing… It is a parade of extraordinary characters and a banquet of Elizabethan and Jacobean prose

Simon Callow, Guardian (Book of the Week)
This superbly researched and vividly narrated account conjures a lost world of exorcisms, priest's holes and miracle-performing relics

David Gelber, Country Life
[A] fascinating work of narrative history… What makes Childs's book different is that she concentrates not on the derring-do of the foreign diplomats and priest-adventurers – who invariably ended up hung, drawn and quartered – but on the stay-at-home English Catholics who were obliged to negotiate their divided loyalties in these trickiest of times

Kathryn Hughes, Mail on Sunday
Splendid book… Childs does a splendid job of explaining this unenviable situation and of putting it in the wider context of Elizabethan Catholic life. There are many fruitful digressions

Jonathan Wright, The Tablet
An impressive history

Daily Telegraph
A gripping account of an aristocratic family defying Elizabeth I's thought police and executioners

Camden New Journal
· Thorough research coupled to a vigorous, readable style… This colourful saga of a downwardly mobile family on the losing side of national events reminds us that history is not all about the winners

Derek Wilson, History Today
All the way through, you ask: just how far would I go to protect and express my faith?

Sinclair McKay, Evening Standard
It's been eight years since Jessie Childs' last book, and her latest…was worth the wait

Chris Skidmore, BBC History Magazine
Thought-provoking and timely

Ben Macintyre, The Times
There have been many books on the turbulent lives of Catholics in post-Reformation England, but Childs's nuances account of the Vauxes of Harrowden Hall in Northhamptonshire convinced me there is still new ground to explore or, at least, revisit with fresh eyes

Jonathan Wright, Herald
A timely exposé of our gruesome, intolerant past

5 stars, Daily Telegraph
[A] gripping and superbly written book

Mail on Sunday