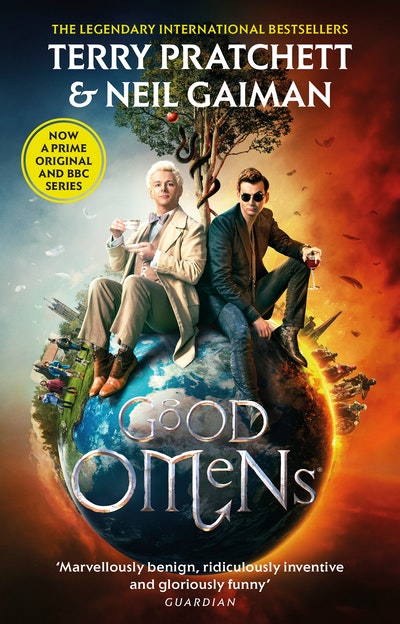 Published:

7 May 2019

ISBN:

9780552176453

Imprint:

Corgi

Format:

Paperback

Pages:

416

RRP:

$26.00
Good Omens
---
---
---
The classic, bestselling dark and hilarious take on mankind's final judgement by two genre giants reached the small screen this spring in the Amazon Prime Original / BBC TV production - written by Neil Gaiman and with a brilliant all-star cast!
NOW ON AMAZON PRIME AND WILL PREMIERE ON BBC 2 WEDNESDAY 15 JANUARY - STARRING DAVID TENNANT, MICHAEL SHEEN, JON HAMM AND BENEDICT CUMBERBATCH
'Ridiculously inventive and gloriously funny' Guardian

What if, for once, the predictions are right, and the Apocalypse really is due to arrive next Saturday, just after tea?
It's a predicament that Aziraphale, a somewhat fussy angel, and Crowley, a fast-living demon, now find themselves in. They've been living amongst Earth's mortals since The Beginning and, truth be told, have grown rather fond of the lifestyle and, in all honesty, are not actually looking forward to the coming Apocalypse.
Now people have been predicting the end of the world almost from its very beginning, so it's only natural to be sceptical when a new date is set for Judgement Day.
You could spend the time left drowning your sorrows, giving away all your possessions in preparation for the rapture, or laughing it off as (hopefully) just another hoax. Or you could just try to do something about it.
And then there's the small matter that someone appears to have misplaced the Antichrist . . .
_____________________
CAST INCLUDES:
Crowley - David Tennant
Aziraphale - Michael Sheen
Angel Gabriel - Jon Hamm
Voice of Satan - Benedict Cumberbatch
Voice of God - Frances McDormand
Published:

7 May 2019

ISBN:

9780552176453

Imprint:

Corgi

Format:

Paperback

Pages:

416

RRP:

$26.00
Marvellously benign, ridiculously inventive and gloriously funny

GUARDIAN
Wickedly funny

TIME OUT
A superbly funny book. Pratchett and Gaiman are the most hilariously sinister team since Jekyll and Hyde. If this is Armageddon, count me in

JAMES HERBERT
Wow

WASHINGTON POST
Heaven to read, and you'll laugh like hell

Time Out
Not quite as sinister as the authors' photo

The Times
Hilarious Pratchett magic tempered by Neil Gaiman's dark steely style; who could ask for a better combination?

Fear
Frequently hilarious, littered with funny footnotes and eccentric characters. It's also humane, intelligent, suspenseful, and fully equipped with a chorus of "Tibetans, Aliens, Americans, Atlanteans and other rare and strange creatures of the Last Days." If the end is near, Pratchett and Gaiman will take us there in style

Locus
Video
Good Omens - Series Date Announcement | Prime Video
Watch Good Omens, coming to Prime Video on May, 31 with your prime membership. » Watch Good Omens on 5/31, exclusively with your Prime membership: http://bit.ly/GoodOmensPrimeVideoUK » SUBSCRIBE: http://bit.ly/PrimeVideoUKSubscribe About Good Omens: The End of the World is coming, which means a fussy Angel and a loose-living Demon who've become overly fond of life on Earth are forced to form an unlikely alliance to stop Armageddon. But they have lost the Antichrist, an 11-year-old boy unaware he's meant to bring upon the end of days, forcing them to embark on an adventure to find him and save the world before it's too late. Get More Good Omens: Facebook: https://www.facebook.com/GoodOmensAmazon/ Twitter: https://twitter.com/GoodOmensAmazon Instagram: https://www.instagram.com/GoodOmensAmazon/ About Prime Video: Want to watch it now? We've got it. This week's newest movies, last night's TV shows, classic favorites, and more are available to stream instantly, plus all your videos are stored in Your Video Library. Over 150,000 movies and TV episodes, including thousands for Amazon Prime members at no additional cost. Get More Prime Video: Watch More: http://bit.ly/WatchPrimeVideoUKNow Facebook: http://bit.ly/PrimeVideoUKFacebook Twitter: http://bit.ly/PrimeVideoUKTwitter Instagram: http://bit.ly/PrimeVideoUKInstagram Good Omens - Series Date Announcement | Prime Video https://youtu.be/z619zok9hdg Prime Video https://www.youtube.com/c/primevideouk