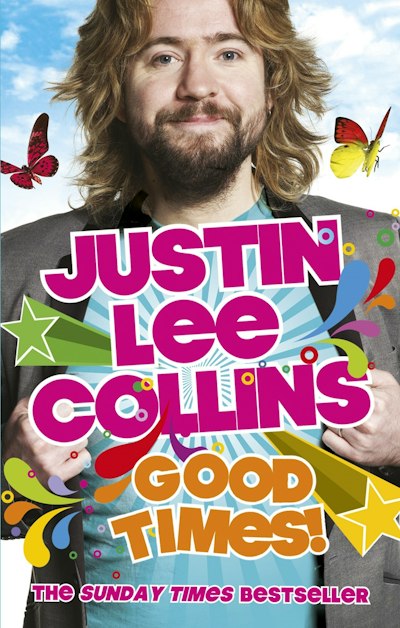 Published:

1 September 2010

ISBN:

9781407029399

Imprint:

Ebury Digital

Format:

EBook

Pages:

352
Good Times!
---
---
---
A hilarious coming-of-age story from TV's best-loved bearded Bristolian
He street jams in spandex and wrestles in lycra. He's been a magician, a ventriloquist and a clown. He's hugged some of the biggest stars in the world, and pretty much anyone else who's crossed his path. He mucks about, wears silly costumes and manhandles his friend Alan Carr on national TV on a weekly basis. And people have literally paid him to do all this. Good times!
But life wasn't always so kind to young Justin. He discovered he couldn't kiss very well at school camp in Plymouth. "An attractive sixth-form girl let me snog her. I was about 12. She pulled away, and said 'Aaah, you can't do it.' Then she then picked me up and carried me back to my room." The years stacking shelves at Bristol's Marks and Spencer weren't exactly a high point. Being told to 'walk faster' by his boss and being given a final warning: "it dawned on me they thought that putting out knickers and crisps was beyond me!" Bad times.
But mere retail couldn't keep him down! This hilarious coming-of-age story follows his journey from collecting Star Wars toys as a small boy to schmoozing Carrie Fisher in her Hollywood home, and becoming one of the most loved and instantly recognised faces on British TV. For each new twist his life has taken, he hasn't changed a bit. He's as bouncy, funny, shambolic, huggable and of course Bristolian as he's ever been. This is the story of how it all happened. By accident.
But this book is not just a routine celebrity autobiography/memoir – that would be boring. Especially for Justin himself, whose attention span is that of a small child at the best of times. Instead, this is JLC utilising his remarkable photographic memory to ponder the unfeasibly peculiar and funny moments that have defined his life, and desperately trying to make sense of it all. Rock on!
Published:

1 September 2010

ISBN:

9781407029399

Imprint:

Ebury Digital

Format:

EBook

Pages:

352
Highly entertaining

Shortlist Magazine
Disarming honesty, excitability and good humour make him a great storyteller

Heat