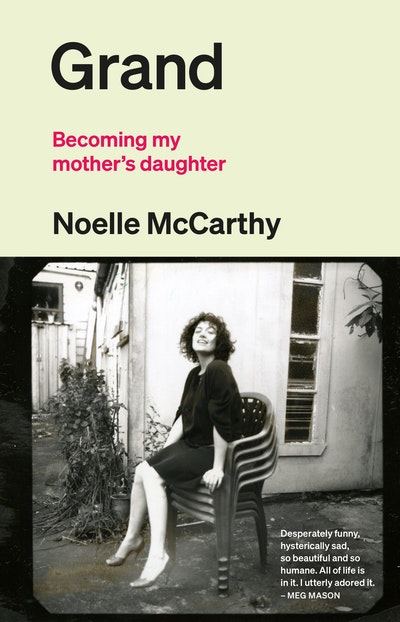 Published:

29 March 2022

ISBN:

9780143776109

Imprint:

Penguin

Format:

Paperback

Pages:

272

RRP:

$35.00
Grand
Becoming my mother's daughter
Extract
Seventeen 
On the crest of Hopetoun Bridge, I stop and take a selfie.I stretch my arm out straight so I get as much of me as possible into the photo. My hair is cropped short, and I'm wearing a big pair of lime green sunglasses. I've started getting fake tans, standing naked in a pop-up tent out the back of a beauty salon in Grey Lynn while an obliging older woman comes at me with a spray gun. You can see the thin, plum-coloured straps of the playsuit I'm wearing pop against my brown shoulders. My hair is ruled by the light breeze blowing in off the water and I'm smiling, a bright wide grin that says hello and pleased to meet you. It's just before 7 o'clock on a Saturday evening, mid-January,the height of summer. Under the bridge, the motorways thrum and flash. From where I'm standing, you can see the harbour sparkling blue and white all the way to Rangitoto. I'm taking a selfie to fix myself here, in this place, in this moment. I'm on my way to meet someone. I'm nervous.
People do this, I tell myself. they do it all the time – go onblind dates, meet on dating apps, whatever. A friend put me in touch with the man I'm going to see, she thinks we'll enjoy each other. But the texting to set things up, suggesting a venue, it's all been a bit exposing already. Drinks and dinner, is all. But it isn't really. It's admitting I want this: a partner, a home, a family eventually. I used to look down on people who dared to work towards this stuff. I laughed at everyone who wasn't unironic about all the things that adult life requires: showing up for someone else, being faithful, paying taxes. I wouldn't dream of flirting, even, unless I had a drink in me. It's been a long time since I flirted with anyone. What's the line from Friends again? 'I haven't had sex in so long, I'm wondering if they've changed it.' Monica was always my favourite.
At the meeting earlier, I said that I was grateful. For all the things I have, and for the ability to participate in life the way I used to not be able to. I was thinking about tonight, coming out to meet this man I don't know, sitting in a restaurant, as naked and hopeful as any of the rest of them. I'm just a person in the world, no worse and no better. And that's OK – I say it out loud, and the wind takes it. That's OK, I say again. It's OK to go and meet this man, with my head screwed on and my heart open. A little bit open anyway. If he's an asshole, I can leave early. And I'm wearing flat shoes, I'll walk home if I have to. But what if Ilike him, and he doesn't like me back? What if it goes somewhere for a few weeks, and then he stops texting? What if he has a secret family, or he's a closet alcoholic? Please not that, I'll do anything but I can't go to Al-Anon again, sitting round the big table with all those poor women, that was terrible.
If he doesn't show, I'll have a Forget-Me-Not and talk to Dee –she's the one who set us up anyway, she vouched for him. I have friends here. I can do this. I stand on the bridge, harbour on one side, high-rises on the other. This is the city where I got sober, four-and-a-half years now. I've been away and back again – I justspent fifteen months back in Ireland, trying to be a writer. There's a manuscript in my desk drawer. I know it's not very good, but I'm glad I did it. I missed this city though. I dreamed of it – the melancholy light when the sun hits the trees in Western Park in April, turning the corner down to Ponsonby Road from the petrol station, the long swing of the ridge in front of me.
Crossing Beresford Square, I get a text. I stop to read it outside Supper Club, smiling involuntarily. 'I'm the bloke in the blueshirt by the bar,' it says. I've never had dinner with someone who calls himself a bloke before. A blind date. He could be anyone.But it's all right to want things. This is my city. And he's there already. I walk faster so as not to keep him waiting.
---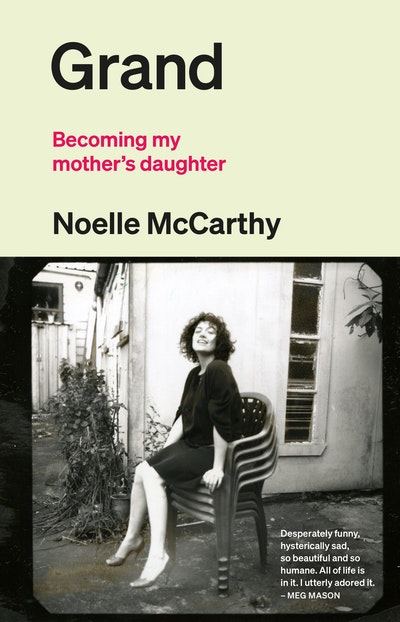 The astonishing debut memoir about mothers and daughters, drinking, birth and loss, running away and homecoming from prize-winning writer and broadcaster Noelle McCarthy.
Buy now
Buy now
---