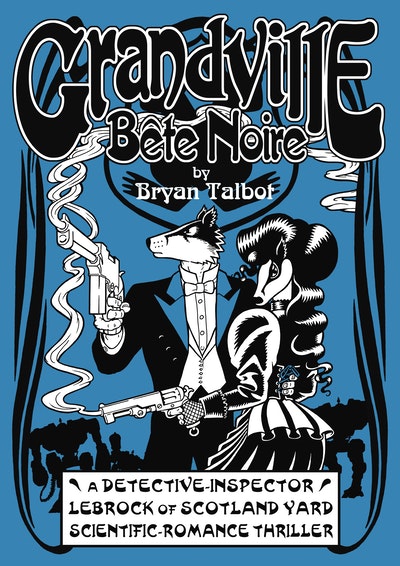 Published:

6 December 2012

ISBN:

9781446477311

Imprint:

Vintage Digital

Format:

EBook

Pages:

104
Grandville Bete Noire
---
---
---
'The bastard child of Conan Doyle and Beatrix Potter, it's a gripping feast for the eyes.' Rachel Cooke, Observer
The third volume of the Grandville series - Anthropomorphic steampunk detective fiction from graphic novel master Bryan Talbot
The Badger is back!Follow the Badger!
At Toad Hall, lair of multibillionaire Baron Aristotle Krapaud, a cabal of industrialists and fat cats plot the violent overthrow of the French state. Meanwhile, the brutal murder of a famous Parisian artist is subject to the investigations of the tenacious Detective Inspector LeBrock of Scotland Yard, placing him and his faithful adjunct, Detective Sergeant Roderick Ratzi, in pursuit of the mysterious masked assassin stalking the cut-throat commercial world of the Grandville art scene.
As the body count mounts and events spiral exponentially out of control, aided by his brilliant deductive abilities and innate ferocity, LeBrock battles against outrageous odds in this funny, high octane thriller, an adventure shot through with both high art and comic book references, a glorious illegitimate offspring of Sir Arthur Conan Doyle and Ian Fleming - with animals!
'The bastard child of Conan Doyle and Beatrix Potter, it's a gripping feast for the eyes' Observer
Published:

6 December 2012

ISBN:

9781446477311

Imprint:

Vintage Digital

Format:

EBook

Pages:

104
Praise for Grandville Bete Noire
I have greatly enjoyed the Grandville books. I think they're superbly designed, beautifully conceived, admirably written - everything about them is terrific... A graphic novel built on the solid foundation of a strong story.

Philip Pullman
The third and finest stand-alone volume in the award-winning 'scientific-romance-thriller' series… These ingeniously plotted fantasies will make you bark with laughter.

Larushka Ivan-Zadeh, Metro
The bastard child of Conan Doyle and Beatrix Potter, it's a gripping feast for the eyes.

Rachel Cooke, Observer
Both acerbic and hilarious.

Mr. Hyde
This ripping yarn of murder, mystery and the machinating arms tycoon Baron Krapaud of Toad Hall is both irresistibly exciting and sumptuously designed.

David Langford, Telegraph
Flynn's book is full of satisfying twists, turns and shocks ... The art is stunning, the story ingenious, and the in-jokes delicious, as our badger hero visits Paris to solve a series of art murders, including the demise of a crow called Gustave Corbeau.

Ian Rankin, Scotsman
A blindingly beautiful crime adventure comic.

Comicbuzz.com