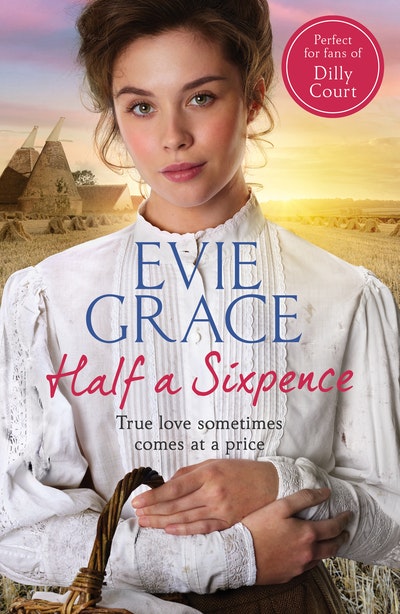 Published:

13 July 2017

ISBN:

9781473538306

Imprint:

Cornerstone Digital

Format:

EBook

Pages:

416
Half a Sixpence
Catherine's Story
---
---
A brand new Victorian saga series for Arrow, perfect for fans of Dilly Court and Maggie Hope.
True love sometimes comes at a price
THE FIRST SAGA IN EVIE GRACE'S MAIDS OF KENT TRILOGY.
'An intriguing tale of family relationships and of finding love a second time around . . . I'll be sure to look out for the next book in the series.' Val Wood
'An enthralling plotline with unexpected twists that will intrigue the reader until the last page.'
Margaret Dickinson
'I enjoyed reading Half a Sixpence and following the fortunes and tribulations of Catherine . . . It gave a very good sense of time and place and I hope it does really well for her.' Rosie Goodwin
'A dazzling debut that reminded me of the Catherine Cookson' Frost Magazine
***
East Kent, 1830. Catherine Rook takes her peaceful life for granted. Her days are spent at the village school and lending a hand on her family's farm. Life is run by the seasons, and there's little time for worry.
But rural unrest begins sweeping through Kent, and when Pa Rook buys a threshing machine it brings turbulence and tragedy to Wanstall Farm. With the Rooks' fortunes forever changed, Catherine must struggle to hold her family together.
She turns to her childhood companion, Matty Carter, for comfort, and finds more than friendship in his loving arms. But Matty has his own family to protect, and almost as quickly as their love blossomed their future begins to unravel.
With the threat of destitution nipping at her heels, Catherine must forge a way out of ruin . . .
Praise for Half a Sixpence:
'What a treat. A Saga so refreshingly different from anything I have read before. A terrific story the reader will find impossible to put down . . . The tale that Evie tells us is fascinating, gripping, sad, happy, highly original and yes, you'll find out all about that half sixpence.'
Eileen Ramsay
'A dazzling debut that reminded me of the Catherine Cookson books I have loved so much. Brilliant historical fiction that draws you in and does not let you go. Even better, this is the first book in a trilogy. We can't wait until the next instalment.' Frost Magazine
'I absolutely loved, loved, loved reading Half A Sixpence and I can't wait to read more from the pen of Evie Grace.' Ginger Book Geek, 5*
'Highly recommend to fans of novels in the saga or historical fiction genre.' Abby Bonny Book Reviews, 5*
'A brilliant first novel.' Mojo Mums blog
Published:

13 July 2017

ISBN:

9781473538306

Imprint:

Cornerstone Digital

Format:

EBook

Pages:

416
Praise for Half a Sixpence
True love sometimes comes at a price. East Kent, 1830. Catherine Rook takes her peaceful life for granted. Her days are spent at the village school and lending a hand on her family's farm. Life is run by the seasons, and there's little time for worry. But rural unrest begins sweeping through Kent, and when Pa Rook buys a threshing machine it brings turbulence and tragedy to Wanstall Farm.

from the publisher's description
An intriguing tale of family relationships and of finding love a second time around . . . I'll be sure to look out for the next book in the series.

Val Wood
An enthralling plotline with unexpected twists that will intrigue the reader until the last page.

Margaret Dickinson
I enjoyed reading Half a Sixpence and following the fortunes and tribulations of Catherine . . . It gave a very good sense of time and place and I hope it does really well for her.

Rosie Goodwin
What a treat. A Saga so refreshingly different from anything I have read before. A terrific story the reader will find impossible to put down . . . The tale that Evie tells us is fascinating, gripping, sad, happy, highly original and yes, you'll find out all about that half sixpence.

Eileen Ramsay
A dazzling debut that reminded me of the Catherine Cookson books I have loved so much. Brilliant historical fiction that draws you in and does not let you go. Even better, this is the first book in a trilogy. We can't wait until the next instalment

Frost Magazine
I absolutely loved, loved, loved reading Half A Sixpence and I can't wait to read more from the pen of Evie Grace

Ginger Book Geek - 5*
Highly recommend to fans of novels in the saga or historical fiction genre.

Abby Bonny Book Reviews - 5*
A brilliant first novel

Mojo Mums blog
you'll want to keep an eye out for the sequel, Her Mother's Daughter, which is published in January 2018

Culture Fly