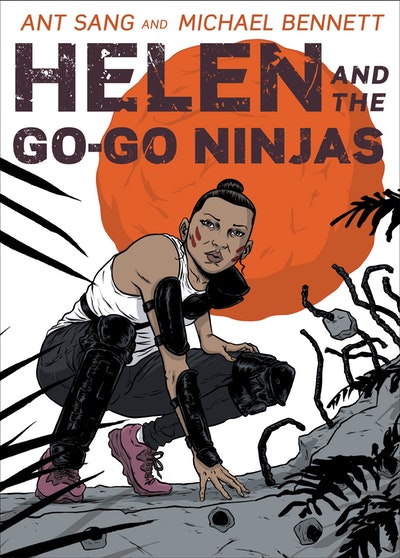 Published:

2 July 2018

ISBN:

9780143771241

Imprint:

Penguin

Format:

Paperback

Pages:

264

RRP:

$30.00
Helen and the Go-Go Ninjas
---
---
Eco-warrior Helen holds the keys to save the world in this multi-layered, award-winning dystopian graphic novel.
Kidnapped by time-travelling ninjas, Helen is thrust into the year 2355 — a ruined future with roving gangs and 'Peace Balls', giant humming devices that enslave and control people's minds.
The Go-Go Ninjas have one goal — to destroy the Peace Balls. They believe that Helen knows how.
Can Helen use her knowledge of the past to help them save the future?
An electrifying graphic novel by award-winning authors.

Published:

2 July 2018

ISBN:

9780143771241

Imprint:

Penguin

Format:

Paperback

Pages:

264

RRP:

$30.00
Praise for Helen and the Go-Go Ninjas
a captivating sci-fi adventure that can be devoured in one sitting, yet is much more than superficial action entertainment. The multi-layered time-travel story tackles serious issues. ...The diverse cast of characters and the combination of action-driven, thought-provoking, and witty scenes are just two aspects that make this a highly satisfying read.

International Youth Library, 2019 White Raven Catalogue
It's an action-packed graphic novel, a speculative tale set three hundred years into New Zealand's future with more than a nod to George Miller's movie Mad Max: Fury Road as well as a hint of Atwood's The Handmaid's Tale... Populated with kick-ass female characters, minimal dialogue, and blow-by-blow action, Helen and the Go-go Ninjas comes with an important message for society about the dangers of corporate-driven technologies to the health of our planet, and ultimately to the people who live on it. It's not their first time around the block, and comic artist Sang and screenwriter Bennett know a thing or two about dramatic flair. The images are stunning: the story told in pallets of muted grey green and striking reds. It's a visual feast of quickfire narrative, including some visual jokes... It was especially encouraging to come across a very able disabled heroine...Overall, Helen and the Go-Go Ninjas is a highly entertaining read, and a fast-paced fun way to spend an evening.

Lee Murray, leemurray.com - Speculative Fiction Blog
There is a filmic quality about this excellent graphic novel for readers as wide as intermediate to young adult...Very clever, very imaginative and full on action. I was amazed how much philosophical, scientific and emotional argument can be communicated in Ant Sang's brilliant comic illustrations. Combine this with Michael Bennett's tight script and you have a film classic in the making...I read this very quickly in like 30 minutes, then sat down and read it again. You will too. I am off to read it again. If you miss this you will kick yourself. Very cool indeed.

Bob Docherty, Bob's Book Blog
perfect for older teens

The Teen Age, Tots to Teens
This graphic novel was originally conceived as a film script by Michael Bennett and it has the tightly-connected plot and well-constructed surprise twists of a good action film. At the same time Ant Sang's illustrations bring an imaginary world into being, with convincing detail and skilfully shifting viewpoints. As soon as you have read this book, you immediately turn back to page 1 and start through again, this time appreciating the carefully planned structure and the careful placing of tiny hints (such as Helen's cold) which will be significant later...ironies, quirks of human behaviour and razor-sharp storytelling, as well as the ability to project some social issues of the present into the future, make Helen and the Go-Go Ninjas a winning graphic novel.

Trevor Agnew, Agnew Reading
In the tradition of other great comics collaborations, this book has brought out the best in both authors, pushing them into unexpected territory. It's a treat to see Sang drawing the twisted wreckage of a dystopian future, complete with overgrown forests and exotic wildlife (watch out for those tigers!), in vivid Technicolor, while Bennett's tight plotting and economic scripting perfectly complements the performances Sang's artwork brings to life. Helen and the Go-go Ninjas deserves to find a wide audience and should particularly appeal to teenagers, speaking to the concerns they see in the world around them, from climate change to toxic masculinity. It doesn't pull any punches, while never failing to entertain.

Adrian Kinnaird, New Zealand Books
White Ravens International Youth Library
Awarded • 2019 • White Raven Award
New Zealand Book Awards for Children and Young Adults
Finalist • 2019 • Russell Clark Award for Illustration