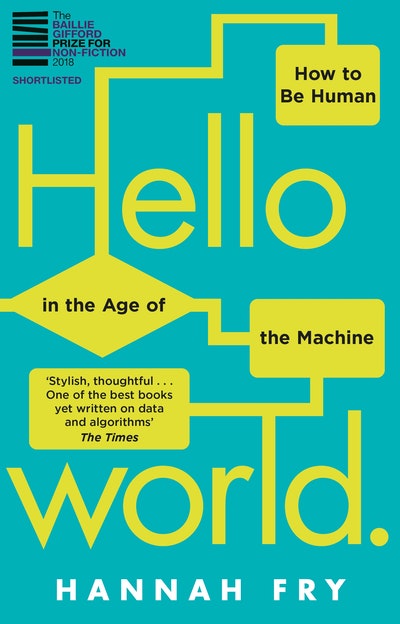 Published:

7 May 2019

ISBN:

9781784163068

Imprint:

Black Swan

Format:

Paperback

Pages:

320

RRP:

$28.00
Hello World
How to be Human in the Age of the Machine
---
---
---
Would you let an algorithm determine your fate? Hannah Fry lifts the lid on the world of algorithms, examining how they impact our future and whether they really are an improvement on the humans they replace.
_______________
'One of the best books yet written on data and algorithms. . .deserves a place on the bestseller charts.' (The Times)
You are accused of a crime. Who would you rather determined your fate - a human or an algorithm?
An algorithm is more consistent and less prone to error of judgement. Yet a human can look you in the eye before passing sentence.
Welcome to the age of the algorithm, the story of a not-too-distant future where machines rule supreme, making important decisions - in healthcare, transport, finance, security, what we watch, where we go even who we send to prison. So how much should we rely on them? What kind of future do we want?
Hannah Fry takes us on a tour of the good, the bad and the downright ugly of the algorithms that surround us. In Hello World she lifts the lid on their inner workings, demonstrates their power, exposes their limitations, and examines whether they really are an improvement on the humans they are replacing.
A BBC RADIO 4: BOOK OF THE WEEK
SHORTLISTED FOR THE 2018 BAILLIE GIFFORD PRIZE AND 2018 ROYAL SOCIETY SCIENCE BOOK PRIZE
Published:

7 May 2019

ISBN:

9781784163068

Imprint:

Black Swan

Format:

Paperback

Pages:

320

RRP:

$28.00
A stylish, thoughtful, and scrupulously fair-minded account of what the software that increasingly governs our lives can and cannot do ... A beautifully accessible guide that leaps lightly from one story to the next without sparing the reader hard questions... deserves a place in the bestseller charts.

Oliver Moody, The Times
With refreshing simplicity, Fry explains what AI, machine learning and complicated algorithms really mean, providing some succinct explanations of the Cambridge Analytica scandal, driverless cars and many other unnerving modern phenomena…This book illustrates why good science writers are essential.

Katy Guest, Guardian
Brilliantly clear...Fry succinctly outlines the ethical issues that beset AI

James McConnaiche, Sunday Times
Hello World is a gem of accessible science writing. With eloquence and charm, Hannah Fry outlines the maths of computer algorithms and explains how they are transforming fields such as health, justice, transport and the arts. She is a wise guide to the benefits - and horrors of our increasingly data-driven world.

Alex Bellos, author of Alex's Adventures in Numberland
Expertly told, wise and with a lightness of touch, Hannah Fry's brilliant exploration of how we live our lives in the age of AI will prompt arguments in pubs and over dinner tables for years to come.

Adam Rutherford
Computers used to be tools, then they were toys, and now they're all around us. You couldn't ask for a better guide to this bewildering new world than Hannah Fry, who fills Hello World with wit, storytelling and superbly clear insight. Bravo!

Tim Harford, author and presenter of The Undercover Economist and more recently Fifty Things That Made the Modern Economy.
Hannah Fry's masterful and entertaining call to arms needs to be read by every last human who unthinkingly entrusts our destiny to algorithms. Because, what do you know, the machine-determined future may just work against our best interests, people.

David Rowan, Founder editor of WIRED UK
Hello World is an action-packed, quick read during which you will be outraged, provoked, and challenged. The numerous, meticulously researched examples reveal the astonishing new world we're living in, one where secret decisions with ambiguous goals are deciding our individual and collective fates. Welcome to the modern world of big data, you're quite possibly screwed.

Cathy O'Neil, author of Weapons of Math Destruction
Hello World is a brisk and friendly guidebook to the algorithms all around us

Jordan Ellenberg
Editor's Choice: consistently illuminating

Caroline Sanderson, The Bookseller
Fascinating and funny. I learned something on every page.

Tom Chivers, science correspondent of Buzzfeed
Hannah Fry is one of the best explainers on the planet. In Hello World she examines the ups and downs of living with algorithms everywhere, online and off, in our homes and workplaces, hospitals and supermarkets. She takes a serious subject and leavens it delightfully with her clear writing and captivating stories, and her trademark sense of humour and fun.

Steven Strogatz, author of The Joy of X
Books of the Year

The Times
Books of the Year This short, sharp book on the power and dangers of algorithms offers one of the clearest explanations of a complex subject

FT
Books of the Year A perky, brief introduction to big data and algorithmic crunching…enjoyably sceptical

The Guardian
Books of the Year Hannah Fry's is the most readable, lively and sensible account, neither catastrophising nor pumped with boosterism

The Times
Books of the Year

New Scientist
Hello World is an illuminating book on the ethical issues around data. Mathematician and presenter Hannah Fry leads us through the not-too-distant worlds of AI politics, healthcare and culture, probing the complex roles of data and algorithms through a range of eye-opening examples. 'AI' is a much-used but oft-misunderstood term, and here Fry lays out its impact with ease - 'Best Books of 2018'

WIRED
Top science writing

Evening Standard
She is doing to maths what Brian Cox has done for physics

The Times