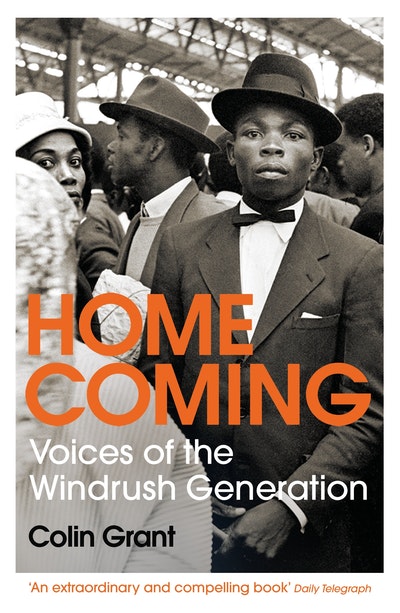 Published:

3 October 2019

ISBN:

9781473559981

Imprint:

Vintage Digital

Format:

EBook

Pages:

320
Homecoming
Voices of the Windrush Generation
---
---
---
The Windrush generation, in their own words - Homecoming is the first book to bring together oral testimonies of the post-war Caribbean immigrants to Britain
In the first flush of mass migration, the 1948 British Nationality Act held open the door for any member of the Commonwealth to relocate to Britain. Homecoming explores how and why West Indians succumbed to the fever to leave their islands and come 'home' to Britain.
Through first-hand interviews and testimonies, Homecoming reveals, in their own words, how the Windrush generation navigated this bewildering new cultural landscape. Their stories show how they were able to weave themselves into the very fabric of British society, while retaining and creating a distinct culture of their own, despite the sometimes open hostility of the host nation. Homecoming also demonstrates how dramatically attitudes hardened in this period, as the so-called 'immigrant problem' became recast as a 'colour problem', culminating in race riots and the Commonwealth Immigrants Act of 1962, which effectively disbarred the entry of unskilled black workers.
With many of the survivors of the Windrush generation now in their 70s and 80s, it is essential that their accounts of this hugely significant and fascinating moment of British history are recorded and savoured.
Published:

3 October 2019

ISBN:

9781473559981

Imprint:

Vintage Digital

Format:

EBook

Pages:

320
A remarkable oral history of black postwar British life… Homecoming is an extraordinary and compelling book in which the memories of bus drivers, civil servants, engineers, nurses, RAF and army recruits, teachers, shop stewards and seamstresses jostle with those of journalists, musicians, novelists and poets... The recovered memories in Homecoming are a formidable challenge to those still nostalgic for a lost empire, to all who cling to narrow and parochial definitions of Britishness... The voices in Homecoming sing throughout the book but they also reverberate pain, for so many are recounting stories they do not want to remember.

Hazel V Carby, Daily Telegraph
Grant is the writer to do justice to [the Windrush Generation's] lives… he has conducted dozens of interviews, dug into the Mass Observation archives, and combed through semi-forgotten oral histories from the 1960s to produce this anthology of submerged lives that prickles with beautiful, comic and brutal details.

Sukhdev Sandhu, Observer
Drawing on scores of first-hand accounts, Colin Grant offers oral history at its finest.

Bel Mooney, Daily Mail
Hundreds of first hand interviews, archive footage and memoir extracts of the Windrush Generation, beautifully edited into a patchwork quilt of experience and heritage. It's so powerful hearing these voices direct, making for a hopeful and angry, joyful and tear-jerking read.

Grazia
[Grant] lets people speak for themselves… there is much to enjoy. Some of the memories are painful, some are joyous, others are much more ambivalent.

Clive Davis, The Times
The Windrush generation's voices are rarely heard, but Grant's anthology is informative and funny, a well-researched window into a vanished world.

Sarah Hughes
[An] impressive work of oral history.

BBC History
Colin Grant has interviewed and collected nearly 200 voices from [the Windrush] era, from all walks of life, including policemen and fascists. It's quite a feat.

Bernardine Evaristo, i Newspaper
The structure of Homecoming gives its subjects space to speak for themselves, with each vignette providing a glimpse into little known history… Grant's collection of voice…exposes effectively the cruel logic of Britain's legacy of domination.

Renni Eddo-Lodge, Guardian
Interesting and nuanced.

Literary Review
[A] superb oral history… Interspersed with social commentary and pages of sprightly autobiography.

Ian Thomson, Tablet
In Homecoming… Colin Grant collates fragments from several hundred interviews, first-hand and archival, with a cross-section of Caribbean immigrants to Britain from the 1940s and early 60s, and allows his subjects to speak for themselves in idiosyncratic statements that refuse to be co-opted into a generalized account of immigrant experience… A fascinatingly varied tapestry emerges of why people came, what they made of it when they got here, and how they related both their Caribbeanness and their blackness.

Lloyd Bradley, Times Literary Supplement