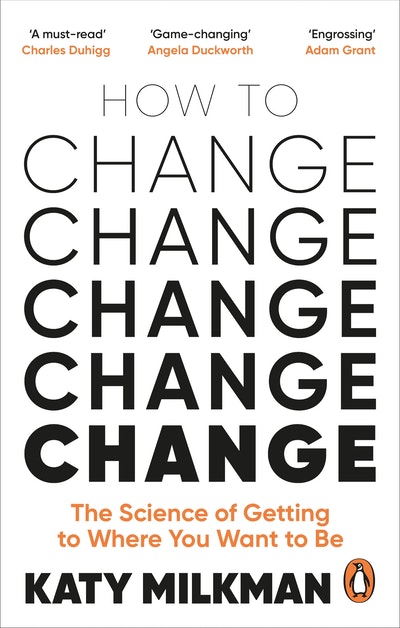 Published:

29 March 2022

ISBN:

9781785043734

Imprint:

Vermilion

Format:

Paperback

Pages:

272

RRP:

$24.00
How to Change
The Science of Getting from Where You Are to Where You Want to Be
---
---
---
The groundbreaking blueprint to help you and those around you to achieve super-human personal and professional goals, from the master of behaviour change
'Game-changing. Katy Milkman shows in this book that we can all be a super human' Angela Duckworth, bestselling author of Grit
How to Change is a powerful, groundbreaking blueprint to help you - and anyone you manage, teach or coach - to achieve personal and professional goals, from the master of human nature and behaviour change and Choiceology podcast host Professor Katy Milkman.
Award-winning Wharton Professor Katy Milkman has devoted her career to the study of behaviour change. An engineer by training, she approaches all challenges as problems to be solved and, with this mind-set, has drilled into the roadblocks that prevent us from achieving our goals and breaking unwanted behaviours. The key to lasting change, she argues, is not to set ever more audacious goals or to foster good habits but to get your strategy right.
In How to Change Milkman identifies seven human impulses, or 'problems', that commonly sabotage our attempts to make positive personal and professional change. Then, crucially, instead of getting you to do battle with these impulses she shows you how to harness them and use these as driving forces to help instil new, positive behaviours - better, faster and more efficiently than you could imagine.
Drawing her own original research, countless engaging case studies and practical tools throughout to help you put her ideas into action, Milkman reveals a proven, inspiring path that can take you - once and for all - from where you are today to where you want to be.
Published:

29 March 2022

ISBN:

9781785043734

Imprint:

Vermilion

Format:

Paperback

Pages:

272

RRP:

$24.00
Game-changing. Katy Milkman shows in this book that we can all be a super human

Angela Duckworth, bestselling author of Grit
In investing, as in so many other areas of life, developing the right habits is the key to success. Katy Milkman is a great guide into techniques to get you on and keep you on track, no matter your goals.

Charles R. Schwab
One of America's finest behavioural scientists has produced the ultimate guide to overcoming your worst instincts and becoming your best self. How to Change is like having the smartest friend in the world whispering in your ear, coaching you to vanquish laziness, procrastination, and impulsivity. This book is so helpful that after you read it, you'll want to send Katy Milkman a thank you note.

Daniel H. Pink, author of WHEN, DRIVE, and TO SELL IS HUMAN
How to Change is a wonder. Plenty of books offer advice on how to overcome common personal barriers but none as clearly, engagingly, and compellingly as this.

Bob Cialdini, author of INFLUENCE and PRE-SUASION
How to Change is a must-read for anyone looking to improve their habits - or their life. Milkman is at the forefront of the scientific revolution into behaviour change and, as important, she's a captivating storyteller. How to Change perfectly combines groundbreaking scientific research with personal stories of triumph and failure to explain how anyone can change. Transformation has always been mysterious. This book tells you how to make it real.

Charles Duhigg, bestselling author of THE POWER OF HABIT and SMARTER FASTER BETTER
If your goal is to get better, or to make your teams or business better, READ THIS BOOK. How to Change is the first book to lay out the science of what creates and sustains change of all kinds. In captivating style, Dr. Katy Milkman lays out the scientifically-based techniques she has used to help people, teams and companies change for good.

Laszlo Bock, CEO of Humu, former Google SVP of People, and author of WORK RULES!