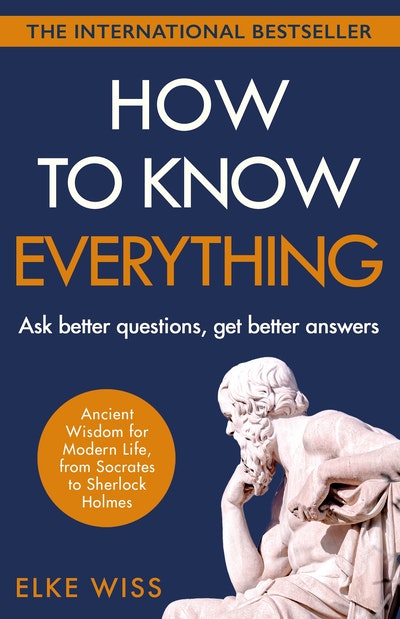 Published:

15 June 2021

ISBN:

9781787467682

Imprint:

Arrow

Format:

Paperback

Pages:

272

RRP:

$24.00
How to Know Everything
Ask better questions, get better answers
---
---
---
Learn how to sharpen your thinking, bridge difficult divides, and deepen your relationships with Elke Wiss's internationally bestselling guide to asking better questions.
*** THE INTERNATIONAL BESTSELLER ***
It can feel good to be the one with all the answers.
When we don't know something it can feel embarrassing, and we may worry that asking questions will only make us look like we don't know what we're doing. We form opinions without knowing all the facts, take things at face value or slip into snap judgements. All our lives we've been praised for knowing the answer - and yet, we're rarely taught how to ask good questions.
You don't need all the answers. You need the right questions.
In this thoughtful and accessible journey into the world of practical philosophy, international bestselling author Elke Wiss will not only show you how you can develop your own conversational skills, but also explains why we often find asking questions so challenging in the first place. By learning how to ask the questions that really matter, you can start unlocking more meaningful conversations, begin to bridge difficult divides, and build deeper connections with family, friends, or people we're only just getting to know.
Published:

15 June 2021

ISBN:

9781787467682

Imprint:

Arrow

Format:

Paperback

Pages:

272

RRP:

$24.00