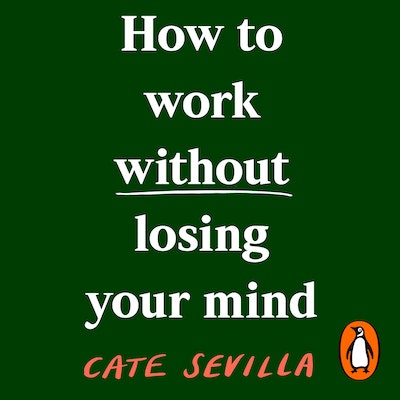 Published:

14 January 2021

ISBN:

9780241992456

Imprint:

Penguin Audio

Format:

Audio Download
How to Work Without Losing Your Mind
---
---
---
A hilariously honest and practical guide for women balancing success and sanity
A relatable and reassuring guide to the messy, stressful and sometimes bizarre side of work that everyone experiences but no one talks about.
Drawing on her own experience at both giant corporations like Google and scrappy start-ups like The Pool, Cate Sevilla will be a voice of reason to coach you through the shit-storms of working life, whether you're:
- feeling overwhelmed by your workload
- deciding if you should quit your job or go freelance
- battling a micromanager who seems determined to destroy you
- struggling to stay motivated (even though you're ambitious)
- bouncing back from failure or about to be let go
How to Work Without Losing Your Mind will replace the G&T at the end of your day. It'll be your tonic to a long, hard working week, where you've cried in the office loos and are wondering what to do next.
Published:

14 January 2021

ISBN:

9780241992456

Imprint:

Penguin Audio

Format:

Audio Download
Praise for How to Work Without Losing Your Mind
An invaluable guide to surviving professional life. Cate Sevilla is insightful, inventive and so supportive

Viv Groskop, author of How to Own the Room
A brutally honest, beautifully practical guide for anyone reassessing their priorities in work and life. This book is a masterclass in swerving burnouts and resetting boundaries

Lucy Clayton, author of How to Go to Work
Explored with huge heart and unending empathy, I implore every millennial and gen Z woman to read this, whether they're at the start of their career or its zenith

Laura Jane Williams, author of Our Stop
A timely and provocative book that is at once empathetic about the challenges work presents and empowering on how to overcome them

Bruce Daisley, author of The Joy of Work
Entertaining and practical; moving and funny and, most importantly, a helping hand from someone who's been through it

Emma Gannon, Sunday Times bestselling author
A frank, funny and kind guide on how to turn a job into a career

Ailbhe Malone, Editor, The Strategist UK
A thought provoking and practical guide to the ever evolving world of work, Care Sevilla's words feel particularly comforting and clarifying during these uncertain times

Yomi Adegoke, co-author of the bestselling Slay in your Lane
Oh, how I wish I'd had this book 10 years ago! Cate gives both the sympathetic hug and the firm shake by the shoulders that so many of us need to navigate the world of work right now. It's hilarious and helpful with so many on-point insights that you'll wonder if she's been reading your Slack messages (she hasn't)

Lauren Bravo, author of How To break Up With Fast Fashion
Fearless and funny! If you feel like work is getting or letting you down Cate is here to give you a hug and offer you practical advice. All of our careers are now full of change and uncertainty and Cate's book will help you to take control and look after rather than lose your mind!

Sarah Ellis, author of the Sunday Times bestselling book The Squiggly Career
This is a useful, smart, thoughtful and beautifully written exploration of a subject that affects us all, but we know so little about... I do not use this word lightly but Cate's brilliant book is GENUINELY EMPOWERING!

Daisy Buchanan, author of How to be an Adult and Sisterhood
I wish I'd read it before ever entering an office and I 100% hope anyone who ever has to manage me reads it

Flo Perry, author of How to Have Feminist Sex