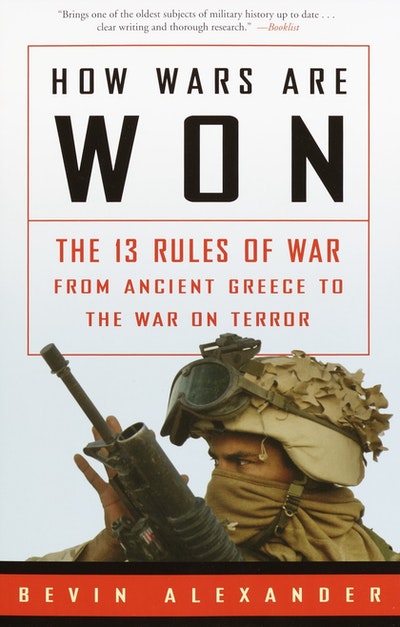 Published:

15 September 2003

ISBN:

9781400049486

Imprint:

Christian/Forum

Format:

Trade Paperback

Pages:

416
How Wars Are Won
---
---
A fascinating history of how wars are won that introduces the 13 rules of war and how they have
proved decisive in battles through all of world history. Alexander places emphasis on how these
rules must be applied to the new kind of war on terrorism.

HOW WARS ARE WON introduces readers to the 13 rules of warfare and shows how throughout history, military victory has depended upon the successful application of these rules. The book also shows that knowing which of these rules to follow, and how to adapt them to the current challenges, will prove decisive in the war against terrorism.
Military historian Bevin Alexander devotes a chapter to each rule, and for each he offers riveting accounts of four or five battles that were won or lost because of either the successful or unsuccessful application of that rule. One of these rules is that of the feigned retreat: pretend to be defeated, feign a retreat, and then ambush your enemy when they pursue you. This rule is especially relevant to guerilla-style warfare, and was used to devastating effect by the North Vietnamese against US forces in the Vietnam War.
The battles included are bom famous and little known, and they range from the time of Alexander the Great up through the 20th century. Along the way, Alexander profiles the greatest military commanders, such as Genghis Khan, Napoleon, Stonewall Jackson (whom he identifies as a better general than Robert E. Lee), Erwin Rommel, a.k.a. the Desert Fox, and George Patton. The book also tells the fascinating story of the ways in which new technologies have created new opportunities and challenges in warfare and how they have been used to brilliant effect by some commanders and to horrible effect by others.
Alexander emphasizes that even as the technolog that even heading into this new 21st century-styl tactics with which to win. ry of war constantly changes, the underlying rules of engagement remain the same, and e war, we can use the lessons of history to guide us in shaping the new strategies and tactics with which to win.
Published:

15 September 2003

ISBN:

9781400049486

Imprint:

Christian/Forum

Format:

Trade Paperback

Pages:

416