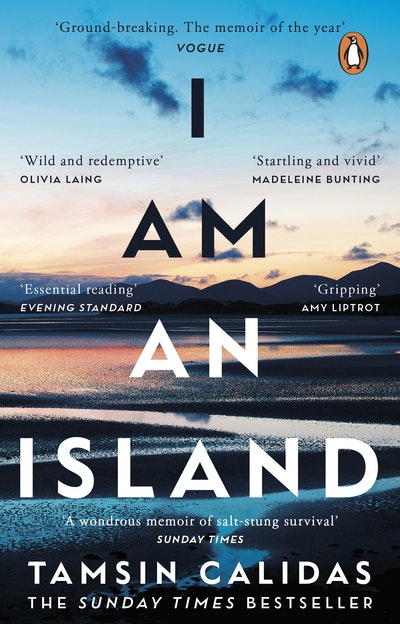 Published:

7 May 2020

ISBN:

9781473569133

Imprint:

Transworld Digital

Format:

EBook

Pages:

320
I Am An Island
---
---
---
Raw, visceral and evocative, this account of a woman's life on a remote island in the Outer Hebrides draws in big themes around solitude, friendship and survival, and merits comparison with The Outrun.
When Tamsin Calidas first arrives on a remote island in the Scottish Hebrides, it feels like coming home. Disenchanted by London, she and her husband left the city and high-flying careers to move the 500 miles north, despite having absolutely no experience of crofting, or of island life. It was idyllic, for a while. But as the months wore on and the children she'd longed for failed to materialise, Tamsin found herself in ever-increasing isolation.
Injured, ill, without money or friend she is pared right back, stripped to becoming simply a raw element of the often harsh landscape. But with that immersion in her surroundings comes the possibility of rebirth and renewal. Tamsin begins the slow journey back from the brink.
Startling, raw and extremely moving, I Am An Island is a story about the incredible ability of the natural world to provide when everything else has fallen away- a stunning book about solitude, friendship, resilience and self-discovery.
Published:

7 May 2020

ISBN:

9781473569133

Imprint:

Transworld Digital

Format:

EBook

Pages:

320
Praise for I Am An Island
A wondrous, sensuous memoir of salt-stung survival… clear-eyed and poetic prose. Over and above everything else, I Am an Island is a hymn to the wild, full of fine observation of the natural world. A message that rings true for these testing times.

The Sunday Times
This is a startling book, a vivid and terrifying reminder of how an island can seduce, madden - and ultimately sustain those brave enough to endure its confines.

Madeleine Bunting, author of <i>Love of Country
An extraordinary book, a wild and redemptive account of reaching rock bottom and swimming back into the light. I'm awed by Tamsin's courage, her resilience and huge heart. Her island will stay with me for a very long time.

Olivia Laing, author of <i>The Lonely City</i> and <i>To the River
An island tale like no other. An unforgettably moving and compulsive read, steeped in anguish and beauty. A book that is unafraid to stare deep into the abyss, and still find a way forward. The story of a woman completely broken by life, and her fifteen-year struggle to find the inner strength to restore herself, through sheer determination, and by immersing herself in solitude.

Neil Ansell, author of <i>Deep Country </i>and <i>Deer Island
Completely astonishing. Using language of shimmering beauty, Tamsin Calidas describes the unravelling of a relationship with such exquisitely small stitches that the eventual thread-baring of her physical and emotional safety, her sense of identity and purpose, blows in like a cold slap of Hebridean wind. A Hardyesque, stripped back connection to the landscape emerges. And yet only with the fragmentation of everything that matters is the fragility of life transcended and restored by the triumphant pull of a determination to survive.

Juliet Nicolson
The best book I have read in more than a decade. Each page is poetry. Tamsin's story is both heartbreaking and inspiring but ultimately about how the power of nature can heal. The perfect memoir for us all right now. Absolutely stunning. What an incredible woman.

Susannah Constantine
Gripping...Tough yet compulsive reading, carried by crisp, vivid prose.

Amy Liptrot, author of <i>The Outrun
A meditative breath of fresh air. This book will fill your lungs, sting your eyes and catch in your throat. Soaring prose like birdsong over the harsh lands that compelled Tamsin Calidas to breathe deep.

Ruth Fitzmaurice, author of <i>I Found My Tribe
The memoir of the year...a lyrical paean to the wild beauty of the Hebrides.

Vogue
An extraordinary book of limitless resilience, Calidas' leaping prose is a love song to the natural world. What she achieves with an open heart and a will of iron is nothing short of remarkable.

Sarah Langford, author of <i>In Your Defence
So raw, so honest, so intense. I didn't want this book to end.

Sigri Sandberg, author of <i>An Ode to Darkness
Combining intensely beautiful nature writing with the excavation of deep emotion, this brave, startling book examines what it really means to lose yourself in nature, and in doing so find a completely new version of yourself, too. A powerful, unsettling but ultimately redemptive account of one woman's deep communion with the natural world.

Clover Stroud, author of <i>My Wild and Sleepless Nights
Any preconceptions you may entertain about 'a Londoner, tiring of the city, moves to a Scottish Island' will be smashed in the first chapter of Tamsin Calidas' astonishing, raw and clear-eyed book. Tamsin charts how she comes to terms with loss, loneliness, hardship and prejudice through immersing herself fully in her island habitat. I am an Island is a powerful, affecting book; glittering and visceral, Tamsin's clear-voiced self-reliance becomes a storm-force of nature in itself.

Nicola Chester, Nature Writer, RSPB Columnist and <i>Guardian </i>Country Diarist
A beautiful book...I urge you to seek it out.

Jane Garvey
A beautifully written, emotionally intense memoir

Sunday Express
The island is a metaphor for anyone who has ever been alone... It is about what happens when everything you are used to falls away, which is something we are all experiencing at the moment.

Daily Mail
Tamsin Calidas's tale of moving to a remote Scottish croft has become a lockdown must-read… a glittering (and controversial) account.

Metro
Tamsin Calidas's tale of moving to a remote Scottish croft has become a lockdown must-read… a glittering (and controversial) account.

Metro
The trials and triumphs of isolated living are laid bare in this often shatteringly honest read.

Reader's Digest