Try out this delicious recipe from Yael Shochat and David Cohen's book Ima Cuisine
Rich and creamy Camembert (or Brie) balances the sweetness of the figs wonderfully.
250g good-quality Camembert or Brie
30g (¼ cup) ground almonds
1 egg
2 tbsp whole milk
6 large fresh figs (use more if your figs are small)
¼ cup liquid honey
6 sprigs thyme
TO MAKE A TART
375g sweet flaky pastry 
TO MAKE A GALETTE
600g brioche dough
1 small egg
To make the filling: roughly chop one-third of the cheese and blend it together with the ground almonds, egg and milk to form a thick creamy mixture (you can use a food processor, electric beaters, or a bowl, fork and perseverance). Cut the remaining cheese into slices ½cm thick. Chop off the fig stems and slice each fruit in half vertically.
To make a flaky tart: preheat your oven to 180°C and lightly grease a 35cm x 12cm tart tin. I use a fluted tin, so I find it easiest to use a can of cooking spray.
Roll out the flaky pastry dough to 2–3mm thick, line the tin and blind bake. Set aside to cool (you can speed up the process by placing the tin in the refrigerator or freezer).
Spread the filling mixture over the base, top with the sliced cheese and figs, scatter over the thyme, drizzle on the honey, and bake for 10 minutes. Let the tart cool for a few minutes before removing from the tin. Garnish with the thyme sprigs and serve warm.
To make a galette: preheat your oven to 180°C and line a baking tray with non-stick baking paper. Roll the dough into a rough circle 1cm thick (it will be around 26cm in diameter) and transfer it to the tray. Spread the filling mixture over the dough, leaving 2–3cm clear around the edges. Top the mixture with the sliced cheese and figs, and drizzle on the honey.
Fold the outside edges of dough up and over the edges of the filling, pinching and crimping it a little with your fingers. It's supposed to look rustic, so don't worry about making it look perfect — just ensure that the edges are folded up to prevent the filling from bubbling out. Beat the egg in a small bowl with a fork and brush over the exposed dough. Bake for 15 minutes, until the dough is golden brown. Garnish with thyme and serve warm, sliced into wedges.
 
---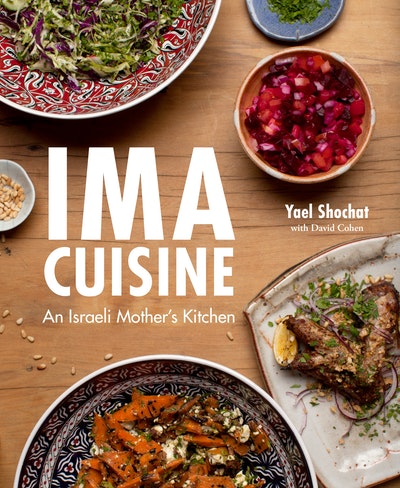 An Israeli mother - and restaurateur - shares her love of food from the eastern Mediterranean and beyond with a range of delicious recipes from her kitchen.
Buy now
Buy now
---