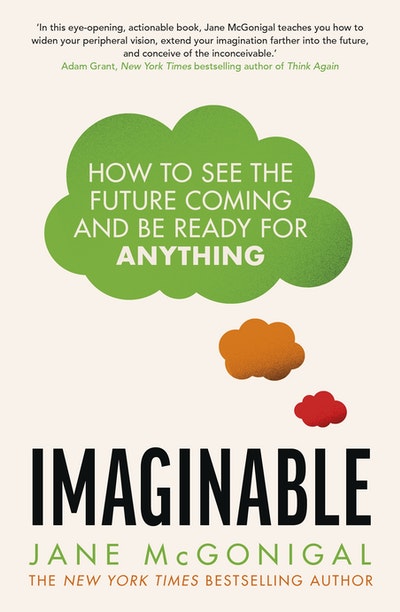 Published:

16 March 2022

ISBN:

9781787635623

Imprint:

Bantam Press

Format:

Trade Paperback

Pages:

432

RRP:

$40.00
Imaginable
How to see the future coming and be ready for anything
---
---
---
Learn how to open your mind, think the unthinkable, imagine the unimaginable and plan for the future with creativity and optimism.
World-renowned future forecaster, game designer, and NEW YORK TIMES bestselling author Jane McGonigal gives us the tools to imagine the future without fear.
How can we be confident about making plans?
How might we feel secure despite the future being unknown?
How do we learn to feel at peace with the unexpected?
Today it feels more challenging than ever to feel unafraid, hopeful, and equipped to face the future with optimism. How do we map out our lives when it seems impossible to predict what the world will be like next week, let alone next year or next decade? What we need now are strategies to help us recover our confidence and creativity in facing uncertain futures.
By learning to think the unthinkable and imagine the unimaginable you can better plan for a future you'd like to see. And by seeing what's coming faster, you can adapt to new challenges, reduce anxiety, and build hope and resilience.
'An accessible, optimistic field guide to the future.'-San Francisco Chronicle
'Jane McGonigal is unusually adept at anticipating events that most of us can't even fathom. In this eye-opening, actionable book, she teaches you how to widen your peripheral vision, extend your imagination farther into the future, and conceive of the inconceivable.' Adam Grant, #1 Bestselling Author of Think Again
Published:

16 March 2022

ISBN:

9781787635623

Imprint:

Bantam Press

Format:

Trade Paperback

Pages:

432

RRP:

$40.00
Jane McGonigal is unusually adept at anticipating events that most of us can't even fathom. In this eye-opening, actionable book, she teaches you how to widen your peripheral vision, extend your imagination farther into the future, and conceive of the inconceivable.

Adam Grant, #1 bestselling author of Think Again
Jane McGonigal is unusually adept at anticipating events that most of us can't even fathom. In this eye-opening, actionable book, she teaches you how to widen your peripheral vision, extend your imagination farther into the future, and conceive of the inconceivable.

Adam Grant, #1 bestselling author of Think Again
Jane McGonigal is unusually adept at anticipating events that most of us can't even fathom. In this eye-opening, actionable book, she teaches you how to widen your peripheral vision, extend your imagination farther into the future, and conceive of the inconceivable.

Adam Grant, #1 bestselling author of Think Again
Jane McGonigal is unusually adept at anticipating events that most of us can't even fathom. In this eye-opening, actionable book, she teaches you how to widen your peripheral vision, extend your imagination farther into the future, and conceive of the inconceivable.

Adam Grant, #1 bestselling author of Think Again
Reading this book is like sitting down with a creative, optimistic friend-and getting up as a new version of yourself. Jane McGonigal has long been a visionary. Now she teaches the rest of us how to be one too.

Daniel H. Pink, New York Times bestselling author of When and To Sell Is Human
Reading this book is like sitting down with a creative, optimistic friend-and getting up as a new version of yourself. Jane McGonigal has long been a visionary. Now she teaches the rest of us how to be one too.

Daniel H. Pink, New York Times bestselling author of When and To Sell Is Human
Reading this book is like sitting down with a creative, optimistic friend-and getting up as a new version of yourself. Jane McGonigal has long been a visionary. Now she teaches the rest of us how to be one too.

Daniel H. Pink, New York Times bestselling author of When and To Sell Is Human
Reading this book is like sitting down with a creative, optimistic friend-and getting up as a new version of yourself. Jane McGonigal has long been a visionary. Now she teaches the rest of us how to be one too.

Daniel H. Pink, New York Times bestselling author of When and To Sell Is Human
In Imaginable, Jane McGonigal teaches us to bring soul-stirring imagination to our daily lives. As she persuasively demonstrates, imagination training is more than just a skill set: It's a creativity boost, a mindset shift, and an emotional uplift, all rolled up in one. The life-changing techniques you'll learn in this science-packed book will help you choose your future and feel more in control of what happens next.

Nir Eyal, New York Times bestselling author of Hooked and Indistractable
In Imaginable, Jane McGonigal teaches us to bring soul-stirring imagination to our daily lives. As she persuasively demonstrates, imagination training is more than just a skill set: It's a creativity boost, a mindset shift, and an emotional uplift, all rolled up in one. The life-changing techniques you'll learn in this science-packed book will help you choose your future and feel more in control of what happens next.

Nir Eyal, New York Times bestselling author of Hooked and Indistractable
In Imaginable, Jane McGonigal teaches us to bring soul-stirring imagination to our daily lives. As she persuasively demonstrates, imagination training is more than just a skill set: It's a creativity boost, a mindset shift, and an emotional uplift, all rolled up in one. The life-changing techniques you'll learn in this science-packed book will help you choose your future and feel more in control of what happens next.

Nir Eyal, New York Times bestselling author of Hooked and Indistractable
In Imaginable, Jane McGonigal teaches us to bring soul-stirring imagination to our daily lives. As she persuasively demonstrates, imagination training is more than just a skill set: It's a creativity boost, a mindset shift, and an emotional uplift, all rolled up in one. The life-changing techniques you'll learn in this science-packed book will help you choose your future and feel more in control of what happens next.

Nir Eyal, New York Times bestselling author of Hooked and Indistractable
Imaginable is a delightful and actionable antidote to apocalypse: an invitation to play with the future as if it were limited by nothing but our own imaginative capacity. An inspiring read.

Douglas Rushkoff, author of Present Shock and Team Human
Imaginable is a delightful and actionable antidote to apocalypse: an invitation to play with the future as if it were limited by nothing but our own imaginative capacity. An inspiring read.

Douglas Rushkoff, author of Present Shock and Team Human
Imaginable is a delightful and actionable antidote to apocalypse: an invitation to play with the future as if it were limited by nothing but our own imaginative capacity. An inspiring read.

Douglas Rushkoff, author of Present Shock and Team Human
Imaginable is a delightful and actionable antidote to apocalypse: an invitation to play with the future as if it were limited by nothing but our own imaginative capacity. An inspiring read.

Douglas Rushkoff, author of Present Shock and Team Human
Imaginable is more than a book, it's a mindset upgrade. It teaches you to think more creatively and optimistically about what's next. You'll be excited about the future rather than fearful of it. Your brain will be on fire with new possibilities. And you'll never call anything 'unimaginable' or 'unthinkable' again.

Peter H. Diamandis, New York Times bestselling author of The Future Is Faster Than You Think
Imaginable is more than a book, it's a mindset upgrade. It teaches you to think more creatively and optimistically about what's next. You'll be excited about the future rather than fearful of it. Your brain will be on fire with new possibilities. And you'll never call anything 'unimaginable' or 'unthinkable' again.

Peter H. Diamandis, New York Times bestselling author of The Future Is Faster Than You Think
Imaginable is more than a book, it's a mindset upgrade. It teaches you to think more creatively and optimistically about what's next. You'll be excited about the future rather than fearful of it. Your brain will be on fire with new possibilities. And you'll never call anything 'unimaginable' or 'unthinkable' again.

Peter H. Diamandis, New York Times bestselling author of The Future Is Faster Than You Think
Imaginable is more than a book, it's a mindset upgrade. It teaches you to think more creatively and optimistically about what's next. You'll be excited about the future rather than fearful of it. Your brain will be on fire with new possibilities. And you'll never call anything 'unimaginable' or 'unthinkable' again.

Peter H. Diamandis, New York Times bestselling author of The Future Is Faster Than You Think
With Imaginable, Jane McGonigal has pulled off a rare and essential feat: she's written a book filled with inspiring ideas about how the future might play out that also provides immediate, practical tools to help you think more creatively about how you can change that future yourself.

Steven Johnson, New York Times bestselling author of Where Good Ideas Come From and Farsighted
With Imaginable, Jane McGonigal has pulled off a rare and essential feat: she's written a book filled with inspiring ideas about how the future might play out that also provides immediate, practical tools to help you think more creatively about how you can change that future yourself.

Steven Johnson, New York Times bestselling author of Where Good Ideas Come From and Farsighted
With Imaginable, Jane McGonigal has pulled off a rare and essential feat: she's written a book filled with inspiring ideas about how the future might play out that also provides immediate, practical tools to help you think more creatively about how you can change that future yourself.

Steven Johnson, New York Times bestselling author of Where Good Ideas Come From and Farsighted
With Imaginable, Jane McGonigal has pulled off a rare and essential feat: she's written a book filled with inspiring ideas about how the future might play out that also provides immediate, practical tools to help you think more creatively about how you can change that future yourself.

Steven Johnson, New York Times bestselling author of Where Good Ideas Come From and Farsighted
Imaginable is one of those rare and thrilling books that actually changes you. It translates scientific insights into psychological breakthroughs, giving you a new set of tools to feel more hopeful, more creative, more awake to your dreams for the future. It empowers you with what McGonigal calls a sense of 'urgent optimism.' It will help you transcend the present moment to realize your full potential and make a future that's better for all.

Scott Barry Kaufman, psychologist and author of Transcend: The New Science of Self-Actualization and Wired to Create
Imaginable is one of those rare and thrilling books that actually changes you. It translates scientific insights into psychological breakthroughs, giving you a new set of tools to feel more hopeful, more creative, more awake to your dreams for the future. It empowers you with what McGonigal calls a sense of 'urgent optimism.' It will help you transcend the present moment to realize your full potential and make a future that's better for all.

Scott Barry Kaufman, psychologist and author of Transcend: The New Science of Self-Actualization and Wired to Create
Imaginable is one of those rare and thrilling books that actually changes you. It translates scientific insights into psychological breakthroughs, giving you a new set of tools to feel more hopeful, more creative, more awake to your dreams for the future. It empowers you with what McGonigal calls a sense of 'urgent optimism.' It will help you transcend the present moment to realize your full potential and make a future that's better for all.

Scott Barry Kaufman, psychologist and author of Transcend: The New Science of Self-Actualization and Wired to Create
Imaginable is one of those rare and thrilling books that actually changes you. It translates scientific insights into psychological breakthroughs, giving you a new set of tools to feel more hopeful, more creative, more awake to your dreams for the future. It empowers you with what McGonigal calls a sense of 'urgent optimism.' It will help you transcend the present moment to realize your full potential and make a future that's better for all.

Scott Barry Kaufman, psychologist and author of Transcend: The New Science of Self-Actualization and Wired to Create
A unique and insightful look at how games and simulations can not only teach us about the past but give us a window into our future. Jane McGonigal's work provides us with a whole new set of tools to make important decisions better, faster, and more transparently.

Sid Meier, creator of Civilization
A unique and insightful look at how games and simulations can not only teach us about the past but give us a window into our future. Jane McGonigal's work provides us with a whole new set of tools to make important decisions better, faster, and more transparently.

Sid Meier, creator of Civilization
A unique and insightful look at how games and simulations can not only teach us about the past but give us a window into our future. Jane McGonigal's work provides us with a whole new set of tools to make important decisions better, faster, and more transparently.

Sid Meier, creator of Civilization
A unique and insightful look at how games and simulations can not only teach us about the past but give us a window into our future. Jane McGonigal's work provides us with a whole new set of tools to make important decisions better, faster, and more transparently.

Sid Meier, creator of Civilization
Expertly blending practical advice and big-picture thinking, this is a stimulating guide to preparing for the future. Readers will be inspired to put their imaginations to use.

Publishers Weekly
Expertly blending practical advice and big-picture thinking, this is a stimulating guide to preparing for the future. Readers will be inspired to put their imaginations to use.

Publishers Weekly
Expertly blending practical advice and big-picture thinking, this is a stimulating guide to preparing for the future. Readers will be inspired to put their imaginations to use.

Publishers Weekly
Expertly blending practical advice and big-picture thinking, this is a stimulating guide to preparing for the future. Readers will be inspired to put their imaginations to use.

Publishers Weekly
No game will perfectly predict the future. But, as a way of vividly exploring possible futures, they are hard to beat.

Tim Harford, Financial Times
No game will perfectly predict the future. But, as a way of vividly exploring possible futures, they are hard to beat.

Tim Harford, Financial Times
No game will perfectly predict the future. But, as a way of vividly exploring possible futures, they are hard to beat.

Tim Harford, Financial Times
No game will perfectly predict the future. But, as a way of vividly exploring possible futures, they are hard to beat.

Tim Harford, Financial Times