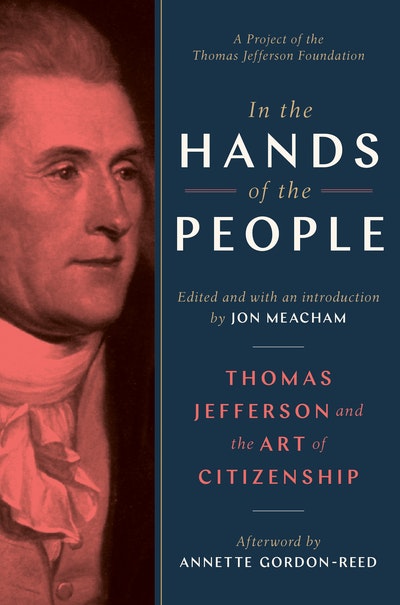 Published:

25 September 2020

ISBN:

9780593229316

Imprint:

Random House US Group

Format:

Hardback

Pages:

128

RRP:

$48.00
In the Hands of the People
Thomas Jefferson and the Art of Citizenship
---
---
An inspiring manual on how to be a good citizen today, from Thomas Jefferson and others. Edited and with an introduction and essays by Pulitzer Prize winner Jon Meacham and with an afterword by Pulitzer Prize winner Annette Gordon-Reed.
Thomas Jefferson believed in the covenant between a government and its citizens--in both the government's responsibilities to its people and the people's responsibility to the republic. In this illuminating book, a project of the Thomas Jefferson Foundation, the #1 New York Times bestselling author Jon Meacham presents selections from Jefferson's writing on the subject, with comments on Jefferson's ideas from others, including Colin Powell, Madeline Albright, Frederick Douglas, Carl Sagan, American Presidents, others.
Meacham writes of how Jefferson's words provide an enrichment for U.S. citizens in the twenty-first century. His thoughts revitalize the way readers relate to Jeffersonian concepts including
Freedom: "Divided we stand, united we fall."
The importance of a free press:"Were it left to me to decide whether we should have a government without newspapers, or newspapers without a government, I should not hesitate a moment to prefer the latter."
Public education: "Enlighten the public generally, and tyranny and oppressions of body & mind will vanish like evil spirits at the dawn of day."
Participation in government: A citizen should be "a participator in the government of affairs not merely at an election, one day in the year, but every day."
There are also sections on immigration, voting, equality, patriotism, partisanship, and with introductions to each subject by Meacham. This book will be enlightening for all citizens of the American republic.
Published:

25 September 2020

ISBN:

9780593229316

Imprint:

Random House US Group

Format:

Hardback

Pages:

128

RRP:

$48.00