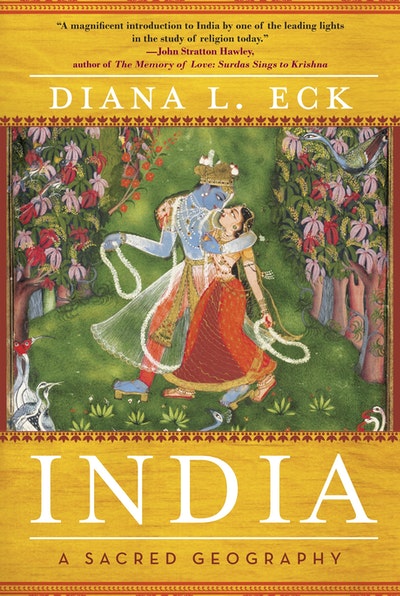 Published:

15 April 2013

ISBN:

9780385531924

Imprint:

Clarkson Potter/Ten Speed

Format:

Paperback

Pages:

576

RRP:

$38.00
India
---
---
A spiritual history of the world's most religiously complex and diverse society, from one of Harvard's most respected scholars.
India: A Sacred Geography is the culmination of more than a decade's work from the renowned Harvard scholar Diana L. Eck. The book explores the sacred places of India, taking the reader on an extraordinary trip through the beliefs and history of this rich and profound place, as well as providing a basic introduction to Hindu religious ideas and how those ideas influence our understanding of the modern sense of "India" as a nation.
Published:

15 April 2013

ISBN:

9780385531924

Imprint:

Clarkson Potter/Ten Speed

Format:

Paperback

Pages:

576

RRP:

$38.00
"No major civilization has made sacred the very ground of its being as India has done, and no one has described this sacred organism with the down-to-earth humanity of Diana Eck.  This is magnificent introduction to India by one of the leading lights in the study of religion today."-- John Stratton Hawley, author of The Memory of Love: Surdas Sings to Krishna.

In this lucid, learned and luminous book, Diana Eck introduces the Western reader to the sacred landscape of India. She leads us into an unfamiliar world, with myths and symbols that seem initially strange, but by the end of this rich journey we find that we have encountered unexpected regions within ourselves."—Karen Armstrong, author of A History of God and Twelve Steps to a Compassionate Life

"Reading [Diana Eck's] new book was like listening to an old, wise friend, whose love and admiration of India and its people shines on every page."  --Phil Semler, San Francisco Book Review (5/5 stars)

 
 
Praise for Diana Eck's Banaras
 
"In Banaras, Diana Eck... has written a notable book about this greatest of Indian pilgrimage sites.... Her brilliant, comprehensive book seems likely to remain for a long time the definitive work on this great Indian city."--Washington Post

"The most beautiful book... on India."--Journal of the American Academy of Religion

"Eck is a master of tone here. She begins as dry scholar, allows her personal voice to emerge and then, through judicious use of lyric quotations, advances to a striking level of exaltation and triumph.... To take us gently off this high, Eck buttresses us-and her arguments-with a truly amazing display of addenda; glossaries, calendars and appendices. One ends filled with admiration and awe, not just for the vision given us, but for the scholarship and dedication that made it possible." --Los Angeles Times



From the Hardcover edition.