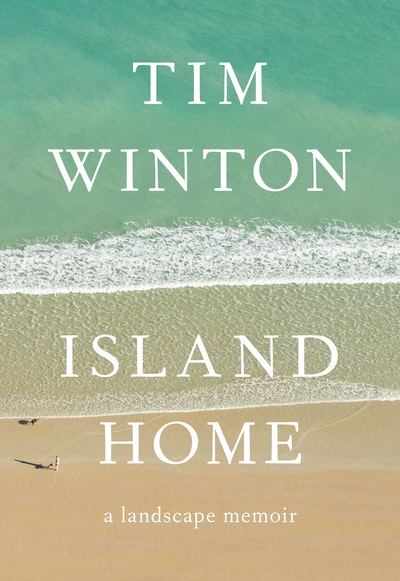 Published:

23 September 2015

ISBN:

9781760142230

Imprint:

Penguin eBooks

Format:

EBook

Pages:

256
Island Home
---
---
---
Tim Winton's Island Home is not just a brilliant, moving memoir from one of our finest writers, but a compelling investigation into the way Australia's landscape makes us who we are.
'I grew up on the world's largest island.' This apparently simple fact is the starting point for Tim Winton's beautiful, evocative and sometimes provocative memoir of how this unique landscape has shaped him and his writing.
For over thirty years, Winton has written novels in which the natural world is as much a living presence as any character, and what is true of his work is also true of his life. From boyhood, his relationship with the rockpools, sea caves, scrub and swamp around him has been as vital as family connections. Camping in hidden inlets on the south coast, walking in the high rocky desert fringe, diving at Ningaloo Reef, bobbing in the ocean between sets, Winton felt the place seep into him, with its rhythms, its dangers, its strange sustenance, and learned to see landscape as a living process.
Wise, rhapsodic, exalted, Island Home is the story of how that relationship came to be, and also a passionate exhortation for all of us to feel the ground beneath our feet. Much more powerfully than any political idea, the physical entity of Australia defines us, in ways we too often forget, to our detriment and to the country's.
'Tim Winton's delicately meandering new collection of writing about place and being again raises literature's repeated assertion: in the face of the ineffable the only valid response is an aesthetic one . . . Island Home is a beautiful example of that aesthetic response to the glory and the mystery of nature.' William Yeoman, the West Australian
'Winton's love letter to the vast island continent which has spawned all he has written . . . He gives praise to its grandeur in words as John Olsen and Emily Kngwarreye have done in paint . . . Winton's Australia is teeming and brimming and shrieking and squawking with life.' Rick Feneley, Sydney Morning Herald
'Like Wordsworth, he understands and feels the 'abiding power' of certain places . . . The writer of memoir can be triumphantly personal, quixotic, eccentric, risky, and daring. In Island Home, Winton is all of these. This most exquisite of prose writers eases stylistic discipline out a notch or two . . . The last chapter of this inspiring, sometimes painfully frank, wonderful memoir is called 'Paying Respect', and . . . its clarion call is Blakean: everything that lives is holy.' Brian Matthews, Australian Book Review
'Tim Winton's Island Home isn't memoir, it's a cultural call to arms . . . Winton remains one of the finest place-painters in Australian literature.' Jamie Hanson, The Guardian (Australia)
'I've always boggled at his ability to create sentences as clear and familiar as Australian air, through which the landscape feels incandescently present. His fiction and non-fiction characteristically offer a keen intelligence coupled with an intransigent refusal of academic modes of thought . . . and a visceral feeling for the coastal West, made more intense for its marriage with the plain domestic detail or ordinary lives. Those same qualities shine through Island Home.' Delia Falconer, The Age
'Winton embraces everything that is good, bad and ugly about this continent and his commitment is contagious.' Herald Sun
'Makes clear Winton's greatest talent: his keen vision for what lies underneath the land's surface, the storied history a layer below.' Weekend Australian
'Island Home is thus part political manifesto that presents a profound challenge to traditional rural conservatism as well as to the right in general. Conservatives say they love their country. Winton lays bare how very destructive of it some of their actions have been.' Tim Flannery, The Monthly
'An often lyrical blending of the intensely personal and the deeply polemic . . . Winton's final, most eloquently trenchant piece, 'Paying Respect' . . . pleads for a real understanding of our place in the world, for an acknowledgment of scale: it is no coincidence that the cover of this beautiful and heartfelt book shows us as tiny scratches beside the frilled immensity of the curling tide.' Katharine England, The Advertiser (Adelaide)
'[A] love letter to nature . . . Each of the places he takes us in Island Home hints at a different aspect of his own nature . . . Winton's unique alliance with nature allows him to become a mouthpiece for the strange temperament and volatile charm of an enormous island continent.' Listener (NZ)
'Island Home is a powerful and poetic read, an expression of his intense love of the land and the sea, and for Australia's unique flora and fauna.' Weekend Herald (NZ)
Published:

23 September 2015

ISBN:

9781760142230

Imprint:

Penguin eBooks

Format:

EBook

Pages:

256
Tim Winton's delicately meandering new collection of writing about place and being again raises literature's repeated assertion: in the face of the ineffable the only valid response is an aesthetic one . . . Island Home is a beautiful example of that aesthetic response to the glory and the mystery of nature.

William Yeoman, The West Australian
Winton's love letter to the vast island continent which has spawned all he has written . . . He gives praise to its grandeur in words as John Olsen and Emily Kngwarreye have done in paint . . . Winton's Australia is teeming and brimming and shrieking and squawking with life.

Rick Feneley, Sydney Morning Herald
Like Wordsworth, he understands and feels the "abiding power" of certain places . . . The writer of memoir can be triumphantly personal, quixotic, eccentric, risky, and daring. In Island Home, Winton is all of these. This most exquisite of prose writers eases stylistic discipline out a notch or two . . . The last chapter of this inspiring, sometimes painfully frank, wonderful memoir is called "Paying Respect", and . . . its clarion call is Blakean: everything that lives is holy.

Brian Matthews, Australian Book Review
Winton embraces everything that is good, bad and ugly about this continent and his commitment is contagious.

The Herald Sun
Island Home is thus part political manifesto that presents a profound challenge to traditional rural conservatism as well as to the right in general. Conservatives say they love their country. Winton lays bare how very destructive of it some of their actions have been.

Tim Flannery, The Monthly
An often lyrical blending of the intensely personal and the deeply polemic . . . Winton's final, most eloquently trenchant piece, "Paying Respect" . . . pleads for a real understanding of our place in the world, for an acknowledgment of scale: it is no coincidence that the cover of this beautiful and heartfelt book shows us as tiny scratches beside the frilled immensity of the curling tide.

Katharine England, The Advertiser (Adelaide)
Tim Winton's Island Home isn't memoir, it's a cultural call to arms . . . Winton remains one of the finest place-painters in Australian literature.

Jamie Hanson, The Guardian (Australia)
I've always boggled at his ability to create sentences as clear and familiar as Australian air, through which the landscape feels incandescently present. His fiction and non-fiction characteristically offer a keen intelligence coupled with an intransigent refusal of academic modes of thought . . . and a visceral feeling for the coastal West, made more intense for its marriage with the plain domestic detail or ordinary lives. Those same qualities shine through Island Home.

Delia Falconer, The Age
Makes clear Winton's greatest talent: his keen vision for what lies underneath the land's surface, the storied history a layer below.

Weekend Australian
Insightful and vibrant . . . In part a love song to Australia . . . Winton conveys a searing sense of honesty . . . A delight to read.

Katharine Norbury, The Guardian (UK)
Reads like a love letter to the beautifully wild and raw landscape that has informed so much of his work. As you'd expect from Winton, Island Home is teeming with stunning prose . . . A beautiful, compelling read.

Tessa Connelly, Canberra Weekly
An exquisite book that functions as literary memoir, nature writing, and environmentalist's creed . . . Like Seamus Heaney's and Ted Hughes's, Winton's language feels a product of the land, and the natural way to celebrate it.

James McNamara, The Spectator (UK)
A masterclass in how place can be brought to book.

Michael Kerr, The Telegraph (UK)
In this memoir, Winton takes on an altogether different tone from Cloudstreet, alternating academic discourse on Australian history, geology, politics and environmentalism, with gorgeous personal commentary on his experiences growing up, moving away, and coming home. He uses it as a frame for an erudite and passionate discussion of the importance of landscape and the natural world. . . . his writing soars with a love of the strange beauty of the landscape.

The Oxonian Review (UK)
[A] love letter to nature . . . Each of the places he takes us in Island Home hints at a different aspect of his own nature . . . Winton's unique alliance with nature allows him to become a mouthpiece for the strange temperament and volatile charm of an enormous island continent.

Listener (NZ)
Island Home is a powerful and poetic read, an expression of his intense love of the land and the sea, and for Australia's unique flora and fauna.

Weekend Herald (NZ)
Colin Roderick Award
Shortlisted • 2015 • Colin Roderick Award
Australian Book Industry Awards
Winner • 2016 • General Non-fiction Book of the Year
Fellowship of Australian Writers Awards
Highly commended • 2016 • Excellence in Non-Fiction
Indie Award
Longlisted • 2016 • Non-Fiction
NSW Premier's Literary Awards
Shortlisted • 2016 • Douglas Stewart Prize for Non-Fiction
Prime Minister's Literary Awards
Shortlisted • 2016 • Prime Minister's Literary Award
Queensland Literary Award
Shortlisted • 2016 • The University of Queensland Non-fiction Book Award