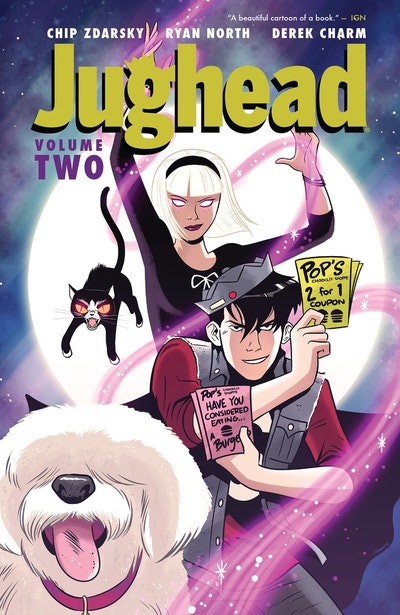 Published:

15 March 2017

ISBN:

9781682559987

Imprint:

Archie Comic Publications

Format:

Trade Paperback

Pages:

168

RRP:

$40.00
Jughead Vol. 2
---
---
JUGHEAD VOL. 2 is the second collection of the historic JUGHEAD seriesrelaunch, featuring the talents of comics superstars Chip Zdarsky, Ryan North and Derek Charm. This series is true to the spirit and characters that allJughead and Archie fans know and love while reinvigorating its essence andhumor through the talents of some of the most popular creators in the comicbook industry.
In the grand tradition of comic book reboots like ARCHIE VOL. 1, Archie Comicsproudly presents... JUGHEAD VOL. 2--from the super team of Chip Zdarsky(HOWARD THE DUCK), Ryan North (THE UNBEATABLE SQUIRREL GIRL) and Derek Charm (REGULAR SHOW)!
New story! New arc! New creative team! Let's not compare them too harshlywith the old creative team though--they were awesome. This new team is prettygood too though, lots of talent and they really do try their best.
Published:

15 March 2017

ISBN:

9781682559987

Imprint:

Archie Comic Publications

Format:

Trade Paperback

Pages:

168

RRP:

$40.00
Praise for Jughead Vol. 2
"A promising debut from Charm." -- NERDSPAN "Zdarsky and this character were made for each other." -- FANDOM POST "Zdarsky and Charm make a really good creative team." -- COMIC WOW