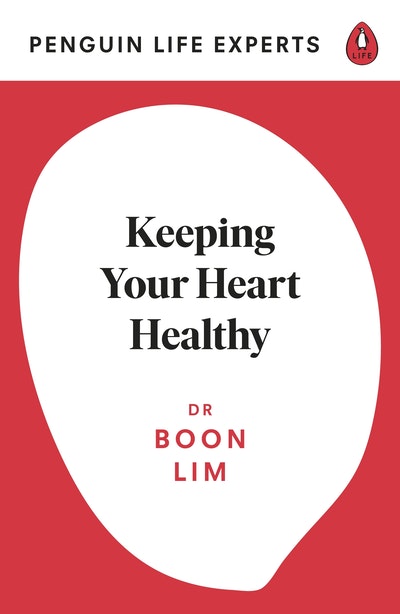 Published:

16 September 2021

ISBN:

9780241504635

Imprint:

Penguin eBooks

Format:

EBook

Pages:

224
Keeping Your Heart Healthy
---
---
---
The go-to book on heart health by a world leading Cardiologist
Keeping Your Heart Healthy is a short, practical, guide to heart disease from one of the world's leading cardiologists.
From hypertension, cholesterol and inherited cardiac conditions, to chest pain, stress, and fainting to structural heart problems, Dr Lim draws on his years of knowledge and expertise to offer easy to follow advice and explanations on the most common heart conditions.
Concise and accessible, this book will address everything you could possibly need to know about how to properly take care of your heart and keep it in great shape. It will provide step-by-step, easily actionable tips on how to prevent and reduce heart issues by simply exercising more, being mindful of your nutrition and diet, and by making smarter, healthier lifestyle choices.
Keeping Your Heart Healthy will be the go-to book for readers looking to improve their heart health.
Published:

16 September 2021

ISBN:

9780241504635

Imprint:

Penguin eBooks

Format:

EBook

Pages:

224
Praise for Keeping Your Heart Healthy
A well-written discussion by a world-renowned cardiologist on how the heart functions. More importantly, it is a simple and concise book that charts your course to a healthy heart. The best part is Dr. Lim's explanation of the brain-heart connection and how your own mind can impact heart health.

James R. Doty, M.D., clinical professor of Neurosurgery at Stanford University and the director of the Center for Compassion and Altruism Research and Education at Stanford University School of Medicine
'Simple, easy and concise - just what is needed to understand the functions of your heart. Explains why lifestyles can affect your heart health and also to recognise symptoms of underlying conditions, highlighting not just the plumbing but also the importance of the electrics of the heart. From the 'not so simple' faint through to sudden cardiac death. A must read!'

Trudie Lobban MBE, Founder & CEO, Arrhythmia Alliance, AF Association & STARS - www.heartrhythmalliance.org
'An inspirational read. Well thought out, beautifully researched and written, and easy to read. Keeping Your Heat Healthy inspired me to look at how I approach my own heart health and make some lifestyle adjustments using Dr Lim's easy to implement top tips'

Dr Millicent Stone, Dr Millicent A Stone MB NUI, FRCP MSc, Consultant Rheumatologist