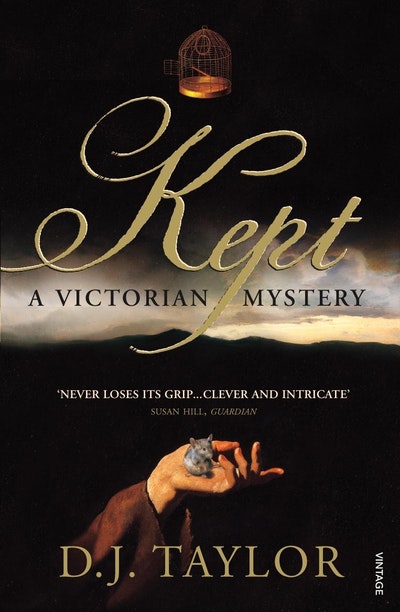 Published:

1 February 2011

ISBN:

9781409020660

Imprint:

Vintage Digital

Format:

EBook

Pages:

496
Kept
A Victorian Mystery
---
---
---
Madness, greed, love, obsession, Machiavellian plotting and a great train robbery in a captivating Victorian mystery about the extreme and curious things men do to get - and keep - what they want.
Egg-stealing in the Scottish highlands, fraud and felony on the streets of London, and strange goings-on in the fens. Captivating and ingenious, full of suspense and teeming with life, Kept is a Victorian mystery about the extreme and curious things men do to get what they want.
August 1863.Henry Ireland, a failed landowner, dies unexpectedly in a riding accident, leaving a highly-strung young widow. Not far away lives Ireland's friend James Dixey, a celebrated naturalist who collects strange trophies, a stuffed bear, a pet mouse, and a wolf that he keeps caged in the grounds of his decaying house, lost in the fog on the edge of the fens.
The poachers, Dewar and Dunbar, with their cargo of pilfered eggs; Esther the observant kitchen maid, pining to be re-united with her vanished admirer; the ancient lawyer Mr Crabbe made careless by snobbery; John Carstairs, in search of his cousin, the elusive widow; an enigmatic debt-collector, busily plotting an audacious robbery; various low-life henchmen; and Captain McTurk of Scotland Yard, patiently investigating the circumstances of the Mr Ireland's death and many other things besides- all are drawn into a net of intrigue with wide and sinister implications.
Ranging from the lochsides of Scotland to the slums of Clerkenwell, and from the gentlemen's clubs of St James's to the Yukon wilds, Kept is a gorgeously intricate novel about the urge to possess, at once a gripping investigation of some of the secret chambers of the human heart and a dazzling re-invention of Victorian life and passions.
Published:

1 February 2011

ISBN:

9781409020660

Imprint:

Vintage Digital

Format:

EBook

Pages:

496
A gripping tale, crafted with passion, and intelligence, and an honourable addendum to the golden age of the English novel

Simon Baker, New Statesman
A genuinely fascinating reading experience... a pageturner of the highest order. It is a genuine mystery - not a simple whodunnit but a constant revelation of a complex and tight-knit plot

Philippa Gregory, The Times
He has a faultless ear for the varied nuances of mid-Victorian English... [and] takes a wicked pleasure in creating a dense underlay of references, a blend of historical fact and other authors' fiction which lies beneath his narrative and occasionally erupts into it... clever and hugely readable

Andrew Taylor, Independent
Taylor's skill ensures the book never loses its grip... hugely enjoyable, this is by-the-fireside-reading, and no mistake; Conan Doyle, Dickens and Wilkie Collins knew how to do it, and Taylor has learned his lesson well... a great read. It intrigues, diverts and delights. It is clever and intricate and huge fun

Susan Hill, Guardian
Taylor is marking out a territory as distinct and disturbing as Greeneland, with the same imperative towards moral inquisition and a flatlands melancholy that is all his own

Hilary Mantel, Sunday Times
Taylor] creates a vivid, kaleidoscopic world that constantly shifts before the reader's eyes

Judith Flanders, Sunday Telegraph
Taylor is utterly enthralling

Bob Monkhouse, Guardian
Intricate and vividly realised...a pin-sharp recreation of 19th-century life

Robert Douglas-Fairhurst, Daily Telegraph
Taylor has a lot of fun with his premise, and readers should too

Suzi Feay, Independent on Sunday