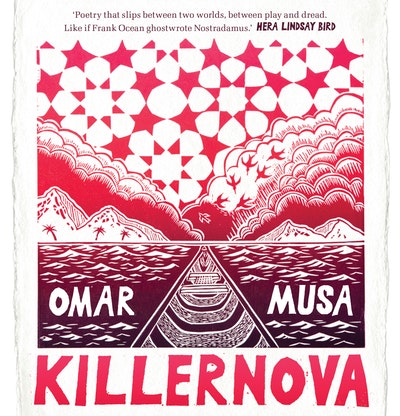 Published:

30 November 2021

ISBN:

9781761044632

Imprint:

Penguin

Format:

Trade Paperback

Pages:

144

RRP:

$40.00
Killernova
---
---
---
A collection of poetry and wood cuts that burns blindingly bright.
The island of Borneo was once the most heavily wooded in the world, and its people have always carved wood beautifully. In KILLERNOVA, grappling with his heritage, Omar Musa remixes this ancient art form with fiery poetry forged in the stars.
With equal parts swagger, humour and vulnerability, Musa charts a journey through the colonial history of South-East Asia, environmental destruction, oceans, bushfires, race in Australia, the isolation and addiction of COVID lockdown, family, lost love and, ultimately, recovery.
Relentlessly on beat, visually captivating and deceptively intimate, this is a collection of words and art that burns blindingly bright.
Published:

30 November 2021

ISBN:

9781761044632

Imprint:

Penguin

Format:

Trade Paperback

Pages:

144

RRP:

$40.00
Omar's poetry slips between two worlds, between play and dread, the sacred and the mundane, with Houdini-like ease. He leans into the mystery, while bringing down the hammer. Like if Frank Ocean ghost-wrote Nostradamus.

Hera Lindsay Bird, Hera Lindsay Bird
Omar Musa's latest work explodes on the page like a dazzling fireworks display, endlessly surprising and beautiful. Killernova is a book to keep close to the heart, forever.

Tash Aw
Pretentious literary navel-gazing. This will go well when thrown into the circle jerk of writers festivals and resin-jewellery led artists panels. That said, it's hard to deny the Queanbeyan edge that penetrates these whimsical post-national musings. The man's pretty handy with a linoleum cutter too.

The Betoota Advocate
Here, you will find love, joy, family, and recovery in abundance. For while the memories it traces are difficult to bear, Killernova smiles at the reader throughout, and as Musa tells us: 'A smile is charity.' This and so much more is what makes reading this poetry collection a truly magical experience.

Artshub
Each page carries images of strong directness, expressive line, joy, sometimes death, and always with a feel for visual balance. You want to tear out each page and paste them to your wall or fridge so that you can stand in front of them and gaze into the images with the attention they demand.

The Conversation
ACT Notable Book Awards
Winner • 2021 • The ACT Notabel Book Award is designed to showcase the writing talent of the ACT region as well as to celebrate ACT region writers in a professional and formal manner – the kind of recognition this talent and art form deserves.