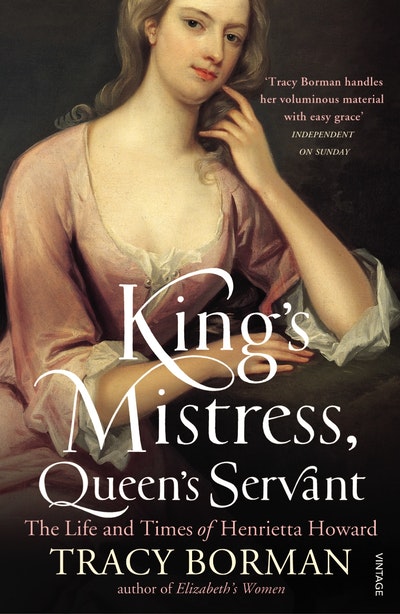 Published:

15 May 2010

ISBN:

9780099549178

Imprint:

Vintage

Format:

Paperback

Pages:

352

RRP:

$29.99
King's Mistress, Queen's Servant
The Life and Times of Henrietta Howard
---
---
---
First biography of the remarkable Henrietta Howard - royal mistress and bluestocking in the court of George II
Henrietta Howard, later Countess of Suffolk, was the long-term mistress and confidante of King George II. Described by Swift as a consummate courtier who packed away her 'private virtues… like cloaths in a chest', by Pope as 'so very reasonable, so unmov'd', and by the world at large as 'the Swiss' (due to her apparent neutrality), she remains as fascinating and perplexing today as she was for her contemporaries.
Orphaned at the age of twelve after her mother died and her father was killed in a duel, and dragged into poverty by her brutal husband, Henrietta used her own ingenuity and determination to secure a role at the very heart of the royal court. Although renowned for her passivity and mildness, her relations with the Queen became increasingly acrimonious, and she made an enemy of Prime Minister Robert Walpole before eventually resigning her position amidst intense political scandal.
As well as providing a fascinating insight into the dynamics of the Georgian court, Tracy Borman's wonderful biography reveals a woman who was far more than the mistress to the King: a dedicated patron of the arts; a lively and talented intellectual in her own right; a victim of violence and adultery; a passionate advocate for the rights of women long before the dawn of feminism. Above all, she was a woman of reason in an Age of Reason. The mark that this enigmatic and largely forgotten royal mistress left on the society and culture of early Georgian England was to resonate well beyond the confines of the court, and can still be felt today.
Published:

15 May 2010

ISBN:

9780099549178

Imprint:

Vintage

Format:

Paperback

Pages:

352

RRP:

$29.99
Praise for King's Mistress, Queen's Servant
It is the great strength of Tracy Borman's engaging new biography that, like Alison Weir and David Starkey before her, she manages to throw new light on the influence and careers of women in European courts

Stella Tillyard, Sunday Times
Tracy Borman handles her voluminous material with easy grace

Independent on Sunday
Tracy Borman can tell a good story. Admittedly her subject is a gift....(she) handles them and their world with aplomb

Economist
A short and zippy portrait of George II's long-suffering paramour

Tim Martin, 'Christmas Biography Choice', Daily Telegraph
Borman has certainly found an unsung and unusual heroine, what elevates her biography above the others in its genre is the author's sense of humour

TLS