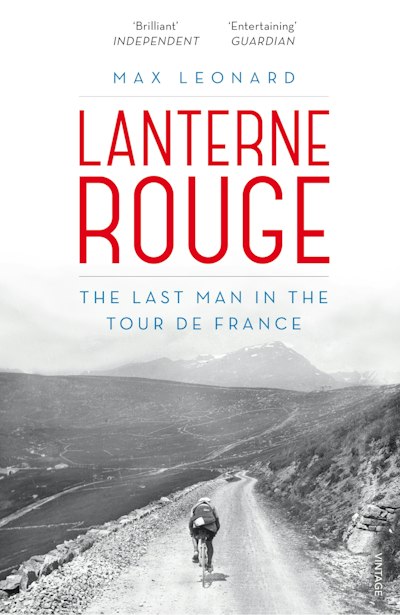 Published:

17 April 2014

ISBN:

9781448155903

Imprint:

Vintage Digital

Format:

EBook

Pages:

272
Lanterne Rouge
The Last Man in the Tour de France
---
---
---
Froome, Wiggins, Merckx, LeMond - we know the winners but what about the men who finish last?
lanterne rouge (French | noun): The competitor who finishes last in the Tour de France
Froome, Wiggins, Merckx-we know the winners of the Tour de France, but what about the men who finish last?
Lanterne Rouge tells the forgotten, often inspirational and occasionally absurd stories of the last-placed rider. We learn of stage winners and former yellow jerseys who tasted life at the other end of the bunch; the breakaway leader who stopped for a bottle of wine and then took a wrong turn; the doper whose drug cocktail accidently slowed him down and the rider who was recognised as the most combative despite finishing at the back.
Flipping the Tour de France on its head and examines what these stories tell us about ourselves, the 99% who don't win the trophy, Lantern Rouge forces us to re-examine the meaning of success, failure and the very nature of sport.
'A lively account of largely forgotten men... It's not easy to come up with an original angle on Le Tour, but with this rear view Leonard has managed the feat in style' Independent on Sunday
Published:

17 April 2014

ISBN:

9781448155903

Imprint:

Vintage Digital

Format:

EBook

Pages:

272
Praise for Lanterne Rouge
Excellent ... compulsive reading...redresses the balance with considerable literary style and panache.

The Washing Machine Post
Don't be surprised if you fall in love with Max Leonard's book. A glorious celebration of coming last.

Brendan Gallagher, thetour.co.uk
Thoughtful, properly researched and consistently entertaining

Tim Moore
[A] lively account of largely forgotten men... It's not easy to come up with an original angle on Le Tour, but with this rear view Leonard has managed the feat in style

Simon Redfern, Independent on Sunday
Brilliant... The stories of the lanternes rouges that Leonard picks out have real value, because the race's rear view can tell you much more than the angle we're all familiar with

Michael Hutchinson, Independent
Makes for oddly inspiring reading. There is an art to losing

Jon Day, London Review of Books
An elegant book... Surprising and illuminating

Ian Bell, Herald
This is a valuable book with some great stories. Deeply-researched and well-written, it's an enjoyable read that shouldn't be rushed

The Inner Ring
Fascinating. Without losers, there are no winners

London Cyclist
Thoughtful, witty

Times Literary Supplement
In this lively, rear-view account of largely unsung heroes, and a few villains, Leonard has managed the difficult feat of coming up with an original angle on Le Tour

Simon Redfern, Independent on Sunday
Leonard extracts the dignity that sometimes exists in sporting failure; this is not the world of Armstrong, Keane or Pietersen and all the more appealing because of that

Tim Lewis, Observer
Celebratory and hilarious in equal measures, The Last Man revels in the travails of the underdog

Ben East, Metro
This book does a great job of revealing some of the less well known stories from le Tour: well written, entertaining, and informative

Richard Peploe, Road
This book is an entertaining account taking in everyone from stage winners and former yellow jerseys who couldn't hang on, to a breakaway leader who stopped for a bottle of wine and then took a wrong turn, to a doper whose drug cocktail backfired

Bike Radar
We know the winners of the Tour de France, but Lanterne Rouge tells the forgotten, often inspirational and occasionally absurd stories of the last-placed rider

Miss Dinky